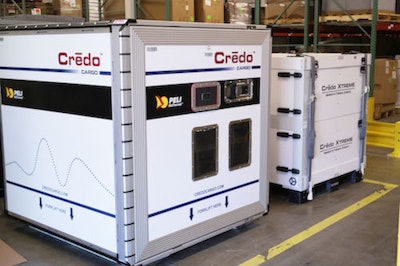 This content was written and submitted by the supplier. It has only been modified to comply with this publication's space and style.
Pelican BioThermal, global designer and manufacturer of temperature-controlled packaging, announces the addition of the company's first Canadian drop point. Located at the ATS Healthcare headquarters in Toronto, the new drop point serves to further the expansion of Pelican BioThermal's growing Crēdo™ on Demand rental program by providing an additional point of return for reusable shipping assets. ATS Healthcare is also a distributor for Pelican BioThermal products throughout Canada.
"The Canadian pharmaceutical market is already the 10th-largest in the world and is forecasted to grow into a $25 billion industry by 2021," explains Dominic Hyde, VP of Crēdo on Demand at Pelican BioThermal. "Our Crēdo™ rental programs provide customers with a cost-effective way of quickly expanding container fleets based on demand, without adding to overhead costs. Additional drop points, like that being offered at ATS Healthcare in Toronto, add further flexibility."
As the largest provider in Canada's temperature-controlled healthcare transportation industry, ATS Healthcare offers end-to-end solutions for temperature management, security and other shipping requirements across Canada. The new Toronto drop point offers both Pelican BioThermal and ATS Healthcare customers an additional option for returning Crēdo on Demand assets at the end of the rental period, including Crēdo Xtreme™ pallet shippers and Crēdo™ Cargo bulk shippers.
"In our experience, the Crēdo on Demand rental program provides the best range of temperature-controlled passive shipper rental and leasing options. With so many of our customers already using Crēdo shippers to protect payloads with critical temperature requirements, we're confident the addition of this drop point will allow us to better serve customers who are looking to improve payload volume efficiency and lower distribution costs," says Bob Brogan, COO of ATS Healthcare.
To better support the rapidly expanding Crēdo on Demand program, the company is expanding both number of network stations — which act as the origin point for new assets, provide services including, and act as end of rental drop-off — as well as the number of drop points. The new Toronto drop point is one of more than 50 new drop points planned for 2018, including eight drop points in the U.S. and 13 drop points across Europe already announced.