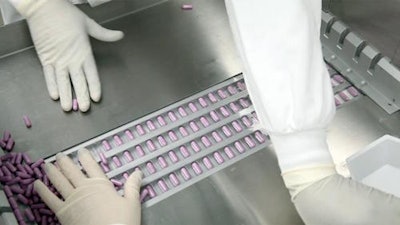 Catalent Pharma Solutions, the global provider of advanced delivery technologies and development solutions for drugs, biologics and consumer health products, has completed the second phase of a $5.5 million expansion program at its Kansas City facility to increase the controlled-substance and controlled-temperature storage capabilities for its clinical supply business.
This marks the conclusion of a two-year project that has also expanded the facility's highly potent, cytotoxic and cold storage clinical drug packaging capabilities.
The latest expansion includes a new Drug Enforcement Administration (DEA) Schedule I and II controlled substance vault, providing the site with an additional 3,600 sq ft of storage, as well as additional controlled temperature storage capacity with 450 new pallet locations and 500 new high-density storage locations. A new sampling room has been installed, as well as a new emergency generator to ensure the security and integrity of samples in storage.
Catalent's 450,000 sq-ft Kansas City facility provides a range of fully integrated support services, from development and analytical support through to packaging and distribution. The expansions at Kansas City follow the recent announcements of new capabilities and capacity at two of Catalent's other clinical supply facilities in Philadelphia and Singapore.
With sites in the U.S., U.K., Germany, Singapore, Japan and China, and an extended network of over 50 depots, Catalent's clinical supply services team handles a broad range of international compliance and distribution requirements, helping to expedite clinical trials by ensuring customers are supplied where and when needed around the globe.
For more information please click here.