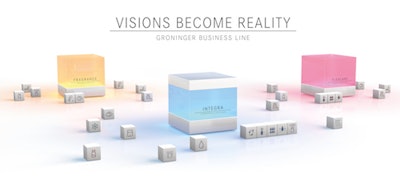 This content was written and submitted by the supplier. It has only been modified to comply with this publication's space and style.
The requirements are clearly defined: Pharma and Healthcare machine concepts for large and small factories of the future need to be readily available, flexible when it comes to processing variation, and modular in design. The vision cherished by traditional special engineering companies of tailoring production to suit their customer's specific requirements is now reality. This is demonstrated by five "Business Line" machine range exhibits on Booth G72, Hall 3.1 at ACHEMA.
The Ready Engineered concept is used across the groninger product portfolio to offer customers the desired flexibility while maintaining quality and safety. At groninger, Ready Engineered stands for the standardized modular design of filling, closing and handling machinery. This generates corresponding cost benefits and permits shorter lead times, and thus faster time to market for makers of pharmaceutical, consumer healthcare and cosmetic products.
INTEGRA world premiere: How visions become reality
Processing aseptic and toxic products in the pharmaceutical and especially biotech industry requires new approaches in plant construction: Reduction of the potential risk for the operating personnel, optimized machine design for shortest set-up times and optimum accessibility for machine operation and cleaning.
A cross-company joint development project by groninger and SKAN produced a unique line concept for vial processing. Aptly named INTEGRA, the machine solution is celebrating its world premiere at ACHEMA as a unique concept that integrates both an isolator and filling machine. This vision shared by groninger and SKAN was realized in the shortest space of time.
INTEGRA was developed with a focus on processing toxic products. Crucial aspects include optimum ease of cleaning and shorter decontamination cycles. Thanks to the integration of the filling machine into the isolator and the integration of the innovative SKANFOG decontamination system, the entire line can be optimally cleaned and decontaminated in approx. 30 minutes with optimum accessibility for the operating personnel. Increased security and support for format changes is made possible by the use of QR codes, which give operators a better overview of position, installation order and recipe assignment.
Different Line configurations in the INTEGRA machine family are available with either standardized oRABS or isolator modules and are capable of a maximum production output of 400 vials per minute.
The two companies groninger and SKAN are also breaking new ground visually. The innovative product family already sends a clear message with its purist design.
Flexibility in the processing of all common pharmaceutical primary packaging material
Increasingly, presterilized objects are used in the aseptic processing of cost-intensive biotech products, where the trend is towards smaller volumes. Against this background, groninger developed the FlexPro 50 Ready Engineered machine concept for nested and presterilized ready-to-use syringes, cartridges and vials.
The option of automatic eye drop processing was recently introduced on the modular platform. Applying robot technology, FlexPro 50 can now also process all objects with 100% in-process control (IPC) for nested vials while achieving maximum output. As a turnkey supplier, groninger has again struck the right chord with many pharmaceutical manufacturers.
By changing just a few size parts, nested syringes, cartridges and vials can be processed via FlexPro 50 in a line configuration. Movable interchangeable machine trolleys permit additional line configurations through to an integrated nest/bulk process line achieving outputs of up to 4,500 objects per hour.
As part of the FlexPro 50 solution, groninger cooperates with isolator manufacturer, Franz Ziel GmbH and Martin Christ Gefriertrocknungsanlagen GmbH for freeze-dryers in order to offer pharmaceutical manufacturers a one-stop shop or turnkey production solution. As recent winner of the "Biotech Innovation Award" at INTERPHEX in New York, Managing Director Jens Groninger says: "Our innovative machine concept is highly valued and appreciated because it satisfies current requirements in the industry and surpasses existing standards in flexibility, user friendliness and economic efficiency."
Ready Engineered and a perfect fit for small-scale fill/finish start-ups in pharmaceutical production
Like all groninger Business Line models, both the following machines are Ready Engineered and thus offer faster time to market, with the compact FlexFill 10 leading the way as stand-alone filling and closing machine for presterilized nested syringes. Ideal for laboratories, trial series and small batches, though compact, the machine offers identical processes to those of groninger's high-performance equipment. There is a clear separation between the manual handling and fully automatic production sections. At ACHEMA both the filling process and vacuum-based stopper insertion are shown in live demonstrations.
This machine concept can be combined with the FlexCon 10 for inserting plunger rods in the filled syringes, labeling and inserting in safety devices. Product safety takes first priority in all three process stages on this machine. Transporting of the individual syringes has been optimized to achieve maximum care, and can be optionally performed without any contact at all. Insertion of the plunger rods is electronically controlled. Labels are precisely applied and syringes reliably inserted in their end position in the safety devices in a continuous controlled insertion movement. Diverse types of safety devices can be processed in the same machine at a rate of up to 60 syringes per minute, thus affording pharmaceutical laboratories a high degree of packaging flexibility.
Ready Engineered in the Consumer Healthcare OTC Market
Enjoying significant market growth, the Consumer Healthcare business unit is presenting itself at ACHEMA with the FlexCare 100 Ready Engineered machine concept. Depending on the container diameter, it achieves production outputs of 60 to 120 containers per minute. Three stopper types can be processed at the same time with a variety of possible formats. Optional 100 % in-process control (IPC) verification guarantees the high filling precision of groninger filling systems for every bottle. Exceptional flexibility and availability also ensures fast size changes of the few parts with no need for tools. Thanks to servo engineering the machine can be run with any number of different sizes at the push of a button.
Efficient service support will be demonstrated with the help of the groninger Smart Service App in combination with data glasses. The operator of the system is guided and visually supported by a groninger specialist in the remote maintenance. In this way, customers can respond more quickly in the event of service, travel expenses are minimized and flexibility is ensured worldwide by simply handling the app on tablets or smartphones.
Networking with packaging manufacturers, customers and partner companies to establish and standardize IoT
Also in regards to standardization, groninger is working on several topics around Industry of Things (IoT) in a broader sense. For the technologically leading machine manufacturer it is important to be at the forefront of developments at customers and packaging material manufacturers. This will pave the way for IoT through optimum networking.
For this purpose groninger participates in the ISPE working group Plug & Produce to develop the industry-wide standard for the connection to MES systems. A standardized interface via OPC-UA to the WERUM product PAS-X has already been realized in a preliminary stage.

Another example of demonstrating technological leadership through good networking at groninger goes beyond the field of fill&finish. Together with the SHL Group, a leading manufacturer of injection devices, groninger is working on a manufacturer-independent platform technology for "intelligent and customizable primary packaging" in the pharmaceutical industry. A novelty, as RFID Chip Integration has found a way to enable the unique traceability of pharma-relevant quality parameters and the storage of product-relevant characteristics, directly on each individual filled syringe and to process this on groninger machines. Thus, the entire lifecycle of a syringe can be mapped from glassmaking to the patient and a new level of safety and information flow can be achieved.
Meet groninger at ACHEMA 2018 (Frankfurt/Main)
11 to 15 June 2018: Hall 3.1, Booth no. G72