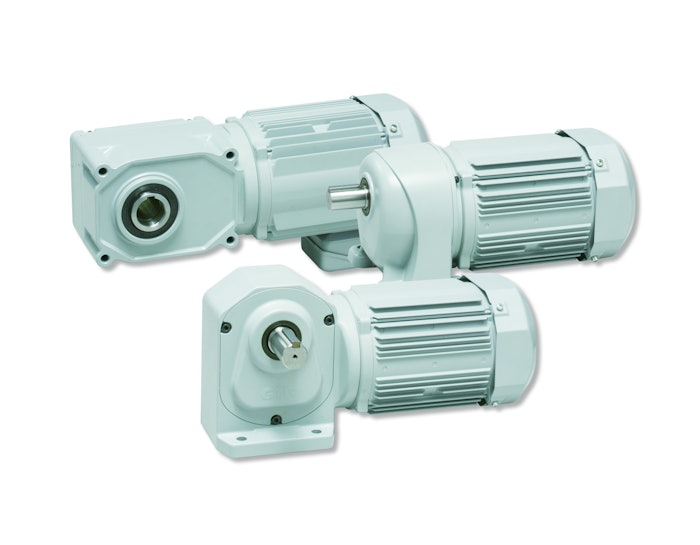 Brother Gearmotors, a division of Brother International Corp. that offers a range of reliable, sub-fractional AC gearmotors and reducers for the food and beverage, packaging and material handling industries, has introduced IPMax, a line of lightweight, compact interior permanent magnet (IPM) gearmotors that are efficient with a wide synchronous speed range.
The gearmotors incorporate magnets embedded within the rotor, as opposed to on the surface. No copper losses are experienced in the rotor, and considerably less copper losses occur in stator winding. The gearmotors can operate fanless up to 1hp, and do not require encoders for sensor control. When stopped, a servo lock feature holds the motor in position.
Brother's IPMax gearmotors are 23% smaller than comparable ie3 motors. They run 24% cooler for longer lifespan. They employ brake sequential, which sets motor operations when the mechanical brake is turned on or off, as well as a torque limit solution that protects the mechanical system. Various functions of their programmable I/O terminals may be changed according to external circuits or applications. RS485 is included as standard.
Interior permanent magnet motors are suited for conveyors, fans, and pumps. In addition to reduced size and weight, Brother's IPMax gearmotors offer an ingress protection rating of 65 (IP65), meaning they are protected from total dust ingress as well as from low pressure water jets from any direction. Additionally, compared with a brushless DC gearmotor, the IPMax gearmotors feature simple wiring and are easier to connect. They also offer similar high efficiency without requiring any extra signal cable.
Companies in this article