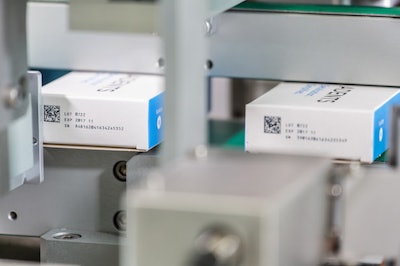 This content was written and submitted by the supplier. It has only been modified to comply with this publication's space and style.
Adents, a leading provider of premier, versatile serialization and track & trace solutions, will demonstrate its two signature pharmaceutical serialization solutions at Achema Booth #F9, Hall 3.1, from June 11-15. Both systems – Adents Seriza and Adents Prodigi – position the solutions provider as a global leader as track & trace mandates approach in the EU, US and other major markets.
In addition to activities at its own stand, Adents also will have significant visibility in Siemens Booth #C3, HALL 11.0. In fact, the two partners will be introducing a brand new, jointly developed traceability solution at Achema. Full details on this new system will be available closer to the event date.
Demos at Adents' booth will feature its two mainstay track & track systems. Incorporating various subsets of Adents' groundbreaking track & trace platform, the fully configurable, standardized Adents Seriza solution provides unprecedented levels of flexibility and scalability for pharmaceutical manufacturers and packagers. Adents Seriza will be showcased on two machines: A semi-automatic Travtec Travino desktop serialization unit for printing and reading serialized data on both flat and erected cartons; and a Germark labeling machine specially designed for the pharma sector.
Adents Seriza comprises two primary tools. At the site level, Adents Supervisor manages and distributes serialized codes. Deployed on a central server at each production site, the module is the key central component of Adents' serialization and aggregation suite. All line configurations are handled at the site level, leading to quicker implementation and scalability while greatly reducing the effort to revalidate lines when changes are made.
At the line level, Adents Pilot drives the printing of unit codes and controls their conformity. The solution directs printing and vision systems and manages communication with line equipment to deliver a customer's choice of item-level serialization, item-to-bundle aggregation, bundle-to-case aggregation, or case-to-pallet aggregation.
Meanwhile, Adents Prodigi is the first Cloud traceability solution capable of centrally managing regulatory requirements, connecting multiple trading partners, and allowing pharmaceutical companies and CMOs to benefit from the massive amounts of data generated during the serialization and track & trace process.
Adents Prodigi opens new horizons beyond regulatory compliance, in terms of data analysis (including Microsoft Power BI), machine learning tools, or additional capabilities through existing in-house or third-party solutions.
Via Adents Prodigi, Adents became the first European provider to offer a certified Gateway to the European Medicines Verification System (EMVS). Having joined the pilot program, Adents is in the process of connecting Prodigi with the Russian Hub, and integration with Origin – a central data repository in the United States operated by the Healthcare Distribution Alliance (HDA) – is underway.
At Achema, Adents Prodigi will be demonstrated using a recently launched demo tool that guides users through various "if/then" scenarios. The first of its kind for such a sophisticated, Cloud-based serialization solution, the demo tool provides both insight and transparency, adding tangibility to the complex, multi-faceted track & trace arena.
"Both Adents Seriza and Adents Prodigi show how pharma manufacturers can address the challenges of connecting multiple trading partners, managing dozens of countries' regulations, and capitalizing on serialization data," said Christophe Devins, CEO of Adents. "Additionally, it will be exciting to reveal a promising new solution developed in partnership with our colleagues at Siemens."
For more information, click here