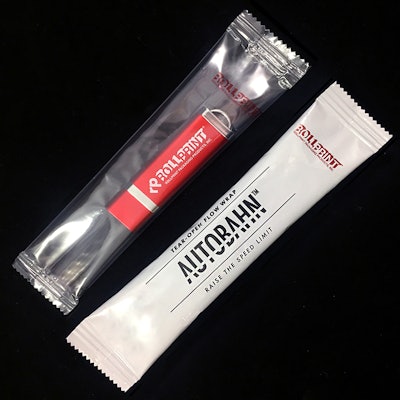 Rollprint Packaging Products Inc. announces the debut of AUTOBAHN™, a fast sealing, easier opening version of aluminum foil flow wrap structures. These attributes are achieved via a proprietary process that harmonizes barrier and sealant layers for maximum performance. The end result is a composite that has robust sealability, yet requires minimum effort to tear open.
AUTOBAHN is designed to help organizations maximize efficiency in increasingly competitive markets by providing line speeds approaching 400 packages/min while maintaining seal integrity and an easy-opening mechanism.
Rollprint's objective for this product in 2018 is to partner with clients that thrive on technology and are willing to push the perceived boundaries of speed limitations with the goal of hitting the marker of 400 packages/min.
This technology was designed for a variety of commercial applications, including blow/fill/seal vials, diagnostics devices, IV overwrap and surgical devices. The Product Line Manager at a major pharmaceutical company that packages blow/fill/seal liquid vials says, "You turn the flow wrapper on and this AUTOBAHN material just works." In the end, he says, "We chose Rollprint because we have multiple product changes per day. Starts and stops are part of our business model. A must-have for us in the selection process was a material that allows incredible forgiveness without sacrificing the flow wrappers' maximum speed capability."
Although line speeds are greatly improved, hermeticity isn't sacrificed. However, what makes this development special is that AUTOBAHN tears open easily without the added costs that normally accompanies traditional laser or mechanical scoring. AUTOBAHN is available with aluminum foil and ClearFoil® barrier options.
Companies in this article