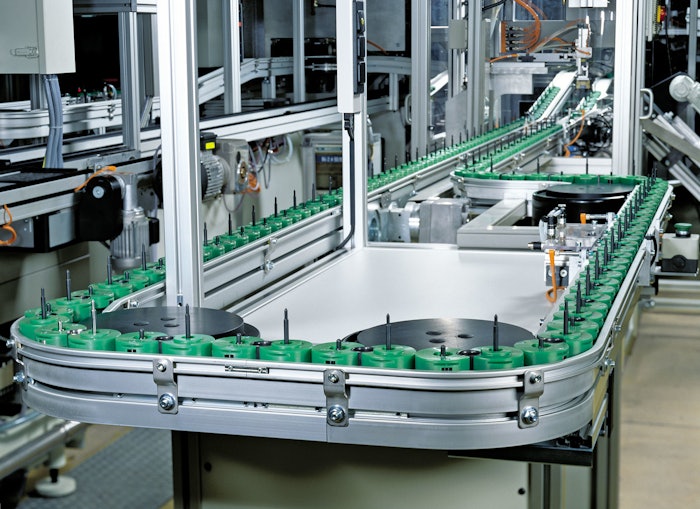 The PRE‐TEC Division of Willamette Valley Company is pleased to announce that they are now members of the Bosch Rexroth Corporations ProBuilder Network for VarioFlow plus product.
With access to Rexroth's ProBuilder product PRE‐TEC engineers will be able to design and integrate conveyor solutions for facilities in markets ranging from food packaging, pharmaceutical, medical, to any number of small part handling operations.
PRE‐TEC will be the sole Bosch Rexroth Corp. ProBuilder in Oregon, and will offer the product for conveyor applications in the west and across their North American installed customer base.
Joel Galliher, Bosch Rexroth Corp.'s Director of Mechatronic Systems says, "We've been working with Pre‐Tec for a number of years and are very happy they've decided to sign up as a VarioFlow Conveyor ProBuilder. Pre‐Tec's ability to provide turn‐key solutions for their customers and the quality of their work were factors in our decision to bring them aboard."
The PRE‐TEC Division of Willamette Valley Co. has engineered more than 370 robotic systems for a wide range of industries and products and has become one of the largest integrators of robotic systems in the western region of North America.
"We see the addition of the VarioFlow plus product as a logical extension of our product offerings. For all the time we have been providing automated systems, material handling has always been a critical aspect of any solution," says PRE‐ TEC's General Manager, Stan Reynold. "Our customer base is frequently improving their manufacturing operations with complex integrated conveyor systems."
PRE‐TEC offers flexible automated solutions, in the form of advanced technology systems that provide process improvements able to meet expectations for speed, accuracy, flexibility, and optimal throughput in all types of manufacturing and assembly environments.
The PRE‐TEC Equipment Division supplies six‐axis robot arms, custom built end‐of‐arm tools, and conveyance systems in the form of integrated manufacturing cells for finishing, material handling, and welding.