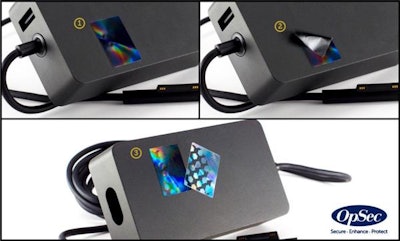 OpSec Security, a global provider of securing, enhancing, and protecting brands, services and revenues, has developed a fully functioning tamper-evident label that may be repositioned after initial application.
The new repositionable label is a functional tamper-evident optically variable device (OVD) whose construction allows the user to reposition the label for up to a full minute on most materials, without activating the void features. Repositioning becomes necessary during an application when label placement is critical to the aesthetics of the final product.
According to OpSec Security, clients utilizing hand application in their manufacturing facilities were losing product if the tamper-evident label wasn't precisely placed. By adapting tamper-evident technologies, OpSec provides a product that allows for adjustments, saving money in damaged product.
The label fully activates within minutes after application in which removal will then trigger the void pattern. The pattern may be customized to the client's specifications with logos, words or numbers. Even the adhesive left behind is easily rolled off by hand. Solvents or cleaning agents are not required to clean the surface, saving time and money during the reconditioning process.
Companies in this article