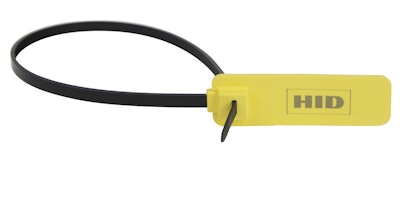 HID Global's Identification Technologies Division is introducing the SlimFlex™ Seal Tag family of high-durability UHF RFID transponders with integrated, tamper-evident cable ties. The company's SlimFlex Seal Tag transponders are suitable for sealing industrial containers such as bags, bins, or boxes to prevent unauthorized access to contents while in storage or during distribution.
The high-visibility units enable assignment of a unique electronic identifier to each securely fastened container. Access to a sealed container's contents requires severing the cable tie or breaching the container. Either incursion provides clear evidence of tampering.
Anti-collision technology in UHF SlimFlex Seal Tag units enables fast, comprehensive inventories and tracking during distribution and receiving, resulting in faster, more accurate accounting for regulatory reporting or stock planning.
As with all products in HID Global's SlimFlex RFID tag family, SlimFlex Seal Tag units integrate UHF chips with high-durability components and add secure, tamper-evident cable ties. They are compliant with EPC global−certified UHF Class 1 Gen 2 readers and modules. The transponders have 512-bit user memory and broadband capability of 860 to 960 MHz for worldwide operations. Containers with Seal Tag closures can be identified from up to 26 ft with the wave of a handheld reader. Entire loads of sealed containers can be read as trucks pass through stationary reader gates.
Waterproof and food-compatible, SlimFlex Seal Tag UHF tags attach anywhere a cable tie can be used. They withstand repeated bending or torsion and rugged outdoor use, providing high resistance to aggressive liquids and UV rays and delivering reliable performance and reading stability at high and sub-freezing temperatures.
Companies in this article