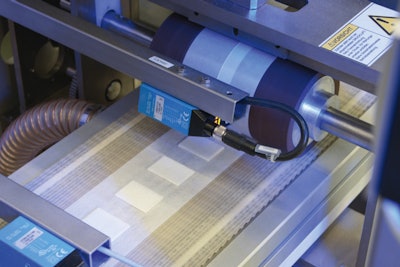 Processing with this system type can be modified or expanded to accommodate changes to materials or the structure of a wound dressing. Therefore, the lines are suited for new product developments and flexible series production.

A new production process can be implemented in the shortest possible time, even in sterile rooms. The plant operator can configure the module by means of a "real" Plug & Play system. No knowledge of programming is required.

In the product development stage, with Medicon MDC 300 Vario tools are available for rapid market introduction and shorten time-intensive processes. When used in series production there are no limits on the platform with respect to format ranges or process complexity.

All function modules such as roll-off, roll-on, cutting, web edge control, camera systems etc., as necessary for the manufacture of the various types of wound dressings are obtainable from Optima Life Science. The machine system can be combined with a four-side-seal bag-packaging machine enabling the products to be packaged immediately. Moreover, modules with special functions can be developed and integrated.

The performance of the flexible plant is at the exact same high level as the production plant with fixed installation, the Medicon MDC 300 Advanced. Both machines are set up for a web speed of 60 m/min (packaging material) or 500 products/min. Used as a pilot plant machine, the process for a new product can be worked out and as a further variant, transferred to a Medicon MDC 300-advanced production line.

Optima Life Science assumes delivery times to be reduced by approximately 30% for the Medicon MDC 300 Vario as opposed to a conventionally designed machine.
Companies in this article