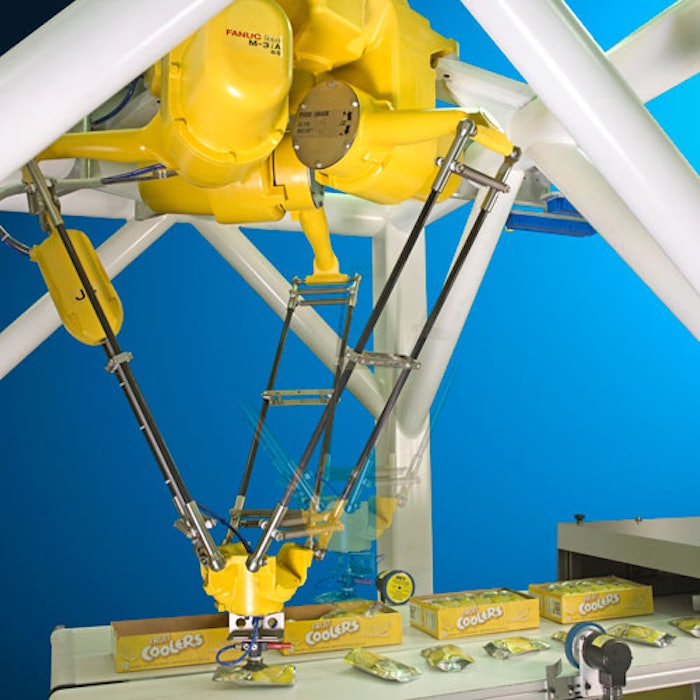 "Automation and robotics are core tools for manufacturing competitiveness," said Rick Schneider, president, FANUC Robotics America. "This accomplishment underscores the fact that more companies are using robotic technology to expand their overall operations versus transferring manufacturing overseas."
"It's exciting news to hear that we purchased the 100,000th FANUC robot in the Americas," said Richard S. Schneider, president, Schneider Packaging Equipment Co., Inc. "We are FANUC Robotics largest integrator in the case packing and palletizing segment in North America, having shipped hundreds of robots over the last three years. 2010 marks the 40th anniversary of Schneider Packaging, and this latest recognition helps us further celebrate what has been a successful year," said Schneider.
"As the economy recovers from the current recession, we've consistently maintained our leadership position, and continue our commitment to providing intelligent robots and systems that deliver the highest levels of quality, productivity and value," added FANUC Robotics' Schneider.
FANUC Robotics will host a special event and facility tour for invited guests and members of the media to celebrate the sale of its 100,000th robot in the Americas on Tuesday, Dec. 14, 9:45 a.m. to 1 p.m. FANUC Robotics America is located at 3900 W. Hamlin Rd., Rochester Hills, MI 48309. For more information contact Cathy Powell at 248-377-7570 or Jill Aleo at 248-377-7113. Register today at:
http://www.fanucrobotics.com/events/mediaevent/
.
"Our skilled team of local engineers and product development resources, diverse product line, regional facilities, large integration network, and superior aftermarket services allows us to provide manufacturers with the tools they need to be more productive and globally competitive. It's safe to say that a FANUC robot is involved in the manufacturing of virtually every type of product made in North and South America, from automotive to aerospace, alternative energy, food, pharmaceuticals and many others," said FANUC Robotics' Schneider.
Companies in this article