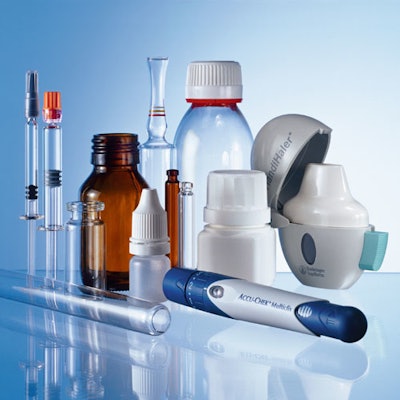 The new PharmaPlus™ quality for tubular glass products, new multilayer vials based on COP with outstanding barrier properties, uniform tablet packaging for the USA and Europe alike – these are the central themes on Stand A3. A talk about ready-to-fill COP syringes for biopharmaceutics rounds off the information on offer.

The number of plants operated by Gerresheimer in Europe, America and Asia now totals forty – almost all oriented towards the pharma and healthcare industry. This brings market proximity, and at the same time substantial and important synergy benefits, says Burkhard Lingenberg, Director of Marketing and Communication for the Group: "We are a competence network with multifaceted interfaces and systematic knowhow transfer. This also means reciprocal impulses between widely varying and highly specialized product and technology areas." How much progress the product range has made today is highlighted by the presentation in Paris.

The PharmaPlus™ concept is a fundamental focus area. With it Gerresheimer has created a previously unattained premium quality in glass products – tailor-made for the growing segment of sophisti-cated biosubstances for injections. The Pharma¬Plus™ class comple-ments not only the syringe range but also the range of vials, ampoules and cartridges. Its precision is based on exact and gentle forming and surface-treatment procedures in a completely new type of process chain.

The field of glass injection systems has been dominated for many years by RTF® sterile syringes. Still up to the minute and now further perfected they are the key focus of attention at Pharmapack. Gerres¬heimer presents the Ready-to-Fill systems not only with multi¬functional accessories such as for example the safety closures TERNS and TELC, but also with intelligent labeling. New multicolor heat transfer printing clearly distinguishes product information, calibrations and barcodes from each other through color separation, displaying them on the glass with great precision down to the last detail. Laser coding stores the product ID in a single square milli¬meter of the finger flange surface, thereby providing a reliable track-and-trace solution. Another feature is siliconisation specially tailored to biomedicines: Baked-On RTF™. Here the silicone oil which is well tried as a glide coating is thermally fixed to the glass surface, reducing undesired interactions with proteins and other biomolecules to a minimum in many cases.

For the demanding field of cytostatics and biopharmaceutics, Clear-ject™ sterile systems is another interesting plastic range to which Gerresheimer devotes its specialist lecture this year in Paris (Claudia Petersen, Director Business Development/Gerresheimer Bünde: "Addressing the needs of demanding biopharmaceuticals using an innovative Ready-to-Fill COP syringe system"). The glass-clear material COP (Cyclic Olefin Polymer) is not only thermally and mechanically highly durable but also possesses brilliant barrier properties. By comparison with any other relevant type of plastic its inert surface furthermore displays a much lower protein adsorption propensity.

It is precisely these advantages which make COP equally interesting for vials to hold sensitive parenteral medicines. Through a completely new development Gerresheimer has now succeeded in matching the material to this packaging form ideally in every regard. The result is Enhanced Barrier COP Multilayer Vials – with their world premiere at Pharmapack. The structure combines two COP outer layers with a middle layer of polyamide. This combi-nation improves the barrier properties many times compared with vials made of COP alone. Further plus points: the new containers are dimensionally stable and designed in accordance with ISO 8362 for glass products, so can easily be sealed with rubber closures and flanged caps. Naturally they also comply with ISO 10993 on biocom-patibility. Gerresheimer is currently working to expand the inno-vative concept: in the very near future these vials will also be available 'ready to fill'.

A quite different world innovation is presented in the top international format of Duma® Twist-Off tablet packaging. The innovation is hidden away in the inside of the closure: here it is possible to integrate a perfect foil seal for the container, as required in the US market. The optional US seal solves a widespread problem for pharma fillers which supply Europe and the US in parallel and have in the past had to use different packaging for these two markets. In future the clever new innovation will allow the same container and closure type to be used – tamper-evident and externally otherwise identical. In the US version, a perfect seal which meets all the pharmaceutical rules is ensured by the cap more or less automatically.

Proprietary closure and dosage solutions in the multifaceted sector of plastic packaging also increasingly enrich the glass range. These include for example caps and dosing cups, as launched on the market by Gerresheimer late last year. In a matching variant the twist-off tamper-evident caps with an integrated dosing cup not only fit many PE and PET bottles and vials but also ideally complement a large variety of moulded glass containers: one of many synergies in the product range with which the Group can serve its customers more comprehensively, directly and quickly today than ever before.
Companies in this article