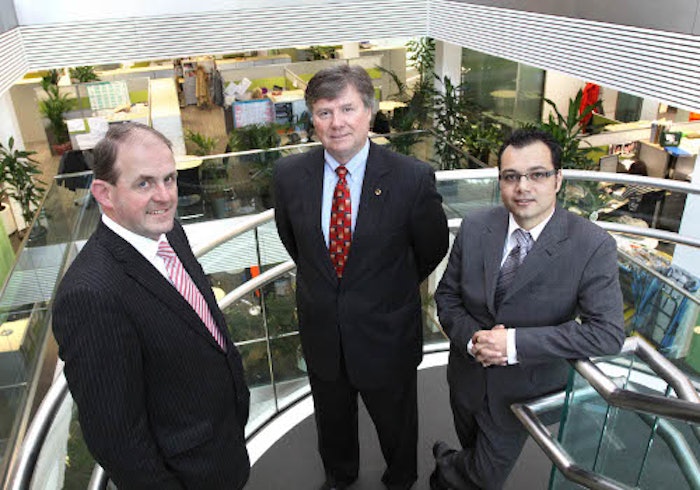 MOCON
invested •'¬2,500,000 (approximately $3,625,000) for a 16.9 percent equity interest in Luxcel.
Luxcel was founded in 2002, as a spin out company from University College Cork, Ireland. The company was created to commercialize leading-edge research and technology in the fields of phosphorescence-based sensor development and the applications of these sensors for biological testing. Luxcel sensors enable rapid, high throughput screening and detection of bacterial contamination of food samples, non-invasive analysis of gas in food, beverage and pharmaceutical packaging, and provide one of the most specific measures of drug toxicity and metabolism within pharmaceutical research and development.
As part of its initial post-investment activity, MOCON will dedicate some of its research and development resources to a development project to help bring a high-throughput pathogen (Listeria, Salmonella, E. coli, etc.) screening process to the meat, poultry, seafood, produce and dairy industries.
Welcoming the announcement, Deputy Prime Minister of Ireland and Minister for Enterprise Trade and Employment Mary Coughlan said, "This strategic partnership represents a major opportunity for both Luxcel and MOCON. For Luxcel, it provides access to significant sales, marketing, manufacturing and R&D resources to target major global markets through MOCON's established international sales and service channels. For MOCON, it provides the opportunity to build on their extensive food and packaging knowledge and international reputation and expand into the growing market for food safety testing."
"Luxcel's technology, products and services represent a strong strategic addition to MOCON's core instrumentation business. This investment will enable our Company to provide even greater value to the global food and pharmaceutical sectors by providing a new generation of products and services including faster, less expensive testing for pathogens," commented Robert Demorest, President and Chief Executive Officer of MOCON.
Enterprise Ireland, the governmental agency responsible for the development of that country's business sector, also announced that it was increasing its equity position in Luxcel. "This is a very exciting development and one that we greatly welcome. It demonstrates very clearly how innovative Irish companies like Luxcel can set their ambitions high, and devise and implement growth strategies that will see them break into and thrive in international markets," commented Frank Ryan, CEO of Enterprise Ireland.
Speaking about the new relationship with MOCON, Richard Fernandes, CEO of Luxcel said, "This collaboration is a perfect fit for both companies. Luxcel is quickly generating an international reputation for the development and manufacture of highly innovative and sensitive photo luminescence-based sensors and applications. MOCON is a leading global supplier of gas sensors, detectors and instruments who sells to the world's largest food, beverage and pharmaceutical companies. As part of this new alliance, MOCON intends to design and manufacture dedicated instrumentation to measure Luxcel sensors, and market these instruments and a wider range of Luxcel sensor products in the U.S. and other markets. This is a very exciting development for Luxcel, and the fact that a world leading company like MOCON has also come on board as an investor is a tremendous accolade for us. We greatly appreciate their commitment."