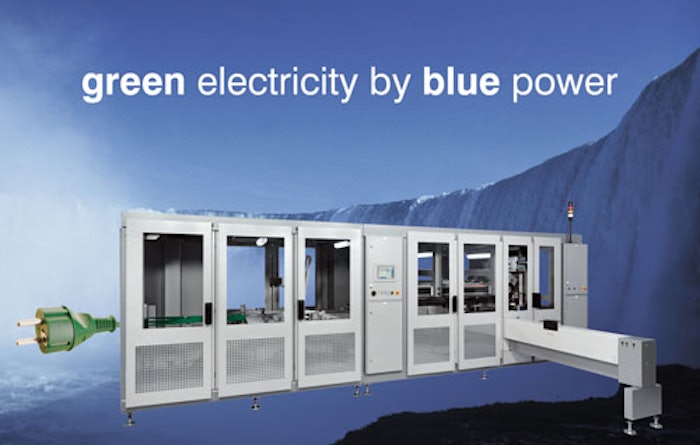 In the beginning of December, Hans Bühler (managing director) signed a contract with the municipal utility company of Schwaebisch Hall that guarantees direct power supply from a hydropower plant. Optima Group in Schwaebisch Hall with its approximately 950 employees has a consumption of about 2.7 million kilowatt¬ hours, which can be compared to the consumption of 600 four-person households.

As an additional measure, Hans Bühler announced a complete makeover and renovation of the Optima Group's Schwaebisch Hall headquarters and assembly facilities in the years to come. In addition to 'green power', other eco-friendly technologies, such as intelligent light control, have already found their way into technological practice. Presently, the subsidiary of Optima Machinery Corporation in the United States is also undergoing renovations that will introduce the most current eco-friendly technologies.

The company buildings of Optima Group Pharma in Schwaebisch Hall (industrial zone Solpark) and Mornshausen already use modern eco-friendly technology, such as concrete activation, heat exchangers, or the connection to the district heating network of Schwaebisch Hall. These measures have also led to a massive reduction of CO2 emissions.

Upon signing the contract, Hans Bühler emphasized that Optima Group develops its new machine systems in consideration of ecological aspects, such as energy efficiency or compressed-air consumption. A growing number of consumers are interested in a products' environmental balance, which also implies machine engineering - from substituting hazardous substances in the production and eco-friendly and competent disposal of materials to recycling resources. With the certification of the company's environmental management system according to ISO 14001 in 2007, an independent organization confirmed the eco-friendly production approach for all six subsidiaries.
Companies in this article