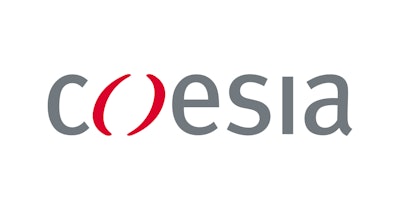 This content was written and submitted by the supplier. It has only been modified to comply with this publication's space and style.
With a focus on automation and sustainability, GREENMATION is Coesia's response to the current trend prompted by the consumer demands towards reusable and recyclable packaging solutions, whilst manufacturers face labor shortages and production cost increases. "In this complex situation, Coesia believes that the answer to this profitability-threatening challenge lies in supporting a revolution in production which is capable of combining the principles of automation and sustainability in the industries of Food and Beverage, Pharma and Personal Care, and Cross Industry Automation," said Alessandro Parimbelli, Coesia Chief Executive Officer.

The Coesia booth will be structured into three areas: food and beverage, pharma and personal care, and cross industry automation where technicians and experts will present the latest solutions presented by the group: ACMA, Atlantic Zeiser, Citus Kalix, FlexLink, G.D, GF, Hapa, MGS, Norden, R.A Jones, and Volpak.

Product launches will include:
FlexLink will exhibit BRIXX a concept designed to respond to the dynamic consumer trends pushing co-packing and e-commerce players to meet the spiking demand for higher differentiation and personalization possibilities by the general public. Based on advanced mobile conveyors and robots, this intelligent solution enables the automation of manual repetitive packing and co-packing processes, supporting production companies in their growing challenges to handle multiple product variations and faster changeovers. Due to its modular, click-and-play design and based on intuitive software, BRIXX allows quick layout transformations to facilitate the management of seasonal peak loads with an extremely user-friendly experience.
Debuting in North America, R.A Jones' Intelligent Flexible Transfer System (iFTS) utilizes familiar state-of-the-art technologies to solve product handling and correlation challenges. Features include six-dimensional floating shuttle transfers, ability to collect, group, orientate and layer product for downstream packaging, and a footprint, which is a fraction of the size of traditional transfer solutions.

The iFTS will be integrated with R.A Jones' latest Criterion CLI-100 intermittent motion cartoning machine, which is outfitted with the new Acc-U-Change Plus technology. This feature allows for push-button changeover as well as a flexible magazine and carton feed, providing manufacturers with the option to run paperboard and corrugated cartons.
Norden will showcase the NM 902 tube filling technology integrated with its NTP 80 tray and sleeve packer, both connected by FlexLink's X85 conveyor equipment. This solution is ideal for pharmaceutical and personal care product manufacturers.

The NM 902 tube filler can handle a wide range of tube materials including plastic, metal, laminates, or mono-materials, filling up to 100 tubes/min. Tubes exit the NM 902 onto FlexLink's X85 conveyor, a stainless-steel conveyor system engineered to be modular, robust and easy to clean. The tubes are transferred to Norden's NTP 80 machine where they can be arranged in multiple configurations in either standard cartons or shelf-ready trays.
Hapa's WEB 4.0 5D inline digital printing technology is integrated alongside the Enflex PH-11DX pouch machine. The WEB 4.0 5D is state-of-the-art for inline digital printing and inspection of continuous web packaging materials. It reduces project validation implementation efforts and risk, while also decreasing installation and commissioning efforts.
Enflex's PH-11 DX is a hf/f/s machine for single, twin or strings of sachets. The machine operates from a single reel of flexible packaging material, forming the pouch, filling it with product, and sealing. The new powder dosing system is designed to meet high hygiene standards and is also compliant to 21 CFR part 11 requirements.
Other products to be exhibited include:
MGS' Eclipse CT intermittent motion cartoner is highly effective in a small footprint, with rates up to 80 cartons/min and a design that allows for 24/7 operation. A variety of custom infeeds ensure the machine's fit for the application, while quick-change tooling reduces changeover time and ensures the quality of the first product out. Optional vision verification, barcode verification, and pharmaceutical validation assistance documents mean the Eclipse CT is well-suited for highly regulated industries, including pharmaceutical. Construction adheres to ANSI/PMMI B1.55.1 standard and cGMP guidelines.

Citus Kalix will exhibit two machines: the KP600 EVO is a cartoning machine capable of handling delicate pharma, perfume and cosmetic products at 60 ppm. A tool-less format change system and the assisted changeover functionalities ensure full support and speed during daily operations. Changeover time between formats is around 8 min.
Its KX603 tube filling machine is designed to ensure the best user experience in the pharma and beauty industries. The filling unit is easy to disassemble without tools, which makes cleaning and product changeover very simple. Compact and with unpainted stainless steel finish, this machine is particularly suited for production in controlled environments.
The Amaco | Hapa Piezo DOD Inkjet Printer, part of the D-MOTION series, is the all-in-one solution for medium-sized medical inline printing. This solution is designed to print full surface directly on top web material in single or two colors, ensuring high-quality printing for short advances up to 284 mm. The printer is compliant to Unique Device Identification (UDI), Medical Devices Regulation (MDR) and Food and Drug Administration (FDA) standards and is set up to follow GS1 and HIBC barcode formats.
Companies in this article