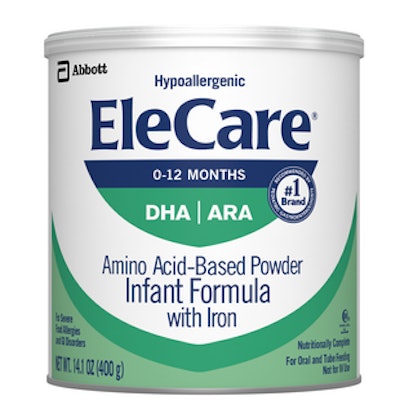 The following is an abbreviated version of the original release.
The U.S. Food and Drug Administration has taken steps to safely and quickly import certain infant formula in the near-term that will lead to millions of cans of additional infant and specialty formula, and has confirmed Abbott EleCare will be the first formula produced when the company restarts production.

The FDA has informed Kendal Nutricare that it is exercising enforcement discretion for the importation of certain infant formula under the Kendamil External Link Disclaimer brand. Under the agency's recent increased flexibilities regarding importation of certain infant formula products, the company initially estimates that about 2 million cans of infant formula are expected to land on U.S. store shelves beginning in June. Kendal Nutricare currently has over 40,000 cans in stock for immediate dispatch, and the U.S. Department of Health and Human Services has initiated conversations to evaluate options for getting the products to the U.S. as quickly as possible.
The agency reviewed applicable information relating to certain Kendamil products and, based on the information provided, does not have concerns that the products can be used safely and that they provide adequate nutrition. In reaching this decision, the FDA evaluated information pertaining to nutritional adequacy and safety, including microbiological testing, labeling, and additional information about facility production and inspection history.
The decision follows guidance issued last week that outlined a process by which the FDA would not object to the importation of certain infant formula products intended for a foreign market or distribution in the U.S. of products manufactured here for export to foreign countries. This guidance also may provide flexibilities to those who manufacture infant formula products domestically and may be able to increase further the quantity of domestically produced product for the U.S. market.

The FDA also has taken steps with Abbott Nutrition to make amino acid-based specialty formulas and metabolic products product available to those with life-threatening conditions on a case-by-case basis and will continue its efforts to make these products even more readily available as the agency works with the company to implement provisions of a consent decree.
These products will undergo enhanced microbiological testing before release. Although some EleCare product was included in Abbott Nutrition's infant formula recall, these EleCare products that will be released were in different lots, have never been released, and have been maintained in storage under control by Abbott Nutrition.
Abbott has confirmed to the agency that EleCare will be the first formula produced at its Sturgis, Mich., facility when it restarts production, and other specialty metabolic formulas will closely follow. Additionally, under the consent decree with the FDA, Abbott is required to retain an independent expert to review the Sturgis facility's operations to ensure compliance with the law.

In addition, the FDA has held discussions with other manufacturers that make comparable products. As a result of the recall and work with the FDA, other manufacturers have increased production of comparable product lines and in some cases expedited the importation of these products where available.
The agency remains in further discussions with manufacturers and suppliers regarding additional supply and intends to prioritize submissions for products that can demonstrate safety and nutritional adequacy and have the largest volume of product available and/or those who can get product onto U.S. shelves the most quickly. The FDA will continue to dedicate all available resources to help ensure infant formula products remain available for use in the U.S., and will keep the public informed of progress updates.
Companies in this article