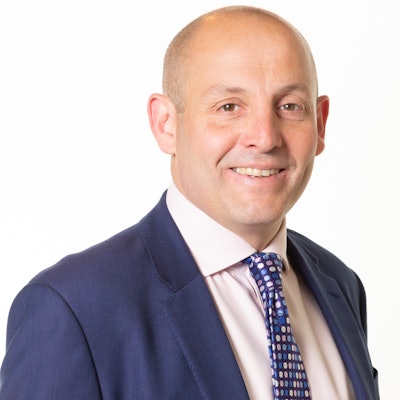 Ahead of his Learning Lab session at Pharmapack Europe 2022, which will explore the latest trends in connected devices, digital health, and digital therapeutics, Marcus Bates, vice president, global business development, Aptar Digital Health, speaks to Healthcare Packaging on the many benefits and developmental challenges in the digital therapy and devices field.
Healthcare Packaging: We have heard a lot about connected devices over the last few years. Has the industry made any big strides in the last year? And what do you see ahead for the next year (as potentially, the healthcare focus on the pandemic fades)?
Marcus Bates: Connected devices have been around in the respiratory disease space for more than 10 years, but these merely had simple adherence tracking capabilities, such as date/time stamps. The view now is that you need a lot more than that, so we're seeing the evolution of more sophisticated connected devices, which can do much more. Examples of these are: 1) the Teva Digihaler, which was launched a little while ago, and 2) just a few weeks ago, Aptar Pharma announced our HeroTracker® Sense. The HeroTracker® Sense sits on top of a metered dose inhaler (MDI) and not only gives date and time stamps, it can also be used more like a training tool for the patient. More sophisticated devices like these can help inform the patient whether or not they've taken their medication in a more compliant way, defined by how they would be advised by a nurse/specialist. The new devices can also pick up respiratory flow and other functionalities.
So, significant advances in technology are out there, but we have not yet seen mass adoption, especially in respiratory connected add-ons or auto injectors.
This being said, I think one outcome of the COVID-19 pandemic was a serious reliance on remote communications with doctors, and this continues to happen, even now that we are striving to live with COVID.
The pandemic was a challenge when it came to clinical trials with respect to patients getting to hospitals and continuing to participate in them. Fortunately, we are now able to use connected devices and smart tools to support decentralized clinical trials, meaning patients do not have to attend a clinic. So, from a clinical trial perspective, we are starting more and more to look to the use of smart devices.
HCP: Would you give us an overview of interoperability of connected devices? There seem to be a lot of different platforms out there, and patient preferences and usage change all the time. How can we, as a global industry, try to bring this together?
MB: You are correct. I recently read somewhere that there are approximately 318,000 health apps. When talking about interoperability, we need to look at the needs of different stakeholders. For me, the key question is how do we make this work for both the patient and the healthcare provider? Can we ensure the patient has a common user experience, across all comorbidities? For example, if a patient is suffering from diabetes, can he/she get all the information about their other linked illnesses in one place, which is also accessible by the physician/healthcare provider? Also, there will be a need for the data to be in an easy-to-read format, and be thorough and repeatable with a standardized process. Ultimately, I believe that digital health must be driven by the needs, the journey, and the pain points of the patient, and if it is steered from that perspective, it will really truly succeed.
HCP: Would you provide us an overview of the device industry right now—and where add-ons fit in?
MB: At the moment, there's a question around when to use add-ons versus integrated devices. There are many things to consider, such as cost and sustainability. Do we really want to be throwing away batteries, printed circuit boards, etc.—one of the risks with integrated devices? When you integrate something, it becomes part of the primary packaging, the primary drug container, and therefore, there's a regulatory impact which could require clinical trials. On the other hand, with add-ons—like a metered dose inhaler (MDI) as an example, where we add something to the top of the MDI, such as in the case of Propeller Health's device or the Aptar Pharma HeroTracker® Sense—the regulatory impact is much lower. You can pretty much confirm through lab testing that there is no impact on the drug deposition. Looking further ahead, and certainly in the immediate term, I can see that the add-ons will potentially have a swifter, easier route to market. Although it might look like add-on devices could be the Holy Grail, so to say, and sustainability benefits drive their development, there may be smarter, sustainable, cost-effective ways of having integrated devices rising in the future.
HCP: Do you think generational change will play a part in adoption, i.e., the millennials who are starting to pass age 40 and may be much more willing to embrace personal data management and connectivity in treatments?
MB: The pandemic has caused even the elderly population to engage with remote communication. The questions millennials will come back to will probably relate to ownership of data and trust. We all want to know more about our well-being through health apps and, therefore, are being pumped with more and more data. Furthermore, we all want to manage our health more personally, so we feel more empowered, and this will continue to increase in the coming years. However, the users need to feel certain and confident that their data is in a trustworthy place. I would say that the elderly (pension age, especially in the U.S.) is more likely to use the apps and trust the handling of their personal health-related data, whereas a 20- to 30-year-old individual might have several questions about data security and use. So, there is a real need to reassure people with regard to data ownership.
HCP: Thinking medium term, what are the biggest impacts we will see from digital health and digital therapeutics, and how quickly will they happen? Similarly, what programs or ideas are pioneering this area? (For example, with lifestyle diseases, are we likely to have digital therapeutics as a first intervention?)
MB: We have more and more national bodies looking to try to enable companies to get digital products into the commercial space in order to create real-world evidence. Germany has put in place DiGA, which helps support innovations, such as medical device software products and apps, as well as hardware plus apps, in order to simplify the process of getting these into the market. We see the same happening in a couple of other countries in Europe, and we see more and more reimbursements in the U.S. Also, in the U.S., a number of pilots are underway in different therapeutic areas, looking at the value and benefits of digital technologies.
Pharmapack Europe is the largest drug delivery and packaging event in Europe and welcomes more than 300 exhibitors from 75 countries. Taking place this year on May 18 and 19 in Paris, the event features an International Meetings Program (business matching), an International Meetings Program, a full 2-day conference, Learning Lab presentations, and eponymous awards, as well as areas for new innovations in the Start-up Hub, an Innovation Gallery, and tours. In total, the event will host some 5,000 attendees and offer more than 50 dedicated content sessions.
Companies in this article