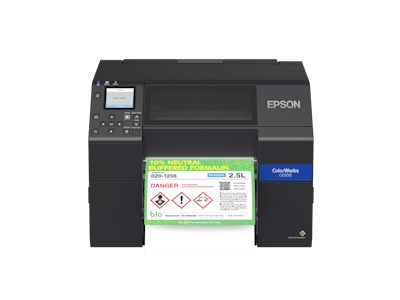 Healthcare labels benefit from color printing for a multitude of reasons, including efforts to:
Color code for different strengths of an injectable drug
Improve user reading comprehension with images, symbols or copy
Employ hospital ID bracelets with patient photos or allergy indications
Add anti-counterfeiting features
Though color printing is often desired for reducing errors and improving patient safety, it can be cost-prohibitive for certain facilities and manufacturers.
At PACK EXPO, Epson America launched the first printers specifically designed as a color upgrade to black-only thermal transfer printers for industrial applications. The lineup includes four new ColorWorks On-Demand Color Label Printers: ColorWorks C6000A, C6000P, C6500A, and C6500P. The new models deliver on-demand labels at a reportedly comparable price to thermal transfer.
The printers enable industrial and commercial organizations to produce high volume color labels for production use, printing labels at speeds up to 5-inches per second. Featuring up to 1200 dpi resolution, the models print crisp images comparable to pre-printed labels. 4- and 8-inch models cover a spectrum of label sizes to meet the varying needs of healthcare label printing.
Peel-and-present capabilities
As employees may be wearing gloves in the healthcare or production setting, two of the models are the first ever color inkjet printers to support peel-and-present capabilities for fast hand or automated label application (C6000P and C6500P). The C6000A and C6500A include an auto-cutter to create variable length labels and enable easy job separation.
The time it takes to peel labels is eliminated with this option, representing labor savings. For those employing robotic systems for label application, it's often hard for the robot to peel the label. By offering a peel-and-present option, efficiency is increased with the robotic arm being able to quickly grab and apply.
Built for UV sterilization
When hospitals use UV light to sterilize clinical rooms, an adverse effect can occur where colors on medical device labels fade. As Andy Scherz, Senior Product Manager, Commercial Label Printers, Epson America, Inc. notes, "You can enter the patient room or the OR, with all the medical devices waiting to be used in a procedure, and it looks like a used bookstore," though the products are not old at all. Durable color inks in the ColorWorks line withstand UV lights, preserving the label readability on medical device packaging.
Targeting concerns in food and cannabis labeling
Scherz highlights that on demand printing is an important part of many food and cannabis operations, where label content may need to change rapidly for regulatory or ingredient updates. A company may need to add copy or warnings for GMOs, allergies and more. "The amount of critical information on every label is growing and changing frequently," he says.
Designed for easy integration
The printers are compatible with ZPL II, SAP, major middleware and more, and built to accommodate remote printer management to offer easy integration with existing workflows. As medical device manufacturers and other life science companies are often global enterprises, remote management tools mean IT personnel can perform firmware updates no matter where the printer is located.
"The industry recognizes the benefits of on-demand color label printing, but we also know it can be difficult to make the transition from a black-only thermal transfer printing process that is already set up in the current workflow," says Scherz. "This new family of ColorWorks on-demand label printers provides an easy transition for customers looking to make that vital switch, with similar media handling capabilities, speed, features, and connectivity options that deliver seamless integration with existing workflows, so customers can get up and running with a new, more colorful system, fast."
Scherz explains that the media loading process is versatile, with printer doors opening multiple ways and easy to access to all parts of the machine for quick resolution of jams. The models feature permanent printheads, meaning users avoid the costs and hassle of replacement printheads.
Companies in this article