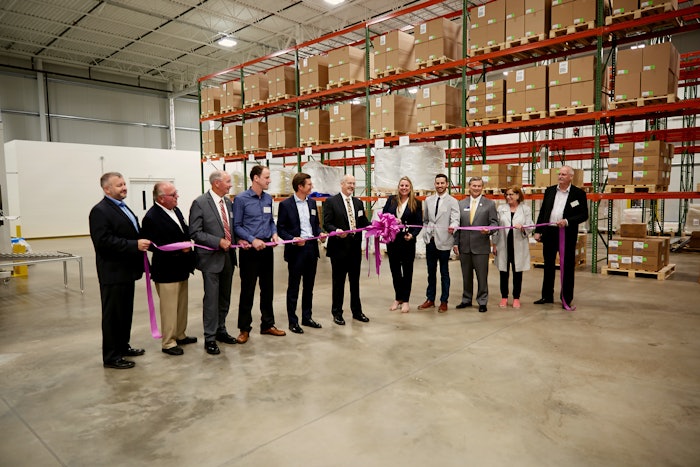 Rain wouldn't stop Hoffman Neopac from building its new facility in Wilson, NC. Despite frequent showers during the project, the team maintained a disciplined timeline thanks to support from partners and local authorities and the site opened in mid-May, a mere 13 months from its inception.
The 37,000-sq-ft Neopac facility is focusedprimarily on small-diameter tubes (10 and 13.5 mm), with a capacity of producing approximately 80 million Polyfoil® tubes per year.
At the grand opening ceremony on May 16, 2019, Mark Aegler, CEO of Hoffmann Neopac AG, discussed the company's goal of better serving the needs of customers in North America in the established fields of pharmaceuticals, cosmetics and animal health products as well as in the emerging cannabis sector. It's a sort of homecoming for Aegler, who grew fond of the nearby Raleigh area after living in Virginia several years ago.
Aegler thanked the community, including Wilson Executive Director of Economic Development Jennifer Lantz, and suppliers for their support. "Cleanroom manufacturing is not everyone's specialty. We had really good partners," said Aegler, adding that relationships were a critical component of the project. Douglas Voreis, Managing Director of Neopac U.S., noted that Jackson Builders was instrumental in building the facility and maintaining a strict timeline.
After presentations from Voreis and Richard Misdom, Sales Manager Pharma NA, and the ribbon cutting, Neopac representatives led guided tours of the facility and potential product portfolio. The highlight of the tour was a high-speed tube line demonstration where attendees—customers, partners and select members of the Wilson community and Chamber of Commerce—saw production for the Twist'n'use™ Tube, a small-volume single-dose package that, once the cap is twisted, cannot be resealed.
As Midsom noted, there is a growing demand in the U.S. market for innovative products (versus established ones) and for small diameter tubes that offer child-resistance for applications such as pain management and cannabis products; this demand is bolstered by the need for sample-size tubes that must also be child-resistant. The facility offers 6-color offset printing and can work with manufacturers for added cap customization. In addition to the aforementioned Twist'n'use tube, Neopac will also produce its Child-Resistant Tube, Tamper Evident Nozzle Tube, Miniwing™ and Nozzle Tube with Standard Screw Cap.
With space to expand in the future, Neopac plans to grow with their customers, offering new products to meet precise dosing needs, tamper evidence and more.
Companies in this article