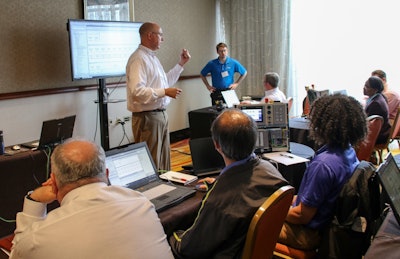 Immediately following the ninth annual Automation World Conference & Expo (May 14-15; Chicago Marriott O'Hare), the workshop extends the automation education an additional full day withhands-on PackML training from experts including B&R Automation, Bosch-Rexroth, Rockwell Automation and Siemens. The small-class style training will include basic and advanced PackML coding and programming sessions.
"OMAC is pleased this year to take our workshop to the next level by offering an advanced training course for the first time," says Paul Redwood, OMAC Chairperson and R&D Engineering Manager for Church & Dwight."Our technology provider members have stepped up to make sure there is a training solution for all attendees."
Program content includes:
Basic Training and Programming
History and development of PackML
PackML benefits
Understanding and applying the PackML State Model
Basic coding and programming with a PackML Library
Using PackTags
Introduction to using OPC-UA and PackML together
Advanced Coding and Programming Training
Best practices for identifying modes and states for your application
PackML coding and programming best practices
PackML module development, code reuse
Guided advanced coding and programming practice
Guided advanced practice using PackTags
Practical experience using OPC-UA and PackML together
Important note: To register for the Advanced Coding and Programming Training you must have prior knowledge about PackML Modes, States, and PackTags—what they are, their role, and basic application. The primary focus will be on PackML coding and programming. Prior participation in PackML basic training is advantageous, but not required.
Registration for OMAC members is $200 for Basic Training and $250 for Advanced Training before Feb. 27 when it increases to $250 and $300. The non-member registration fee is $300 for Basic Training and $350 for Advanced Training before Feb. 27 when it rises to $350 and $400.
For more information and registration click here.
Companies in this article