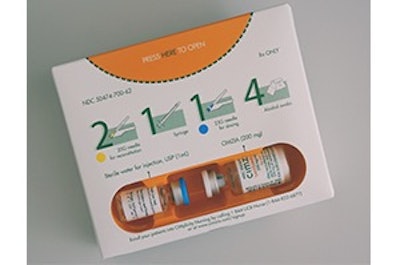 Each year, innovative companies submit new packaging and drug delivery designs for Pharmapack Award consideration. The awards recognize new products set to shape the future of the industry. As Pharmapack Brand Director Silvia Forroova explained, the committee only considers developments that emerged since the previous year's conference, ensuring that the awards highlight the latest in packaging advances.
New in 2019,the Health Product Category has 2 special recognitions:
Patient-Centric Design Award in Partnership with HCPC Europe

Eco-Design Award in Partnership with Adelphe
Here are the 2019 winners:
PATIENT-CENTRIC DESIGN AWARD
"Excilor 2-in-1 Wart Treatment" by Medical Brands, co-developer: Vemedia

The Excilor 2-in-1 Wart Treatment is an innovation in the OTC wart treatment market, combining two best-in-class technologies into a single device.

Wart sufferers today are limited to either cryo or acid treatment options with limited efficacy and long treatment schedules. The single device is the first product bringing both cryo and acid therapies together providing faster treatment time and fewer applications.
ECO-DESIGN AWARD
"Steril Cosmetic" by RPC BRAMLAGE, co-developer: Pierre Fabre Cosmetic
This pump integrates a one-way valve, at the tip of the actuator, which is opening and closing in function of the pressure reached in the dosing chamber during the actuation. The pump is 100% plastic and it is 100% recyclable. The Airfree technology allows to integrate PCR material in the external layer of the bottle because it is not in contact with the formula.
This pump is a world premiere regarding dispensing of sterile cosmetic, it is the product of six years research and development, covered by six patents. Everything is made in France in Oyonnax.
ECO-DESIGN AWARD
"Cimzia 200mg/Vial Lyophilized Powder Pack" by UCB PHARMA, co-devoloper: RONDO

The package combines eco-friendliness, compliance to dose regimen and user safety. With some 12 improved or new features added to the package, the move towards this improved secondary packaging solution is fitting with the UCB strategy that aims to render UCB operations carbon neutral by 2030.

The package incorporates new and innovative packaging features that shift the paradigm of pharmaceutical packaging based on actionable insights collected – most of them focusing on package size, recyclability, sustainability, and waste reduction. Some insights collected were covering nurse safety and compliance aspects, as well.
EXHIBITOR CATEGORY
BEST INNOVATION IN DRUG DELIVERY DEVICE
Connected Health Platform by Phillips-Medisize

The third-generation Connected Health Platform (CHP) from Phillips-Medisize, a Molex company, helps pharmaceutical companies and drug delivery device developers reduce risk, cost and time to market with leading innovation and technology accelerators. This cloud-based platform provides a safe, scalable and trusted medical device data system (MDDS) built on technology from the world leader in health data interoperability. It encompasses extensive information-sharing, analytics capabilities, robust cybersecurity and streamlined regulatory documentation.

Its advanced analytics package is designed for connected drug delivery devices, biosensors and regulated Mobile Medical Applications (SaMD/MMA). Ultimately, connected health solutions may help patients improve medication adherence and manage chronic conditions.
BEST INNOVATION IN DRUG DELIVERY DEVICE
Cartridge-based wearable device by Stevanato Group

The cartridge-based wearable is an easy, discreet, effortless device for adjustable regimens, offering an alternative to traditional pen-injectors. Thanks to its innovative yet simple technology, it ensures a painless, intuitive and quick administration of the drug.
It has been designed to be a discreet and comfortable device that makes the patient's life easier even in a dynamic context, including traveling or playing sports.
BEST INNOVATION IN SOLID DOSAGE PACKAGING
Push Tab® by Huhtamaki Flexible Packaging Germany GmbH & Co.KG

Push Tab® is an alternative opening for strip packaging. The Push Tab® material for strip packs makes it easy to remove tablets simply by applying pressure. Featuring top barrier properties and various seal layers, the material from Huhtamaki offers the option of a child-safe packaging solution. The barrier properties are not affected in any way as a result of pushing through the film and guarantee the highest levels of product safety.

Different versions and forms ensure adequate market differentiation and are an interesting alternative to blister or cold-form applications. The application is PVC-free, cost-effective and suitable for different climate zones. A recyclable version is under development.
 
BEST INNOVATION IN SOLID DOSAGE PACKAGING
IQ-DOSE by Stiplastics Healthcaring

IQ-Dose (intuitive and quick-dose) is an efficient, easy-to-use device made for dosing and counting mini-tablets. It is especially useful during trial phases for pediatric medicine, but also for specific treatments such as Parkinson's disease, oncology treatment, psychiatrics and more. This new solid form of pellet allows the administration of tiny doses, exactly adjusted to a patient's needs; the disadvantage, however, is that the small size of the pills make them difficult to count.

The IQ-Dose is a new solution for overcoming these difficulties. Hygienic and accurate, the device allows the selection of the exact quantity of mini-tablets prescribed, from one to 24, in one go, without the need for any contact with the hands.
BEST INNOVATION IN PACKAGING MATERIAL & COMPONENT
syriQ BioPure® by Schott AG

SCHOTT's new syriQ BioPure® prefillable glass syringes were designed specifically for the biologics market, keeping sensitive drugs stable, easing administration and shortening time to market. Improved drug stability is reached through enhanced manufacturing processes, which lead to ultra low tungsten level and low adhesive residuals resulting in reduced risk of potential interactions with other materials.

Additionally, a homogeneous silicone layer ensures a consistent gliding performance, which is essential to ease administration for the patient. Functionality is achieved through tighter dimensional tolerances and a verified compatibility with safety devices. The syringes are made of FIOLAX® borosilicate glass and are available in more than 48 pre-validated configurations.
BEST INNOVATION IN PACKAGING MATERIAL & COMPONENT
QuickStart™ Injectables by Aptar Pharma

Aptar Pharma QuickStart™ is an innovative way to deliver injectable development solutions to pharmaceutical customers, demonstrably accelerating bench-to-market time. Designed specifically for R&D labs, biotech companies, start-ups and universities, QuickStart™ provides everything needed for the small volume filling of high-value formulations.

QuickStart™ combines best-in-class components from Aptar Pharma, Schott and EMA, enabling innovators to benefit from multiple configurations shipped from a single source, and available to order through a convenient e-commerce portal. These components satisfy all regulatory requirements, allowing developers to access commercial scale quality at development stage costs, meaning performance at project outset can be maintained at scale up.
Editor's note: For a roundup of all of Healthcare Packaging's coverage from Pharmapack, click here.>>