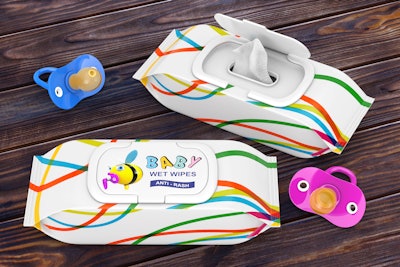 According to Stratistics Market Research Consulting, plastic is one of the most used packaging materials for this market due to its lightweight nature, which helps in carrying the products.
Baby care plays a crucial sales roles due to its feasibility and attraction, notes the report, Baby Care Packaging—Global Market Outlook (2017-2026). It predicts annual market growth of 6.8% during the forecast period.
"The attractiveness and appealing display of the baby care products are driving the market growth. However, the environmental concerns are limiting the market," says the report.
"Across the globe, North America has demand due to high government regulations for baby care. The government has strict policies concerning baby products, material, and packaging. The increasing population and rising birth rate in the region are aiding the growth of the market. Product innovation and quick adoption of new packaging technology is a trend in this region," says Stratistics.

The report covers cans, bottles, pouches, tubes, and other products. Materials covered include glass, plastic, metal, paper and other materials.
Baby personal care report
In separate research, MarketResearch.biz delivers in-depth insights on the global baby personal care market in its Global Baby Personal Care Market Trends, Applications, Analysis, Growth, and Forecast: 2017 to 2027.
The report identifies these as care products, children toiletries such as nappies, diapers and shower products designed for children below three years of age.
The report states, "Increasing awareness regarding child hygiene is a major factor driving growth of the global baby personal care market. [The] rising number of working women coupled with increasing disposable income are factors fueling growth of the global market. Growing awareness about presence of harmful chemicals in personal care products is making consumers more inclined towards organic baby personal care products resulting in its increasing demand. Rising economic stability of parents and increasing purchasing power are factors propelling growth of the target market.
"However, high cost of baby personal care products and limitations on usage chemical ingredients are major factors expected to hamper growth of the global baby personal care market."