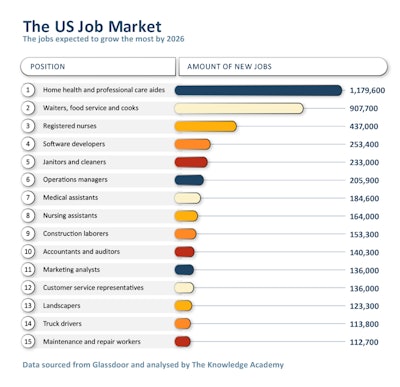 Home health and professional care aids represent the top job growth area through 2026, according to data analyzed by The Knowledge Academy.
Seeking to uncover the future of the U.S. job market, The Knowledge Academy analyzed findings from Glassdoor's report What's Ahead for Jobs? Five Disruptions to Watch in 2018.
Although there was no immediate information on packaging-related jobs, the report projected a positive health care job market, including the following points:
• The health care sector in America is predicted to have the largest growth between now and 2026, generating more than 1.1 million new jobs.
• Registered nurse demand will create 437,000 new jobs.
• Thereafter, nursing assistants and medical assistants are predicted to have 164,000 and 184,600 new roles, respectively, by 2026.
• There will be an increasing demand for tech-related jobs, even among "non-tech" industries, with software developers expected to create 253,400 new positions.
The Knowledge Academy press release also reported the following details:
• Artificial Intelligence (AI) has already advanced into aiding financial, transportation and energy management sectors. Although the benefits are apparent, they come hand-in-hand with fears that jobs which currently exist now, may not become part of our future workforce.

• A recent study by the Pew Research Center revealed that 48% of Americans are somewhat worried that their job could be taken over by a robot, and 25% are very worried at this prospect.

• According to the U.S. Bureau of Labor Statistics, the unemployment rate remains unchanged at 3.7% as of October 2018, with the number of unemployed people in the U.S. equating to around 6.1 million.