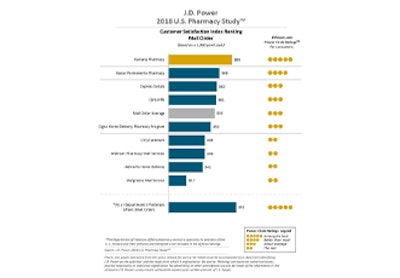 As a young boy, this editor remembers visiting pharmacies—sometimes referred to as apothecaries—that not only carried medicines, but often had soda fountains that could prepare your favorite soda, be it cherry red or "Green River," or mix you a giant malted. Many were "mom and pop"-type stores, run by owners who took extraordinary pride in their ultra-shiny, stainless-steel countertops and knew just what every local customer needed, sometimes compounding the ingredients while the customer waited.
The local Walgreens offered a "drug store," clearly separated from a restaurant that had both countertop space with individual stools and a modest number of tables, all of which were magically equipped with miniature jukeboxes. But we digress. …
Today's pharmacies may not carry that same charm, but we still love them nonetheless. That's a key takeaway from J.D. Power's 2018 U.S. Pharmacy Study, "U.S. Pharmacies Raise Bar for Customer Satisfaction, Setting Stage for Fierce Competition in Digital Mail/Mail Order Market."
J.D. Power, a marketing, consumer intelligence, and data and analytics company, notes that this year's study shows that the U.S. pharmacy industry continues to set a high bar for customer satisfaction in both the brick-and-mortar and mail-order segments, and this is a continuation of its history as one of the most customer-centric industries it measures.
Two primary points stand out in the study:
• U.S. consumers love their pharmacies: The average customer satisfaction score for brick-and-mortar pharmacies (847 on a 1,000-point scale) and mail order (859) compare favorably with other high-scoring industries evaluated by J.D. Power, such as direct banks (863), property and casualty insurance companies (860) and full-service investment advisors (839). Among the different pharmacy segments, supermarkets have the highest levels of overall satisfaction (863).
• Retail health clinics paying dividends in customer satisfaction: Among brick-and-mortar pharmacies, the key driver of overall customer satisfaction is the availability of health and wellness services. Availability of these services is associated with a 66-point improvement in overall satisfaction. Such services are currently present in 86% of chain drug stores, 83% of supermarket pharmacies and 75% of mass merchandiser pharmacies.
"The retail pharmacy business has been in the spotlight ever since Amazon announced in June 2018 that it's getting into the space," says Greg Truex, Senior Director and Healthcare Practice Leader at J.D. Power. "Amazon, or any other organization looking to disrupt the $100 billion U.S. mail-order pharmacy market, will have their work cut out for them. Legacy pharmacy players have invested heavily in delivering superior service, while brick-and-mortar pharmacies are starting to reap significant customer satisfaction gains from retail-style clinics offering health and wellness services."
Other key findings include the following:
• On-time delivery is priority for mail-order pharmacies: Among mail-order pharmacies, the key driver of overall customer satisfaction is having a prescription ready/delivered when promised. Delivering prescriptions on time is associated with a 78-point increase in overall customer satisfaction. Customers also evaluate the speed of delivery, adding 42 points to overall satisfaction scores when prescriptions are received within five days of completing an order.
• Service with a smile still matters: Amidst the talk in the industry about distribution channels, supply chains and drug costs, some of the most significant drivers of customer satisfaction in all pharmacy segments includes friendly, engaging service. Among brick-and-mortar pharmacies, the second-most effective driver of overall satisfaction is "non-pharmacist staff greeted you in a friendly manner," which is associated with a 64-point increase in customer satisfaction. Even in the mail-order segment, a "thank you" from non-pharmacist staff is associated with a 17-point increase in satisfaction.
Study rankings
• Brick-and-mortar chain drug stores: Good Neighbor Pharmacy ranks highest overall in this category, with a score of 903. Health Mart (890) ranks second and Rite Aid Pharmacy ranks third (846).
• Brick-and-mortar mass merchandiser pharmacies: Sam's Club ranks highest overall, with a score of 892, followed by Costco (860) and CVS/pharmacy inside Target (859).
• Brick-and-mortar supermarket pharmacies: Wegmans ranks highest overall, at 906, with H-E-B (897) second and Publix (891) third.
• Mail order: Humana Pharmacy ranks highest overall with a score of 885, followed by Kaiser Permanente Pharmacy (866) and Express Scripts (862).
The U.S. Pharmacy Study, now in its 10th year, measures customer satisfaction with brick-and-mortar and mail order pharmacies. The 2018 study is based on responses from 10,749 pharmacy customers who filled a prescription during the three months prior to the survey period of May-June 2018.