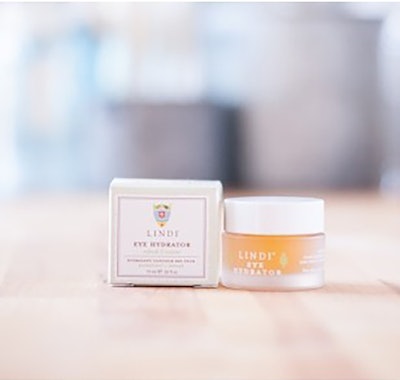 Founded by Lindy Snider, Chairwoman of Athletes For Care, Lindi Skin LLC is the first full line of skin care products developed specifically for cancer patients, including a non-adhesive dressing designed to be applied to skin after radiation therapy.
The products are manufactured and packaged in the U.S. in a GMP-Certified, 9001 ISO, FDA-Compliant pharmaceutical-grade facility. Filling is performed by a copacker with machinery, with outer cartons manually assembled.
Bottled products are packaged in clear plastic, Boston round bottles with UV protective coating in sizes of 1, 2, 8 and 12 oz. They feature white plastic spray heads with fine mist delivery or white plastic hand pump dispensing heads, free of exposed metal.
Products in jars use clear frosted glass 15-mL jars with sterilized, foil heat induction protective seals. Continuous-thread, white plastic closures offer fine mist spray delivery for consistent, even coverage, with an eight-color full print outer corrugated carton.
Sidebar: Celebrity branding in cannabis
By Jim Chrzan, Group Publisher, PMMI Media Group
Athletes For CARE (A4C) is a 501(c)3 not-for-profit organization that was founded by a group of professional athletes who have united together to raise awareness on issues such as addiction, chronic pain, access to alternative medicines, mental health, CTE, and traumatic brain injury.
These athletes have rejected opioids to treat their pain and depression and are exploring alternatives like CBD oils and other cannabis treatments. Now, some of these retired athletes are launching their own brands.Marvin Washington, for example, retired after 11 seasons in the NFL and launched ISOSport™, a hemp-based line of high-performance products—hemp water, protein powder, and cooling cream—designed to support the unique needs of professional and "prosumer" athletes.
Greta Gaines, an internationally recognized pro-snowboarder and fly-fishing devotee, has launched The Hempery. It sells hemp-based cosmeceuticals for skin care, offering benefits that include moisturizing without clogging of skin pores. Anti-aging and anti-inflammatory benefits are also touted.
Selected 39th overall in the 2009 NFL draft, Eben Britton spent four years with the Jacksonville Jaguars followed by two with the Chicago Bears. He retired from the NFL with a laundry list of injuries including a dislocated shoulder (torn labrum), herniated discs, and sciatica, as well as a handful of concussions. Eben suffered unimaginable muscle, joint, and body pain as a result of enduring years of abusive injuries and then continuing to play with those injuries. Britton used cannabis as a preferred method of pain management during his football career and is now employing non-narcotic hemp extracts with his line, Be Truˉ Organics™. Started by Britton, along with Sean Entin and Julie Wilson, Be Truˉ Organics™ nourishes mind, body, and soul with Gummy Chews, Oral Spray, and Pain Relief Cream.