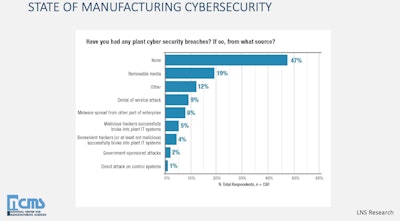 At the recent Automation Conference in Chicago, Taylor revealed latest figures showing there has been a 92 percent increase in malware, and a 46 percent increase in ransomware.
Not all is directed at manufacturing, but operations inside companies have been hit. Ransomware in particular has evolved. Hackers no longer ask for exorbitant amounts of money, they make it a "nuisance" amount like $30,000 and they usually get it.
Removable media (memory sticks) remain the biggest threat. Often these are brought into the facility by an unsuspecting employee. There are some state-sponsored attacks, but most involve energy or water at municipalities.
Companies remain woefully unprepared to defend against cyberattacks, and fewer lack a special focus on protecting manufacturing. Taylor told the audience, "It's better to do something today than wait to get it perfect later."
See the entire presentation here: Collaboration That Works: Cybersecurity for Manufacturing. This presentation comes from The Automation Conference 2018, hosted by PMMI Media Group's brand, Automation World.
Learn more about The National Center For Manufacturing Sciences.