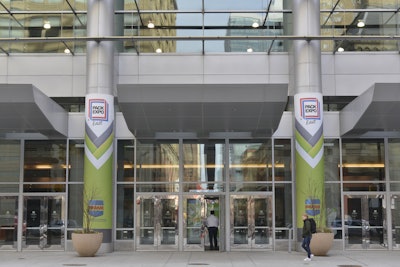 With one-third of the nation's consumer packaged goods companies and many major pharma manufacturers located within 200 miles of Philadelphia, PACK EXPO East 2018 offers attendees an opportunity to exchange ideas with more than 6,000 industry professionals and visit more than 400 exhibitors within 100,000 sq ft of space at the Pennsylvania Convention Center.
Produced by PMMI, The Association for Packaging and Processing Technologies, the April 16-18 event runs between 10 a.m. and 4 p.m. all three days. Attendees include manufacturers, managers, engineers, production supervisors, purchasers, brand managers, package designers, product development professionals, and supply chain and logistics professionals from companies of all sizes. In the pharmaceutical/medical device industry, attendees will be able to view technologies to meet regulatory, consumer, and internal production demands with ideas from suppliers and peers.
Suppliers will exhibit advanced packaging equipment, materials, containers and automation technologies, including track and trace, robotics, intuitive controls, energy efficiency, hygienic design, line integration and remote access and monitoring.
Bring the whole team
Feedback from attendees and exhibitors alike cite PACK EXPO East as an efficient way for end users and suppliers of packaging technologies to engage. It doesn't hurt that the East Coast region is so strongly represented in this industry.
"It's just easier, if you are regional, to visit with more people," says Kevin Mauger, President and CEO of NCC Automated Systems, which has attended PACK EXPO East as an exhibitor and attendee. "The shows are generally smaller than the national ones, so you can spend more time with people. It's a whole different setting, you get to explore more, get to know more, ask more questions, and then revisit if you have even more questions."
After two successful years of PACK EXPO East, a frequent theme is how accessible the shows have been, and not only to top packaging equipment and materials buyers, but also to whole teams of attendees who otherwise don't get to go to hands-on trade shows.
"With a local show, it allows us to give the opportunity for the whole staff to attend, versus more of the equipment engineers and a small selection of engineers from the other packaging groups for Las Vegas or Chicago," says Ronald Yakubison, Director—Packaging Technical Operations, Merck.
Companies in this article