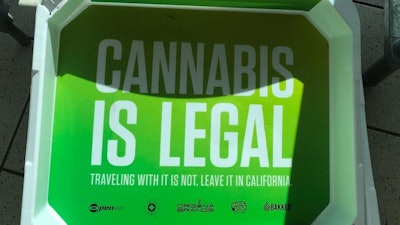 Mile-high ads
We might be a long way off from seeing marijuana ads as ubiquitous as cigarette ads were in the 80s and 90s, but this September saw the first inflight magazine to feature a cannabis advertisement. Las Vegas-based Allegiant Air agreed to run a full-page Acres Cannabis ad in its Sunseeker magazine. The LA Times reported that Kevin Forde, a spokesman for Acres, a Las Vegas dispensary, is considering purchasing ads in other airlines' magazines in the future.
An LA Times report also noted that TSA bins in the Ontario airport in California feature cannabis ads. The ads say, "CANNABIS IS LEGAL" in bold letters, with fine print stating "Traveling with it is not. Leave it in California," along with five corporate logos for the cannabis manufacturer who sponsored the ads, Organa Brands.
Legalization news
In the federal government's eyes, marijuana is still a Schedule 1 drug with no accepted medical value and high potential for abuse. But just this month, a New Jersey appeals court ruled that the state must reevaluate the Schedule 1 classification of marijuana. Regardless of the federal classification, marijuana has countless medical benefits, and this could be a step toward government acceptance.
Marijuana supply chains have given some states headaches. In October, the city of San Diego finalized legalization on marijuana cultivation and manufacturing. The move makes it one of the "few cities in California to have a fully regulated supply chain for the drug."
New Zealand eyes the legalization of cannabis. A report from CNBC notes that the recently elected prime minister, Jacinda Ardern, wants to initiate a national discussion on legalization and plans to work with her Cabinet. No referendum date has been proposed yet.
California fires
The Northern California wildfires damaged more than homes and wine country. Marijuana farms were also severely impacted by the fires. In an interview with NPR, Josh Drayton of the California Cannabis Industry Association noted, "We were anticipating one of the largest cultivation seasons the state has ever seen. … That's going to change. Will that have ripple effects and create bottlenecks? You know, we might see some supply chain problems."
Even crops that appeared to be spared may be too smoke-damaged to be saved. The news is particularly devastating as farmers do not qualify for crop insurance with cannabis still illegal on the federal level.
Ned Fussel, CEO of CannaCraft who owns around 20 farms in Northern California, remains hopeful. "We've been kicked down and had to start over many times. And we always found it's really important to just kind of keep a level head through it all and just try to [see] the light at the end of the tunnel."
Marijuana degree
Looking for a career change? Northern Michigan University has added a medicinal plant chemistry degree. The Detroit Free Press reports that the rigorous course of study includes "organic chemistry, biochemistry, soils, biology, gas and liquid chromatography, biostatistics, genetics, accounting, financial management and perspectives on society."
Other universities have added classes on marijuana policy and law, as well as certificate programs, but this is the first degree of its kind in a 4-year program. To avoid breaking any laws, students will not actually grow marijuana, but study by growing other medicinal plants.
Major investment
Though it does not currently have plans to sell cannabis products until they're legal, Constellation Brands—known for its Corona and Ballast Point brands, among others—has made a $191 million investment into Canopy Growth Corporation — the world's largest publicly traded cannabis company.
This marks the first time that a major alcohol manufacturer has made the foray into marijuana, and as Brewbound reports, gives Constellation a 9.9% stake in the Canadian company. The article notes that the transaction is expected to close during the third quarter of fiscal year 2018, "and the booze maker will have an option to acquire more of the cannabis company in the future."