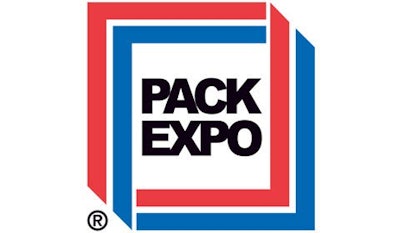 The OpX Leadership Network will host three Innovation Stage sessions at PACK EXPO Las Vegas (Sept. 25–27; Las Vegas Convention Center). The group, convened by PMMI, The Association for Packaging and Processing Technologies, is a catalyst for transformative solutions and best practices to improve operational excellence in today's "do more with less, faster environment." These Innovation Stage sessions will provide show attendees the opportunity to learn from industry leaders at no additional cost.

The first session (Monday, Sept. 25, 11:00 a.m., C-1049), "Approaches for Staying at the Forefront of Safety," highlights how to mitigate the conditional and behavioral risks to worker safety, and provides guidelines for Worker Safety Audits. The second session (Tuesday, Sept. 26, 10:00 a.m., C-1041), "Request for Proposals: Entry Points to Successful Projects," provides best practices and protocols to enable more accurate and effective responses and evaluations. The third session (Wednesday, Sept. 27, 11:00 a.m., C-1041), "Clean-in-Place: Best Practices to Improve Operations," provides practical tools for Clean-in-Place systems and sustaining Clean-in-Place best practices. View the full Innovation Stage schedule here.

The OpX Leadership Network is a dynamic community of manufacturing, engineering and operations professionals dedicated to operational excellence. Through open dialogue between consumer packaged goods (CPG) manufacturers and original equipment manufacturers (OEMs), the OpX Leadership Network provides an exceptional forum where the best minds come together to identify and solve common operational challenges, and apply best practices and innovative solutions to the real-world context of manufacturing. Learn more at OpXLeadershipNetwork.org.

PACK EXPO Las Vegas and, the co-located, Healthcare Packaging EXPO will bring together more than 30,000 attendees, including 5,000 international visitors from more than 125 countries, combined with 2,000-plus exhibiting companies spanning nearly 900,000 net square feet of a nearly sold-out exhibit floor. Learn more and register at www.packexpolasvegas.com. Registration, which includes access to both PACK EXPO Las Vegas and Healthcare Packaging EXPO, is $30 until Sept. 1 when the price increases to $100 and includes admission to all exhibits and the Innovation Stage.
Companies in this article