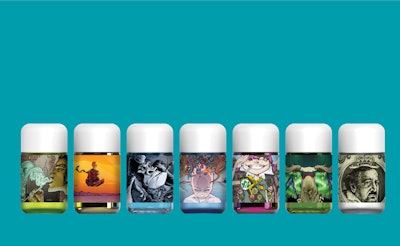 Marijuana's coming of age has ushered in a new wave of suppliers, and with it fierce competition. Worth $6.7 billion in 2016, the marijuana industry is expected to reach $50 billion by 2025. In an effort to differentiate their products, cannabis companies are replacing the baggies of yesteryear with carefully engineered luxury packaging. A recent Ad Age article reported on noteworthy strategies ranging from childproof glass containers to artist-designed labels.
Colorado-based luxury lifestyle brand Toast employs art deco design elements, embossing, foil stamping, and metallic inks to create an upscale cannabis cigarette for those who smoke socially. Ed Kilduff, the guy who created the Rabbit wine opener is dipping his toes in the cannabis industry with his company Pollen Gear. The company makes premium storage solutions including glass bottles, air-tight and stink-proof boxes, and locking bags for packages that don't meet safety standards. Another company, Kush Bottles Inc., is a publicly traded pot packaging company that's been around since 2010 and has expanded as individual states legalize recreational use.
"There's no way right now for them to distinguish their top-shelf flower that costs them more to make," says Kilduff, referring to pot retailers. "Now they finally have a package for it."