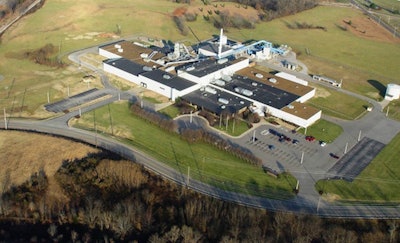 Belgium-based Verstraete IML is embarking on a new chapter in its growth story. In the coming months, the in-mold labels company will start preparing the construction work for the new production site in Clarksville, Tennessee (US), together with its parent company Constantia Flexibles. The new site will allow Verstraete IML to get closer to its customers in the largest growth market for IML labels outside Europe. The site will begin production in the second half of 2017 and will have multiple printing press and finishing lines. Some 55 jobs will be created. Verstraete IML expects to invest EUR 18 million (USD 20 million) in its new US plant
within a period of three years.
IML in North America
Koen Verstraete, Managing Director of Verstraete IML: "The decision to expand our production capacity with an international site is a huge step for our company. Going to North America will not only strengthen our position as global leader, but also gives us direct access to North America – the IML market with the best growth potential."
Support from Constantia Flexibles
Verstraete IML is part of Constantia Flexibles, one of the world's leading manufacturers of flexible packaging and labels. Mike Henry, EVP Constantia Flexibles' Labels division: "The new site is located in Clarksville, Tennessee, where Constantia Flexibles already has a paper and pressure sensitive labels plant serving the American beverage and food market. This has many benefits. Constantia has the management, legal and technical experience we need to operate successfully and rapidly in the North American region."

100% Belgian IML know-how
The Belgian production site is also thoroughly preparing for the expansion in North America. Koen Verstraete: "The plan for North America is ready to be executed. Our US team in Maldegem, Belgium, has been working on a roadmap for Verstraete IML USA for more than a year. This plan will now be put into action. The production unit in North America will be run in the same fashion as Verstraete IML in Belgium in terms ofthe production process and quality. Basically, representing 28 years of IML know-how." The two Belgium-based plants in Maldegem and Ursel will continue to operate at the same capacity levels. "The new production site in North America will result in shorter turnaround times and a more efficient response to market demand both in North America as in South America, Europe, Asia, the Middle East and Russia & CIS."

Verstraete IML is a prominent global leader in in-mold labeling. The company specializes in printing labels on polypropylene, using a technique where the label is placed in a mold which has the shape of the end product. The result is that the label and packaging become one. Verstraete IML, formerly known as Drukkerij Verstraete, has over 25 years of experience in IML and has been market leader for the past 15 years. Until now, the labels have been produced exclusively in Belgium, at the plants in Maldegem and Ursel. 65% of the labels are produced for the European market, 35% is exported to Asia, the Middle East, Russia & CIS and North and South America.