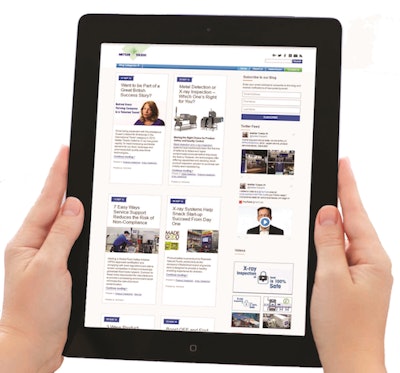 This content was written and submitted by the supplier. It has only been modified to comply with this publication's space and style.
For any food or pharmaceutical manufacturer, Product Inspection information is an invaluable asset – all the more so when it's easily accessible, totally up-to-date, reassuringly well-informed, and reliably sourced from a global leader in Product Inspection. So it's no surprise that Mettler Toledo's new Product Inspection Blog is proving to be popular with manufacturers in food, pharma, and other industries who can now tap into vital information on a wide range of product inspection matters - on demand, 24-7 and from a single, constantly updated source.
Mettler Toledo is a global leader in metal detection, checkweighing, x-ray and vision inspection solutions for the food and pharmaceutical industries. Designing, manufacturing and selling precision instruments globally, the company is one of the largest suppliers of weighing and quality control systems in the world, and its solutions are used in wide range of food and pharmaceutical manufacturing applications.
"We recognise that fast, accessible information is very important in today's world of online communication," says Daniela Verhaeg, Marketing Manager SBU X-ray Inspection at Mettler-Toledo Safeline X-ray. "That's why we created the Product Inspection Blog, to provide our readers with easy-to-digest information online. We also offer other industry-leading online tools such as white papers, webinars and videos – plus you can find us on a range of social media such as LinkedIn, Twitter and Facebook."
The Product Inspection Blog is the first of its kind dedicated solely to the food and pharmaceutical industry, and is proving itself to be the perfect information tool for discovering what's new in x-ray inspection, metal detection, checkweighing and vision inspection technologies. The Blog is especially useful since food and pharma markets continue to develop at an amazingly rapid rate, with the continued emergence of innovative cutting-edge technology, constantly changing international legislation, and the regular introduction of new products. "The Product Inspection Blog can respond instantaneously to new industry developments," adds Daniela Verhaeg, "and as a result, our visitors can access that very same information as soon as it's available."
The Product Inspection Blog places particular emphasis on best practices, offering guidance on how to choose the right product inspection tools and how they can benefit specific applications. In addition, industry experts are also on hand to answer specific queries. Readers simply subscribe to the Blog, and then they'll receive the latest updates via email every Tuesday, comprising blog posts, videos and animations, white papers, infographics and case studies that cover all aspects of food product inspection. The Product Inspection Blog also publishes breaking industry news, details of Standards Regulations, recent product recalls, newly released legislation updates and the latest technical innovations. There are also previews of up-coming industry shows and even the latest job opportunities within Mettler-Toledo Product Inspection.
"We're constantly refreshing the content of the Product Inspection Blog" says Daniela Verhaeg, "and we welcome suggestions from readers as to the kind of subject matter they'd like to see. In this way, we're creating a really valuable two-way community between Mettler Toledo and our Blog followers."