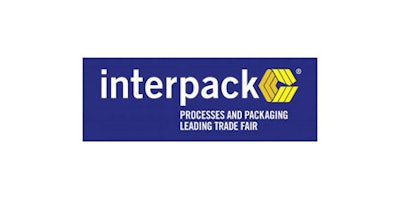 Available at PACK EXPO booth S-6832 will be interpack 2017 visitor information as well as exhibitor applications for individual booth space and for the U.S. Pavilion, which is organized by Messe Dusseldorf North America. Brochures about hotel and travel arrangements for the show will also be offered. Information about the other packaging trade fairs in the Messe Düsseldorf worldwide program such as SWOP 2015 (November 17 - 20, 2015 in Shanghai, China), Upakovka 2016 (January 26 - 29, 2016 in Moscow, Russia), INDOPACK 2016 (September 7 - 10, 2016 in Jakarta, Indonesia) and International PackTech India 2016 (December 15 - 17, 2016 in Mumbai) will be available as well.
As the leading international trade fair for the industry, interpack attracts more than 2,700 exhibitors from over 58 countries every three years. They present a comprehensive international range of products, including the latest in packaging systems and machinery, packaging materials, and confectionery machinery in 19 halls covering over 2 million square feet net of exhibit space. At the show's last staging in 2014, 175,000 visitors from around the world participated in the event.
New in Messe Düsseldorf packaging trade fair family is SWOP - Shanghai World of Packaging - consisting of four trade shows, presenting all stages of the packaging value added chain and related processing segments (packaging materials production, package printing, pharmaceutical and cosmetic packaging, food processing and packaging, bulk and outer packaging): Alongside the well-established CHINA PHARM (China International Pharmaceutical and Cosmetic Industry Exhibition), FoodPex (International Food Processing and Packaging Exhibition), PacPro Asia (International Packaging Material Production and Processing Exhibition) and BulkPex (International Bulk Packaging Technology and Equipment Exhibition) will have their premiere. At FoodPex, Messe Düsseldorf North America (MDNA) will organize a US Pavilion with the support of the Food Processing Suppliers Association (FPSA).
Despite the current crisis in Russia, the country and its neighbors still have a substantial demand for investment and a continuous interest in advanced machinery, production and process technology, and high-tech materials. The domestic consumer goods and packaging industry is under pressure to improve its competitive edge in order to substitute the decline in imports. UPAKOVKA/UPAK ITALIA 2016, 24th International Trade Fair for Processing, Packaging and Printing, will offer the ideal platform to tap into this lucrative market.
Held concurrently with INOPLAS (plastics) and INDOPRINT (printing), INDOPACK 2016, The 8th Indonesian International Packaging Exhibition, will showcase an extensive range of the latest technology and equipment for the packaging and processing sectors. At the last staging in 2014, the trade fair trio attracted more than 22,000 trade professionals from Indonesia and the surrounding region, a 20% increase compared to the 2012 staging. A total of 362 exhibitors from 19 countries participated – 30% more than in 2012.
International PackTech India 2016, 9th International Exhibition and Conference for Processing, Packaging and Printing, and the parallel staged drink technology India 2016 will be the largest event on the subcontinent addressing the entire spectrum of the packaging, package printing, processing, beverage, food and liquid food industries. Every two years, about 10,000 attendees and 230 exhibitors take advantage of this business platform to present and discover customized solutions for the Indian market.
For information on visiting or exhibiting at interpack 2017 or any of the other packaging trade fair in the Messe Düsseldorf program, please visit booth S-6832 at PACK EXPO 2015 or contact Messe Düsseldorf North America at (312) 781-5180 or info@mdna.com.
Companies in this article