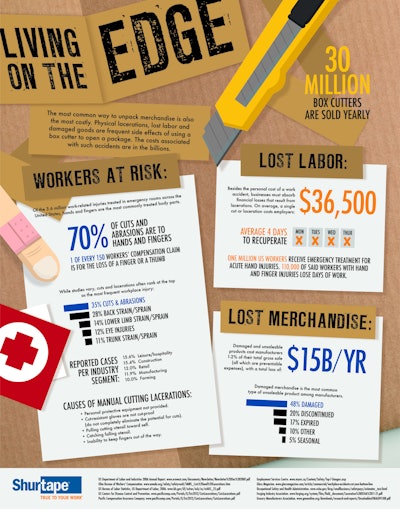 Every year, damaged products cost manufacturers 1% to 2% of their total gross sales. That's an estimated $15 billion per year spent on preventable expenses. And that's not to mention the costs businesses absorb related to injuries from accidents involving knives.
To address the often overlooked issue of damage—and injury—due to sharp instruments, Shurtape Technologies, LLC recently introduced its ShurSEAL™ Solution, which combines its HP Series packaging tape with a PrimeLoc™ tape applicator. This box sealing combination offers features such as unmatched wipe-down force for more secure seals and a folded-edge technology, which creates an easy-to-open seal that doesn't require a knife. Watch a video that shows the applicator/tape in use.
Sources available to support the data in this infographic are noted below:
Ohio Bureau of Workers' Compensation
One of the most common sources of cuts and lacerations is the use of knives and other cutting tools.

U.S. Bureau of Labor Statistics
4 = median numbers of days away from work due to a cut, laceration or puncture.

Pacific Compensation
3.6 million work-related injuries
Causes of manual cutting lacerations


Glass Magazine
Reported cases per industry segment

OSHA
$36,500 = the average cost of just one cut or laceration

Forging Industry Assn.
Each year, more than 1,000,000 U.S. workers receive treatment in emergency departments for acute hand injuries.
The U.S. Bureau of Labor Statistics estimates that approximately 110,000 workers with hand and finger injuries lose days away from work annually — second only to back strain and sprain.

Grocery Manufacturers Assn.
Lost Merchandise Section

Occupational Health & Safety
30 million = the number of box cutters sold annually for use in retail.
Companies in this article