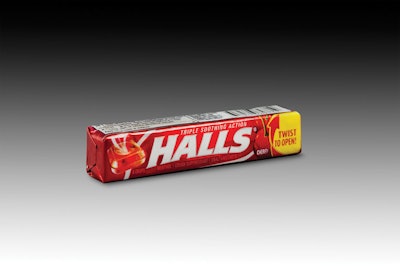 Winning a Flexible Packaging Assn. Gold award for Technical Innovation is Sonoco for the Halls' "Twistoff" Stick Package, a flexible package designed to allow one cough drop to be dispensed without spilling other drops out of the package. With a simple twist of the package, the consumer can take a single cough drop while the rest of the products remain in place in the outer overwrap.
To maintain this package integrity, Sonoco employs its micro-perforated stick wrap. Pete Gioldasis, Sonoco's marketing manager, says, "With the new precision-scored perforations, consumers can easily open the package and access the product by simply twisting on the perforated area. Since the perforations line up perfectly with the individually wrapped pieces, the remaining pieces stay intact and don't spill or fall out into purses or pockets, improving consumer satisfaction."
The package is a foil/paper extrusion lamination. The material is pre-perforated prior to wrapping the cough drops. No modifications to existing equipment were needed for the Twistoff pack.
Known as Halls' Twistoff Stick Package in U.S. and Canadian markets, and as the Halls Popoff Stick Package in Mexico, the pack represents an improvement over existing packaging in its category by providing easier access to the individual cough drops while maintaining a solid structure to secure remaining drops. Some traditional cough drop packs open and cough drops fall out, which could cause the remaining product to become loose and increase product waste.
The Halls brand is part of Mondelez International, Inc., a Deerfield, IL-based chocolatier, biscuit baker, and candy and gum maker, with brands that include Cadbury, Jacobs, LU, Milka, Nabisco, Oreo, Tang, and Trident. Mondele¯z was launched on Oct. 1, 2012, and comprises the global snacking and food brands of the former Kraft Foods Inc.
Companies in this article