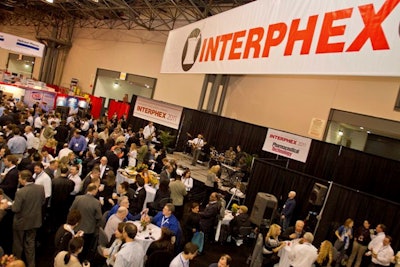 Interphex 2012
will include Facilities, Manufacturing & Packaging, Automation Systems & Controls, and Sourcing & Services zones, as well as a reformatted conference program. Conference topics will be presented in five tracks to cover achievements in each stage of manufacturing as a drug moves to market: Regulatory Quality Assurance/Quality Control, Product Development, Facility & Process Design, Manufacturing & Packaging, and Supply Chain.
Packaging-focused events at Interphex 2012 will include the following:
• "Case Study: Use of Pre-Sterilized Single-Use Disposable Fluid Paths in Sterile Manufacturing #303, May 1, 4 - 5 p.m. Speakers: Matthew P. vonEsch, and Wenzel Novak, Ph.D. Description: Recent advances in disposable technologies, along with greater understanding of regulatory expectations, have opened the door to incorporation of disposables in critical areas such as aseptic processing. United Therapeutics, in collaboration with OEMs and disposable vendors, has developed and installed a custom, pre-sterilized, fully disposable fluid path from the bulk holding vessel through the sterile needles. This innovative path, along with flexible equipment design, has increased the company's efficiency and flexibility. During the design phase consideration was given to product compatibility with contact materials, sterilization methods, batch sizes/fill volume and future products. Benefits include decreased equipment costs and validation timelines, reduced risk of product cross-contamination, improved yields and reduced line changeover times. Continuous development is ongoing, including additional opportunities in refitting existing equipment to take advantage of state of the art single-use filling technology.
Complementing the 2012 Conference agenda will be eight 45-minute Technical Workshops to be led by Bosch, EMD Millipore Corp., Fette Compacting America, GE Healthcare, Glatt Air Techniques, Pall Life Sciences, STERIS, and Thermo Fisher Scientific. The workshops will complement the conference agenda with industry leaders presenting technical and educational content.
Rounding out the educational component will be a series of presentations and exhibit technology floor tours on May 2 hosted by IPS-Integrated Project Services. These include the following:
• Advanced Aseptic Tour, May 2, 10:00 a.m. to 12:00 p.m., and repeated at 12:30 p.m. to 2:30 p.m. Visit leading aseptic technology suppliers to discuss new technologies, innovation and new strategies.Tours are preceded by a brief presentation, "The Role of CMO's in Supporting Global Vaccine Production Needs: Case Study-Brazil Fill Finish," presented by Sterling Kline, RA
• Biologics Tour, May 2, 10:00 a.m. to 12:00 p.m., and repeated at 12:30 p.m. to 2:30 p.m. Tour features a comprehensive view from leading suppliers of new developments and innovative technologies that can dramatically change the design, construction, and operation of biopharmacetucial manufacturing facilities.Tours are preceded by a brief presentation, "Next Gen Biomanufacturing: Developing the Manufacturing Facility of the Future," presented by Jeff Odum and Actavis.
• Oral Solid Dosage Technologies Tour, May 2, 10:00 a.m. to 12:00 p.m., and repeated at 12:30 p.m. to 2:30 p.m. On the Tour, view efficient processing options, innovation and recent developments in advanced oral solid dosage form technologies from leading suppliers. Tours are preceded by a brief presentation, "Should it be Scale-Up or Scale Out …Bigger is not Always Better or Faster," presented by Russ Somma, PhD and Rich Poska of Abbott Laboratories.