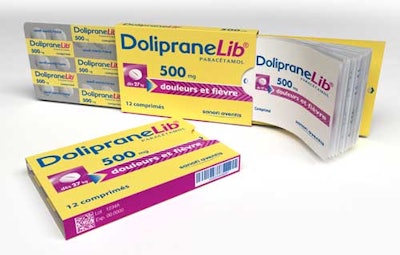 Sanofi-Aventis' DolipraneLib is one of five products honored recently at the
Impact Pharmacien
awards in France. The paracetamol product using
Burgopak's
Healthcare & Technology's slider, was distinguished in the
'Family Medicine" category of the awards, which recognizes products for their contributions to pharmacies in France this year.
Isabelle Senges, product manager at Doliprane, Sanofi-aventis, states: "DolipraneLib is the OTC brand of Doliprane. Doliprane, in its 60 years, has always been close to the consumers. We have launched a wide variety of dosages. DolipraneLib is a turning point in the products history with how we have innovated in terms of packaging. The slider opening system is very original and modern. For us it is very important to receive this award as a recognition of a change in our innovations."
DolipraneLib OTC product became available in French pharmacies at the end of 2010. Burgopak's patented sliding mechanism helped to differentiate DolipraneLib in a crowded and competitive market. The slider design ensures the product, and its vital information, are easily accessible to the user whenever they need to access their medication.