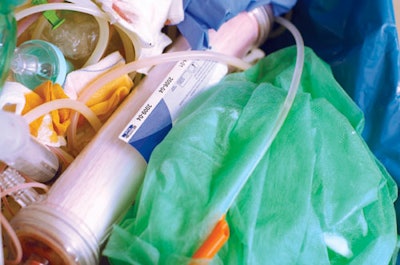 Next-generation packaging must be: 1) easy to manufacture; 2) meet stringent regulatory requirements; 3) meet the needs of distributors, healthcare institutions, and medical practitioners; and 4) minimize impact on the environment.
Medical packaging contributes between 30% to 50% (or more) of the medical waste stream, creating a focal point of opportunity (see sidebar story). Major hospital groups have begun to evaluate sustainable packaging as part of the purchasing decision process. They stand to realize huge cost benefits, improved regulatory compliance, and enhanced corporate social responsibility (CSR) when sustainable packaging is done correctly.
In one example, a major medical device manufacturer of urology drainage sets won several major accounts by converting rigid packaging to flexible packaging. The materials used in this example reduced total packaging by more than 30% and carbon footprint by 40%, and improved recyclability to provide cost savings across the supply chain. Another device manufacturer demonstrated that by replacing corrugated cases with new innovative bulk shipping systems, it could reduce materials while improving overall quality and delivery to the end users.
Other possible improvements that medical product manufacturers can make to improve the sustainability of their packaging include eliminating paper inserts, and replacing printed instructions (IFUs) with a CD and/or Web page in markets that support the regulatory compliance
to do so.
Using mathematical models
Sustainable packaging design starts at the point of manufacture. Cradle-to-grave life cycle analysis through mathematical modeling makes it possible to determine and manipulate several key metrics to provide a weighted average on total sustainability. These metrics can include carbon footprint, greenhouse gas emissions throughout the supply chain, recyclability, and cube. The weighted average provides a clear evaluation of a given solution on each attribute being evaluated.
While still in its infancy for medical product packaging applications, packaging engineers in other industries have used several different software applications with good success.
The Walmart model
, which is widely recognized in retail markets, can be adapted for medical product applications by incorporating the industry's unique regulatory parameters into the model. Using this model, engineers can input detailed packaging information that they can then use to perform objective calculations.
Several hospitals are now working with consultants to evaluate this powerful tool in an effort to evaluate sustainable packaging as part of the purchase decision process. They also want to further explore how the tool can be used to substantiate future environmental claims to avoid potential charges of "greenwashing" from an increasingly skeptical public. Progressive device manufacturers can use this tool to benchmark their products to gain a competitive advantage in the marketplace. Medical products manufacturers and institutional consumers alike can also use the tools to develop, support, and prove the effectiveness of their environmental strategies. Furthermore, as more and more countries develop regulations for both medical product safety and packaging waste reduction (such as the German Green Dot legislation), the modeling tools can help healthcare providers and medical product manufacturers achieve and substantiate compliance.
Although strong recycling efforts for paper and paper byproducts throughout the supply chain have had success, hospitals have not yet made major inroads in recycling plastics. Distributors and manufacturers can work with organizations such as university hospitals that have successfully implemented reusable totes in handling product, as well as recycling efforts with sterile wrap and other materials.
Significant opportunities exist for manufacturers, distributors, and hospitals to collaborate on developing more sustainable medical product packaging solutions that will benefit all stakeholders. The new mathematical modeling approaches, adopted from retail and other industries, can be used to implement a life cycle analysis approach to help ensure that the often-opposing objectives of safety, reuse, recyclability, packaging reduction, and cost-reduction can be met, while helping medical institutions meet their sustainability and CSR objectives.
-By Kevin Mulligan, KMC Consulting
Kevin T. Mulligan, KMC Consulting LLC, has 30 years of experience working for several Fortune 500 companies in medical and pharmaceutical packaging. For more information, readers can visit
www.thewolfegroup.com/consultant_kevin_mulligan.html