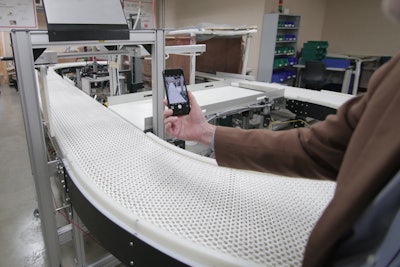 Much of the news about phones in the workplace revolves around distracted workers and lost productivity. But research from the University of Wisconsin–Madison (UWM) has a more positive story: smartphone technology could be used to prevent injuries to manufacturing and packaging personnel in the future.
With many packaging tasks still requiring heavy lifting or repetitive movement, operators are at risk of injury to arms, wrists, shoulders and more. Prevention of workplace injury is not only in the best interest of the employee and employer for reducing or eliminating pain and suffering, but it also helps to avoid costs associated with lost time, low morale and workers' compensation.
According to a recent release from the university, Rob Radwin, a professor of industrial systems engineering at UWM with decades of study, says that smartphones may be part of an economically feasible approach to improving workplace safety.
"We want to solve these problems before people get hurt," says Radwin. In collaboration with Yu Hen Hu, a UWM professor of electrical and computer engineering, Radwin and his students have developed computer vision algorithms to calculate hand activity level.
Use of phones and algorithms could represent a major improvement from current injury risk measurement, where "health and safety professionals make subjective judgments based on a scale of hand activity," notes the release. While this method does work, it requires skilled observers, a significant amount of time, and can be subject to human error or differences in judgment.
The team has support from the NIH and was awarded a $1.4 million grant from the Centers for Disease Control's National Institute for Occupational Safety and Health (NIOSH) to collect videos and develop "an entirely new measure for assessing health outcomes" by:
Tracking repetitive motion, training computers to recognize the patterns of hand movement required to perform repetitive movements, grasping and exerting force.

Combining hand activity measurements with the computerized ability to spot movement patterns to create a new, more objective basis for measuring injury risk.
Radwin hopes that by using smartphones, companies will be able to produce their own assessments via computer vision with relative ease on the floor. "I envision an app, and I think all the technology we need exists on my smartphone today: a high-definition camera, a high-speed processor, and the ability to do cloud computing," he says.
"We can program phones to measure motions and quantify them in a way that is not only more accurate than the current method, but also automatic and more objective and reliable," he says. "It's not just for big corporations using ergonomics to cut costs. It would allow medium-sized and small businesses to access this technology as well."
The release explains that the technology could be used to pinpoint hazards, such as an employee risking injury to keep up with a conveyor belt's speed, and identify changes—reducing the distance an employee must move objects—to make the task safer.
"Sometimes it's not obvious until you try and break down the task into its components," Radwin says. With computer vision and a new risk measure, "…we can understand how to look at various factors in a job, and try to engineer out hazards before individuals are even involved. That's our goal, and the goal of companies today: to do it right the first time."
Sidebar: Safety Incidents in Packaging Production
With features such as RABS, isolators and air-handling units, much of pharmaceutical packaging is safe in terms of exposure to the personnel involved. However, there are hazards throughout the supply chain related to volatile chemicals, heavy machines, warehouse racks and more that can pose threats. Some recent incidents in packaging manufacturing to keep in mind include:
An employee suffered a fatality on the job in April 2017 at a plastics manufacturing plant in Nashville. Police reported that the employee was operating a baler inside the plant and suffered a head injury while closing the baler door with a coworker.

In Louisiana, three contractors perished in an explosion at a facility producing corrugated container boards in February 2017. A police spokesman stated that welding activity was taking place in thevicinity of a tank that exploded. The company reported that this incident occurred during in the pulp mill area during annual repair work. Seven people were also injured in the explosion - one with moderate injuries and six with minor injuries.

A fire broke out at a packaging and chemical company in July 2017 in Canton, OH. Though not an official company statement, police noted that the incident was ruled accidental, and may have been linked to a "glue machine" near sawdust and paper products.