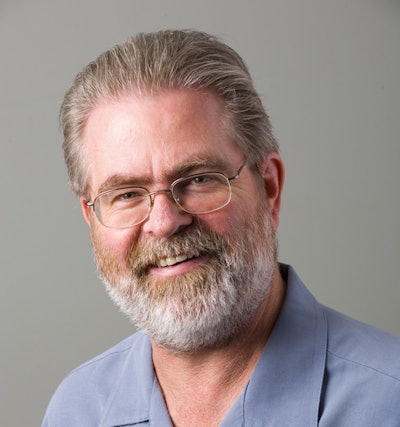 Should we expect more consolidation in the near term? A booth-side chat with Bill Hoagland, President and CEO at Engage Technologies, made it seem plausible. With four companies already under the Engage banner, Hoagland recently added AFM (formerly NAFM), a maker of shrink-sleeve labeling equipment. "With an existing and proven distribution network already in place, the acquisition made a lot of sense," Hoagland told me. "Synergies are good, too. For example, we can combine a Squid Ink thermal-transfer printer and an AFM sleeve labeler in one integrated system. Customers benefit, too, as more equipment becomes available from one source." Additional acquisitions, said Hoagland, are being explored at Engage Technologies—for all of the reasons mentioned above. Makes me wonder how many others might pursue such a strategy.
PACK EXPO always has a few machines that seem like they're out of the future, and one such machine was the Lanzara shrink-sleeve labeler from Axon, part of the Pro Mach group. Recognizing the possibility that machine operators long accustomed to seeing light stacks on packaging machines might become desensitized to the messages a light stack is designed to deliver, Axon has the entire interior of the machine light up red if a warning needs to be signaled. The machine also has a Smart Touch Security fingerprint reader that replaces password-protected access to the machine's operating parameters. It stores up to 200 individual fingerprints and is more effective in maintaining access to the machine than passwords. Advanced servo controls from Schneider Electric permit the Lanzara to apply 400 shrink sleeve labels/min. And because the machine meets the PackML ISA standard on the controls side of things, communication and integration with upstream and downstream equipment is practically a given. (See video at pwgo.to/1255).
Speaking of controls, a strong emphasis on minimizing the amount of time a machine builder must spend on programming was a noticeable theme at PACK EXPO. Industry standard modules, application templates, technology blocks that let an OEM reduce engineering time by 80%—all were points of discussion and display at PACK EXPO. As Michael Senske, President and CEO of Pearson Packaging Systems, put it, "Instead of writing new code, we configure from libraries of code that we know are reliable because of prior experience. It brings homogeneity and speed to market across our line but doesn't diminish our unique value as machine builders because custom elements are still possible where we choose to design them."
Senske speaks of how helpful it is to "grab data from PackML tags," which makes it clear that Pearson, too, is leveraging the benefits of the PackML standard as part of an overall effort to increase connectivity and build in things like predictive maintenance. He thinks it's time for OEMs to view packaging machines less as standalone units and see them instead as parts of a unified system. New software tools like Rockwell's RAPID Line Integration solution, he says, are helping his company in this regard.
The modularity theme was also heard at the B&R Automation booth, where mapp—modular application technology—was being introduced. What distinguishes mapp function blocks, says B&R, is that they are extremely easy to configure, so they relieve the equipment builder from having to program every single detail. According to B&R, mapp can reduce machine development time by 67%.
Robots were every bit as abundant as they have been at recent PACK EXPOs. So why did one in particular stand out? Because it was paired with an inexpensive, foot-pedal-activated bagger. We're so used to thinking high-tech, high-cost, high-capacity when we think of robotic applications in packaging. But this "odd couple," so to speak, struck me as being a really good idea. The robot in question, of course, was the "collaborative robot" from Rethink Robotics that goes by the name of Baxter, and the bagger it was paired with was the R1275 from Rollbag Systems, a PAC Machinery company. For $50,000 or so you get them both. (See video at pwgo.to/1256).