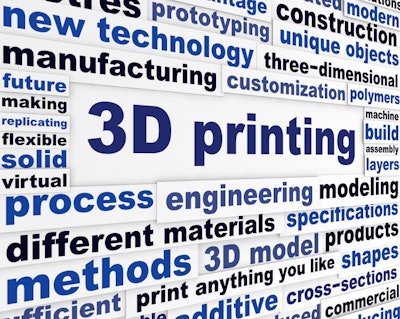 Additive manufacturing—also called 3D printing—is going to be a game-changing technology in packaging machinery, and in other business segments, according to veteran packaging automation guru Keith Campbell, who serves as a Contributing Editor at sister publication Packaging World.
In a podcast reporting on new technologies from Pack Expo Las Vegas, Campbell said that while 3D printing has been used to make prototypes, the late-September PELV event represented the first time he'd seen equipment on the show floor with printed parts used to replicate a production environment. He said that the machine builder, which preferred not to be identified at the time, replaced 84 machine parts with one 3D-printed part. Campbell said that the technology could replace some 200 parts with a single part, indicating that additive manufacturing offers time and cost savings for small runs and production parts.
At the show, Schneider Packaging Equipment's booth demonstrated additive manufacturing for a robotic packaging system in which the end-of-arm tooling was made by way of 3D printing.
Packaging machinery parts represent a significant portion of equipment sales, so if 3D printing can produce these parts more quickly (and economically?), think of the potential competitive ramifications.
The technology is already being used to produce medical devices such as surgical instruments and in the not-too-distant future, may manufacture functional human organs. Take it a step further: What about 3D printing an implantable part and packaging it immediately afterward? For more on this possibility, watch for Dr. Michael Drues' column , "The Future of Medicine," in the December print issue of Healthcare Packaging.
The press release for IDTechEx's "3D Printing 2013-2025: Technologies, Markets, Players" report says, "The 3D printing market will be worth $4B by 2025." A description of the report dives deeper into the healthcare market, saying, "The medical/dental sector has strong growth potential. Currently valued at $141M, it will grow to $868M by 2025 led by dental applications and increasing use for the manufacture of orthopedic implants."
Additive manufacturing will never replace time-proven technologies, according to an article based on an Industry Week webinar sponsored by Siemens. The report quotes Ed Morris, Director of the National Additive Manufacturing Innovation Institute as saying that the technology can provide job creation in the U.S. "The essence of why we exist is to increase the ability of the United States to compete in manufacturing. We're confident that additive manufacturing will have a profound impact on the nation."
Companies in this article