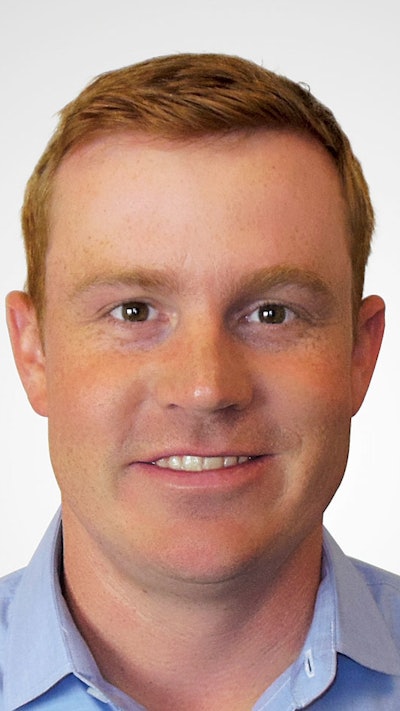 Independent motion's adoption curve. At interpack back in 2017, I was tasked with seeking out and reporting on examples of linear servo multi-carrier track systems on commercially available equipment. Sure, I'd seen the tech in standalone displays at the Rockwell, B&R, Hepco, Festo/Siemens, and Beckhoff booths for several years prior, but to my memory, the only machine builder I saw employing a track system back then was AMP Rose.
Six years on in 2023, multi-carrier systems galore were integrated into real, commercial equipment. Cavanna, Syntegon, Optima, PFM Packaging Machinery, and Kosme (Krones) were just a few that had this equipment on display. Cama had one at the show that had been sold to chocolate manufacturer Hawaiian Host—there's a facility tour I'd like to take when that equipment is installed. Maybe most interesting to me, Rotzinger was demonstrating (via video) a track system where the individual shuttles on the multi-carrier system were being controlled wirelessly via IO-Link form CoreTigo, so each mover on the track could perform gripping functions and manipulate the product at speed (click here for more). Beckhoff was also demonstrating powered shuttles via its NCT (No Cable Technology), so this seems to be the next evolution in multi-carrier conveyor tech.
Magnetically levitating tile tech is also emerging. It mirrors the linear servo adoption curve, where we first saw the tech in the controls manufacturers' booths, then on OEMs' equipment, and finally in-market at CPGs' facilities. Again, I've seen standalone displays of this tech on Planar Motors, B&R, and Beckhoff demos for a few years now, and had to imagine the potential applications. But at interpack, I saw them in real applications on available equipment. SOMIC was focusing on its nifty small-footprint 434 cartoning/case packing equipment, but stealing the show for passersby was a four-infeed snack chip collating application feeding the 434, using Planar Motor's levitating tile tech. And at the massive Coesia booth, an application using B&R's ACOPOS 6D collated pouches at the handshake between a slick Volpak bagger and a flexible R.A Jones Criterion cartoner. Watch a brief Packaging World video on the ongoing independent motion revolution from interpack.
Global recycling harmonization. As unified as EU member states can seem in our American view—at least compared to the disparate systems for recycling among U.S. states—EU member states are emerging from the same fractured environment that we currently find ourselves in. I heard from Sebastian Roth of Arla Foods on the Spotlight Stage, where he discussed the challenges of selling into multiple European markets with separate recycling standards, languages, signifier icons, EPR programs, and return/deposit schemes. Even so, the EU's about a decade ahead of us in the recycling harmonization game. That's partially due to political will, and partially out of necessity, with resources being scarcer in a more mature society and landscape. And more recently, the EU's version of a Green New Deal is pulling member countries into line on common recycling procedures across a culturally diverse set of countries.
If the EU mandates can serve as a rough corollary for federal legislation in the U.S., we have a lot to learn from their journey. And there's evidence we're not only listening by preparing to bridge the harmonization gap between our U.S. states, but also bridging standards across the ocean, between Europe and the U.S.
In a fascinating discussion between Scott Tenor, technical director at the Association of Post-Consumer Plastics Recyclers (APR), and Fabrizio Di Gregorio, technical director at Plastics Recyclers Europe and head of Recyclass at the Taghleef Industries booth, it was revealed that the APR in the U.S. and Plastic Recyclers Europe signed collaboration agreement in order to align their recycling guidelines and testing protocols, and to share the methodology behind the recyclability assessment by February, 2024. Click here to read more. The global-level recycling harmonization this cross-Atlantic collaboration should produce is music to my ears. Will China to hum along in tune? Baby steps. PW
Companies in this article