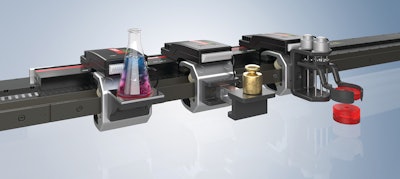 NOTE: Controls wasn't the only area of interest at PACK EXPO. Click the links that follow to read more about innovations in: Machinery | Food Processing & Packaging | Sustainable Packaging | Robotics | Pharma
The eXtended Transport System (XTS) was naturally a highlight of the Beckhoff booth at PACK EXPO International. The unique technology features movers that can move independently or be synchronized in groups for material handling in a variety of applications, such as CPG (consumer packaged goods) packaging applications. The XTS features built-in collision avoidance, and tooling on the XTS movers can be used to open and close bags, cap bottles, or move parts down the line.
Jeff Johnson, mechatronics product manager at Beckhoff Automation, says, "XTS is not just a substitute for lower-cost solutions like chain-driven systems with lugs and buckets, it's a fundamentally different way to approach material handling transport processes."
The news at PACK EXPO was that Beckhoff has updated its XTS (1) with its No-Cable Technology (NCT) for contactless, continuous power supply and synchronous real-time data transmission to the XTS movers. To enable this, the XTS modular system has been expanded to include a special motor module and electronics mounted on the mover. With this addition, no further connections or supply lines are required, meaning that processing steps and quality control can be accomplished directly on the mover while a process is running.
"Traditionally, if you wanted to grip something on linear transport systems you'd have to have two movers mechanically linked to do the gripping," says Johnson. "Now that we've integrated power and data on the movers, you can mount things like vacuum generators on the movers to do vacuum pickup of materials. You can even use mechanical actuators—really any end of arm robot tooling can be mounted on the movers to pick and place product."
A few XTS with NCT application examples include the ability to:
• divide and reunite product flows using mechatronic transfers between two movers;
• sort products using an integrated pusher on the mover;
• pick and place products for product sorting using vacuum suction units; and
• pick up individual products from unsorted and irregular product flows and be able to sort them into good and bad parts or place them correctly for final packaging.
Explaining how XTS with NCT can increase production output, Johnson says with energy being wirelessly transferred to the mover with NCT, this energy is available to realize different motion sequences directly on the mover with the help of motors. The system's CNC-based motion synchronizes positioning of the movers in real time, and the central software approach in TwinCAT allows synchronization with external processing stations. These features enable the movers to become an active part of the manufacturing process as a mobile processing station. For example, the mover can be used to manipulate a product to position a carton or screw on a cap.
With this level of synchronization, process times for feeding and removal at alternative processing stations are eliminated and the product flow no longer need be interrupted. As a result, the efficiency of the machine increases, as does the production output.
Throughput can be increased by adding movers. Beckhoff notes that each mover can perform multi-axis movements, allowing for product alignment along the X, Y, and Z axes. Additional degrees of freedom can be achieved by rotary movements using TwinCAT to control the interaction of the axes via CNC functions. Johnson says this integration turns XTS into a flexible multi-robot system that increases sorting performance while reducing the required installation space.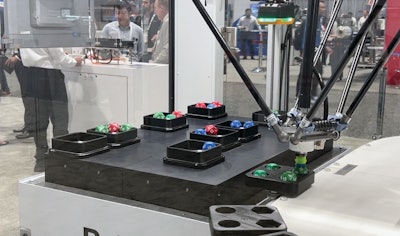 Magnetic levitating shuttles
High-margin CPG industries like spirits, confectionery, and cosmetics are early adopters of a trend toward heightened personalization, both in what's placed in packaging by automation and on the packaging itself. Healthcare is also blazing new trails in personalized medicine and individualized—down to a single person—pharmaceutical/nutrimental regimens, or medical device kits. And among e-comm fulfillment centers, no two orders are alike. In these highly personalized environments, often referred to as "batch size one," we see packaging applications emerging that are on the leading, bleeding edge.
One such technology that plays in this space, demonstrated by B&R at PACK EXPO International, is called ACOPOS 6D (six degrees of freedom) (2). In it, magnetic levitating shuttles move individual products freely through the machine environment, potentially carrying products to be packaged. According to a company press release, "gone are the days when conventional transport systems imposed rigidly defined timing on the production process. ACOPOS 6D is ideal for small-batch production with frequent changeover between products of different designs and dimensions.
Corey Morton of B&R demonstrated the tech for PW at the show. "What we're creating here is mixed packages [of different dice colors and types, in the demo] that are built to order, so it's actually batch size one production," he says. "This type of technology gives you no wear, since there's no rails that it's riding on. The other thing is it gives you six degrees of freedom of movement."
Even when only using the X and Y planes in the demonstration at the show, the demo format would allow packagers to collate product, buffer product, and pull product for a specific order from any position within the buffer. The levitating shuttles can also move on other planes, like vertical Z access, tipping on edge, and rotating. That's why, in a small footprint, this technology could provide packagers a high degree of order customization.
Watch a video of this system in action.
Expansion in pneumatics
Norgren has expanded its pneumatic portfolio to include new IO-Link enabled products (3) that connect to industrial networks to facilitate automation and provide data on circuit performance. "Connected pneumatics can help improve productivity and reduce machine downtime, which are invaluable to the packaging industry," explains Ken Chung, director of product management at Norgren. "Our new IO-Link enabled products make that connection possible. So, we can not only offer a complete pneumatic circuit, but also help customers upgrade to a new, modern circuit."
Norgren's IO-Link Masters, I/O Modules (Hubs), and range of cables and connectors are available as part of the NC-Series. The IO-Link Masters for field applications are the gateways for the connection of up to eight IO-Link devices and the higher-level communication system, such as an Industrial Ethernet. The master transmits machine data, process parameters, and diagnostic data to the controller over various networks, making the data accessible for immediate action or long-term analysis via an industrial information system (PLC, HMI, etc.)
One of the IO-Link enabled products demonstrated at the show was the company's new Excelon Plus air preparation equipment with an integrated electronic pressure sensor (IEPS). Both general-purpose regulators and filter regulators are now available with an optional integrated digital pressure switch and gauge. Offering Industry 4.0 connectivity via IO-Link, the digital gauge allows for remote setup and visibility of application performance data for improved monitoring.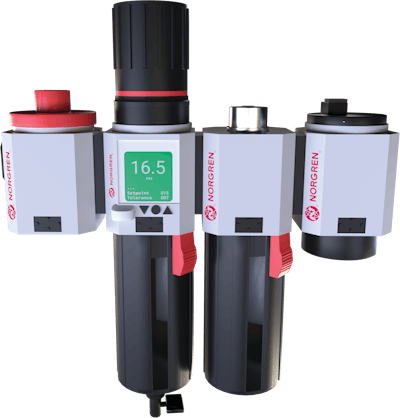 Another product from the company featuring IO-Link connectivity is its Norgren VR valve manifold range, which features a simple plug-in, sub-base style that allows valves to be easily exchanged for simple installation and maintenance. Available in two body sizes—10 and 15 mm—the VR10/15 Series can be used across a range of industrial automation markets, including food and beverage, packaging, and labeling, among others.
Other IO-Link enabled products highlighted at the show were Norgren's N34D and 54D electronic pressure sensors and its M/50/IOP magnetically operated solid-state switch, which is fully compatible with all Norgren actuator ranges.
Also focused on pneumatics was automation provider SMC, which used PACK EXPO International to soft-launch what it says is the industry-leading, innovative Air Management System (AMS) technology (4). The tech monitors and measures pressure, airflow, and temperature to provide the optimal supply of air pressure and volume for efficient process control to reduce demand on air compressors.
"The Air Management System from SMC is the most technologically advanced, modular air preparation system in the industrial automation workspace. It reduces compressed air use while simultaneously digitally finger-printing the machine's current performance," Nathan Eisel, SMC national product development manager, SMC, says.
But air compressors and pneumatic controls can be found in almost every industry. What makes them appropriate for packaging specifically?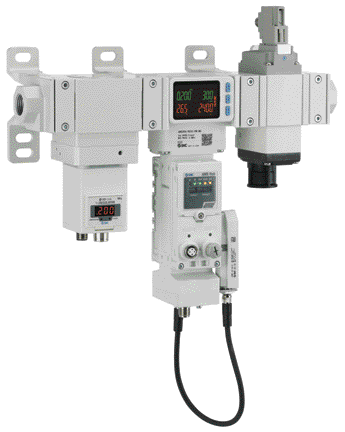 "Let's use a case packer as an example. Typically, these machines have many, large actuators that are operating at very high run-time use," Eisel continues. "If the case packer is outfitted with an Air Management System, the end user can very quickly realize the deep energy savings (25 to 40 percent) by the machine switching into 1 of the 2 Eco modes when the machine is at idle. The end-user can also take full advantage of the onboard OPC-UA interface to collect and analyze machine performance and establish conditional based maintenance (CBM) algorithms minimizing breakdowns due to pneumatic component failure. This data stream by-passes the traditional methods of PLC mining and goes directly to the end-user SCADA system with minimal integration effort."
Advanced approaches to handling data
Data centers—which are typically housed in their own separate section of a facility for consolidation of routers, switches, firewalls, storage systems, servers, and application controllers—are a key aspect of enterprise IT. Micro data centers (MDCs) are small, modular versions of data centers used to manage the computing workloads of specific operations. With their ability to be installed nearly anywhere in a facility, MDCs are quickly being recognized for their key role in industry's IT/operations technology (OT) convergence.
At PACK EXPO International, Stratus Technologies and Schneider Electric showcased three sizes of the EcoStruxure MDC (5), which feature the Stratus ftServer (Fault Tolerant), to highlight their use in CPG and pharma/life sciences applications:
• Small: Stratus ftServer powered by a 1.5kVA Smart-UPS in a 6U enclosure;
• Medium: Stratus ftServer powered by a 2.2kVA Smart-UPS in a single 12U enclosure; and
• Large: Stratus ftServer powered by a 3kVA Smart-UPS in a 42U, NEMA-12 rated enclosure.
The different size options were presented to highlight the MDCs' application flexibility in a range of CPG operations. Size can scale up from 6U to 42U depending on how many devices and how much networking equipment need to be embedded in the panel with the ftServer and UPS (uninterruptible power supply).
Key features of the edge ftServer include embedded cybersecurity, no unscheduled downtime with failure prediction capabilities, single button restoration, and remote monitoring ability.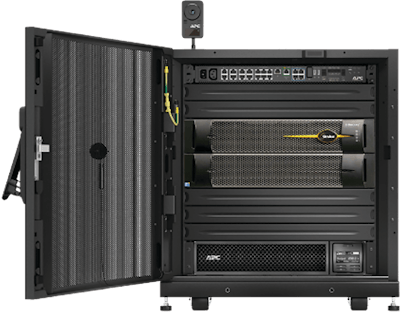 While MDCs are typically designed for IT workloads, Stratus and Schneider Electric note the EcoStruxure Micro Data Center is suitable for OT applications like on-premise automation and control systems in the CPG and pharmaceutical/life sciences industries.
"In effect, what we are providing customers and partners is a complete offering—originally meant for IT applications—that can be used for HMI/SCADA, historians, batch processing, manufacturing execution systems, asset performance management, and cybersecurity solutions," says Jay David, senior manager for solutions marketing at Stratus.
Integration with existing equipment in a production facility is handled in the same manner as any brownfield project, he adds. "The Micro Data Center can replace any or all of the components associated with the server control panel, such as automation and control software, computers where the software is installed, UPS and power supplies, and networking equipment."
Because the MDC comes with everything pre-installed and tested, it is easier for non-IT customers to deploy the automation and control systems, says David.
"OEMs can use the MDCs to develop repeatable automation and control systems; system integrators can create solutions that contain standardized code and applications, which they can then drop into a virtual image of the ftServer; and end users can use the MDCs to consolidate disparate applications in a single platform," says Elliott Jepson, strategy and innovation manager for the Secure Power Division at Schneider Electric. "And thin clients can be used with the MDCs to enable monitoring and control outside of the control room via mobile phones, tablets, and laptops."
Jepson adds that the EcoStruxure MDC with Stratus ftServer comes completely validated, pre-wired, and with the automation and control software pre-loaded. "This way, customers, integrators, and OEMs can focus on their key expertise," he says. "Because everything is tested and prebuilt, the MDC can be commissioned by controls engineers or technicians who don't have any IT experience."
Jepson says Schneider Electric and Stratus estimate "huge engineering and operations savings when an MDC is deployed versus typically built control panels, with 40% less field engineering time, 20% faster time-to-market, and 7% less maintenance costs overall."
New focus on industrial controllers
When we think about modernizing manufacturing, automation is the first thing that comes to mind, specifically in the form of robots and integrated lines of machines. But for Kenneth Tran, the founder and CEO of Koidra Inc., a Seattle-based startup, yes, automation is key. But when optimizing output, the focus should be on industrial controllers.
According to Tran, who for several years was a principal research engineer working on machine learning algorithms at Microsoft, there is a basic problem that impairs operational efficiency. It stems from the machine controller—that PLC that has behaved the same way for decades—which follows static, hard-coded instructions implemented by automation engineers during the time of project development. It is hard to update that PLC ladder logic that executes the program.
Meanwhile, however, depending on who is operating the machine, what data is being collected, and the environmental conditions, the machine runs differently. This lack of consistency is hard to overcome.
This became clear to Tran while he was working at his family's biomass production facility in Vietnam which was built with traditional PLC, HMI, and SCADA technology. The dryer machines, for example, were not operating efficiently, and when he would ask operators why, they gave different answers. He couldn't figure it out on his own either because the PLCs were not equipped to receive data from different sources and therefore could not present the big picture view of what was going on in a format that was understandable.
So Tran was on a mission to improve the processes without getting into the weeds of complex and expensive programming. Instead, he pulled the PLC source data to an edge computer running artificial intelligence IoT software, which added sensor data and operational parameters. Without getting into the ladder logic, they were able to apply a low-code language to improve control logic and algorithms for optimizing operations.
Subsequently, that turned into the commercial Koidra IoT Suite, which was on display at PACK EXPO International. The industrial IoT platform can be integrated with sensors, existing control systems, and databases or legacy systems for data management. That information is then brought into Koidra's user-friendly web interface, called Opera, which enables operators to define control strategies and change operating conditions using a low-code Excel-like option vs. using ladder logic.
The Koidra decision intelligence platform solves the problem associated with antiquated industrial automation that sits static in ladder logic programs, and the data silos that lack interoperability among machine control systems. It also creates scalability and easy operational interfaces for unskilled workers.
"We advanced automation technologies using modern software engineering practices, moved it to the cloud, and made it operator-friendly," Tran says. The automation logic exists as a layer above the PLC to augment it, but in some cases, like new dryers for the biomass facility, the Koidra technology is used as a soft PLC for micro control of machines. It can also automate set point logic, which was demonstrated in the autonomous greenhouse challenge, organized by Wageningen University and Research in the Netherlands, that Tran has personally participated in multiple times—and won.
This past summer, Koidra won the international contest for the second time, applying reinforcement learning, a subdomain of machine learning, which uses real-time decision making for optimization of control processes based on conditions.
The efforts have not gone unnoticed in the Agtech space, as Koidra was recently awarded a $3.77 million research grant by the U.S. Department of Agriculture, which it will share with Ohio State University, Rutgers University, Cornell University, and the University of Arizona. The new grant will allow Koidra to work with the universities on the continued development and validation of data-driven decision making to help grow produce.
Now, there are new ways to grow things and scale operations. "We keep making modifications to the plant, and the automation needs to follow the modernizations," Tran says.
SaaS Approach to Data Recording
The SaniTrend Cloud Lite online process data recording system from sanitary process cleaning systems provider Sani-Matic is a software-as-a-service (SaaS) product (6) that provides automated, secure data acquisition of critical process or cleaning data for any cleaning system, including Clean-in-Place (CIP) and Clean-Out-of-Place (COP), in a customer's facility. SaniTrend Cloud Lite captures continuous process data, while SaniTrend Cloud Lite+ uses running signals from equipment to consolidate the process data into individual reports.
Among the capabilities of SaniTrend Cloud Lite, it provides cloud access to all accessible data, via phone, tablet, or mobile; it allows for unlimited users; it has store and forward capabilities; it provides cloud documentation storage, live dashboard views, and email and SMS notifications; and it delivers analog and digital data trending information, with comments. SaniTrend Cloud Lite+ offers all of these features, as well as cycle-based reporting, downloadable cycle reports, and cycle-based comments and approvals. Both Lite and Lite+ can handle up to eight analog input signals and up to 12 digital input signals.
Sani-Matic has partnered with Rockwell Automation and PTC to provide its SaniTrend Cloud line, which also includes SaniTrend Cloud and SaniTrend Cloud Pro, through PTC's Cloud platform, utilizing PTC's ThingWorx® product. All of PTC Cloud's data and user security has been integrated into the SaniTrend Cloud offering.
Watch related video of SaniTrend Cloud.
AI for predictive maintenance
Though it's been discussed for years, and its capabilities are increasingly being incorporated into automation hardware and software of all types, artificial intelligence (AI) remains a bit of a mystery to many end users. The mystery is not necessarily created by a lack of understanding about AI, it's the application of the technology that raises many questions since it can be used for everything from machine control to cloud-based data analytics.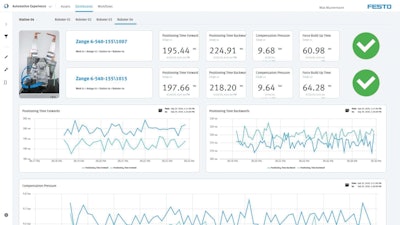 To demonstrate how AI can be used in CPG (consumer packaged goods) production operations, Festo introduced its Festo Automation Experience (AX) at PACK EXPO International (7). By using advanced analytics, Festo AX maps data to learn a component, machine, product, or system's healthy state and provide information for the correction of anomalies when data begins trending out of the normal range. Festo AX can be operated directly on equipment at the edge of the network, on data center servers for general on-premises applications, or in the cloud.
Festo AX begins with condition monitoring and preventive maintenance calculations for components, machines, and complete systems. Data collected from the factory floor is used to make uptime-based maintenance suggestions, enabling maintenance to be more efficient. From this starting point, the capabilities of Festo AX can be extended with AI. The AI technology used in Festo AX analyzes live data in real time, meaning that users are made aware as soon as an anomaly occurs.
According to Festo, Festo AX can lower waste by more than 50%, reduce product rejection costs by more than 45%, increase machine availability by more than 25%, and reduce unplanned downtime by more than 20%.
While Festo AX, of course, works with any Festo components, its use of common industry communications and networking technologies such as OPC UA and MQTT means that it can also be integrated with third-party components and machines. For example, linking Festo AX to Festo Smartenance or a third-party maintenance management program can extend Festo AX's effectiveness by providing the maintenance department with a tool to help them keep automated equipment performing at optimum energy consumption.
"One of the key strengths of Festo AX is its ability to work with small data sets, meaning that it's not necessary to have prepared Big Data available," says Frank Latino, product manager at Festo. "To detect data anomalies, for example, Festo AX relies on unsupervised learning algorithms to fit a use case, such as field maintenance, quality, or energy use applications."
Festo AX continuously learns about the state of your assets in a process that continuously improves the algorithms.
But these algorithms don't work in a vacuum. Festo AX keeps the human in the loop by incorporating their feedback into the process to classify anomalies and connect them with recommended courses of action. As a result, the next time the anomaly occurs, the individual receiving the notification will know exactly which system is affected, what happened, and what to do next.
Festo offers AX turnkey systems for food and beverage packaging, pneumatic components, welding systems, and machine tools.
Explaining Festo's standard AX package for monitoring pneumatic cylinders, Latino says, "Packaging machines consist of many pneumatic actuators moving in short cycle times. This can complicate the process of finding the single component that may be causing the failure. But continuous monitoring of pneumatic actuators can result in early detection of anomalies because the trained AI model can identify which actuators need to be replaced before they fail. The AI model can also detect deviations in cycle times over a larger number of actuators and process steps that are difficult to detect in a PLC program."
Festo's turnkey system for monitoring energy use in pneumatic devices is called E2M/C2M. "By monitoring the E2M/C2M with Festo AX AI, anomalies can be detected with respect to compressed air related to energy loss. Having this level of oversight on compressed air loss, CO2 emissions, etc., can improve packaging machinery energy use," Latino says.
Using digitalization to improve productivity
The complex operation of packaging lines now finds an essential analysis and data sharing tool to elevate its productivity levels in digitalization. Through solutions like Share2Act, the IIoT cloud-based platform by Krones, it is possible to supervise from any place and in real time the state of a packaging line and its machines, as well as visualizing Key Performance Indicators (KPI).
Martin Braun, digitalization sales director at Krones North America, explained to us during PACK EXPO International how "these tools provide a general view in real time of the current states of your machines and allow you to visualize the production process's most important KPIs. Therefore, they can pinpoint exactly those areas with untapped potential so you can continue growing your packaging line's productivity."
Considered as a social network for manufacturing plants in the food and beverage industry due to their intuitive and collaborative use, the tools presented during the Chicago trade show last October guarantee total transparency of production processes and gather critical information needed to timely implement any needed maintenance actions or to correct issues during the operation of a production line.
The traceability offered by Krones through their new digitalization tools —which are part of the Krones Digital Factory concept—along with the availability of data for operators, managers, and maintenance personnel, extend from beginning to end of a process. "With these new digitalization tools, we can connect every system with each other and provide a complete tracking report. So if, for example, there is a problem with a bottle, its full trajectory can be traced, from the inflow of raw materials to the delivery of finished products at a warehouse," Braun told us at PACK EXPO.
With Share2Act, you can also generate what Krones calls plant guides, essentially systems dedicated to providing data to operators in real time that provide them with guidance whenever they need to take special actions. Through a cellphone or an app, operators receive precise information about what they need to do, regardless of where they are.
Real-time visualization of a production line's performance—with diagrams summarizing the information on the state of the machine, its speed, and the number of units being produced, among other indicators—optimizes running times and increases efficiency. It's a way of guaranteeing the transparency of processes for the operator and generating information that is essential for the decision-making process regarding line transformations or expansions.
The presence of dedicated sensors along the lines with an approach called Action-Based Monitoring gives these new digitalization services by Krones the ability to guarantee a high availability of equipment and machinery in a line. It also facilitates the assigning of production or maintenance actions to the appropriate area. "Not only are operators using these solutions, we at Krones also use them to offer specific services and recommendations to our clients on how to maintain their equipment efficiency at very high levels," said Braun at PACK EXPO Internanational.
Watch a video of this digitalization solution.
Digital printing meets smart packaging
At the nexus of digital printing and smart packaging resides Prismiq, a division of Sealed Air (SEE) that made its PACK EXPO International debut. At first glance, Prismiq seems like highly conceptual stuff, and it is. That's because it's not a single product offering, like a machine or software. Rather, it's a set of capabilities, products, and options that can be intelligently strung together to achieve a range of outcomes that really depends on the brand's or CPG's preference.
From the widest possible angle, Prismiq creates a digital twin for each individual unit that a brand or CPG is producing within a chosen SKU or group of SKUs. That happens thanks to a unique watermark (visible or invisible) that is digitally printed onto the packaging of each and every product unit. The watermark can be read and reacted to in different ways by scanners, sensors, and smartphones as it travels through the supply chain. And upon each interaction with a sensor or smartphone, data is added to the digital twin to better describe that individual product's unique journey.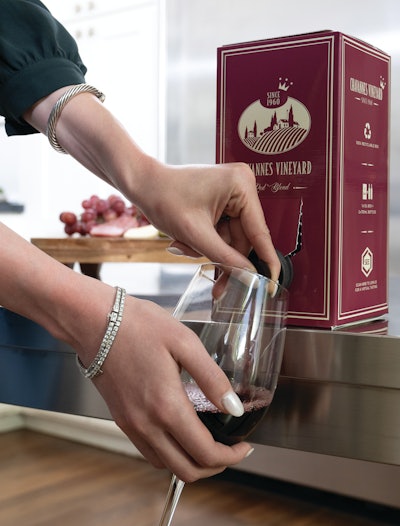 According to the company, Prismiq could impact CPGs at two levels. The more obvious use is in the realm of consumer-facing, experiential smart packaging. A brand can delight its end consumers by providing product provenance information, product-specific nutritional information, or hyper-personalization. That content is made available on a website or app that the consumer can access by scanning a digitally printed watermark on the pack with a smartphone.
But perhaps more foundationally, Prismiq could have big impacts upstream, at the processing, packaging, and supply chain logistics levels. That's because of the many efficiencies that a company can realize by managing both the digitally printed/watermarked products traveling through the supply chain—gathering and storing data associated with each product as it's packaged, palletized, and transported—and each product's digital twin that exists in the cloud, but is uniquely linked to that single product. All the efficiency-borne savings and insights gained by CPGs upstream can end up paying for the enhanced consumer experience with a product downstream.
At PACK EXPO, PW editors spoke with Nathan Henson, the global director for smart packaging and design solutions at Prismiq, to try to wrap our minds around all of this. It's a prime PACK EXPO example of active, intelligent packaging. Read more on the topic on page 104.
"Our Prismiq brand is a holistic approach to how we look at digital. It's our graphic services, it's our digital printing, and it's our smart packaging," he says. "We have two things here. First is our digital printing, which is an inline packaging solution that prints variable data onto products [primary or secondary packaging] in full color graphics [in what could be called a digital watermark, potentially invisible to a consumer]. That allows the [CPG] customer to print variable data, inline and in real time, about each product, onto each product. That data [can serve as the basis for] all the content that the end-consumer is looking to have, whether it's personalized [or contains pertinent product provenance facts].
"Then second, if we go into the [CPG or brand] customer's production facilities, that's where we have both a vision solution along with a coding solution. Inside a customer's four walls, we have a digitally printed bag that has a code embedded—there's a watermark in it. So as this product is going down the production line, [vision and sensors] capture product-specific information about each product, and we store the data. We've taken the physical product, created its digital twin, and we've put it in the cloud. And once that product is in the cloud, we can do a bunch with that information," he continues. "We can support internal operational efficiency things such as rework or recalls. There's just a ton of use cases there. But what's cool about this is once we have that digital twin, we can then track that package through supply chain as well. So that's track and trace, authentication, fraud prevention, those kinds of use cases, which then translate all the way over to, again, that consumer-facing side."
To ground all these possibilities in a real product, consider boxed wine. Notably, only a week after the show on Nov. 1, Sealed Air's Cryovac brand announced the acquisition of bag-in-box format packaging supplier Liquibox. According to a Nov. 1 press release from Sealed Air, "E-commerce ready solutions for fluids & liquids will benefit from SEE's integrated approach to digital and the advancement of Prismiq digital packaging and printing solutions."
It so happened that at its PACK EXPO booth, Sealed Air was demonstrating bag-in-box form/fill/seal equipment alongside a wall of model bag-in-box wines (8), all having been digitally printed with an on-pack digital watermark, as a use case for Prismiq.
As Sealed Air's Jaime Hansen described, imagine information about the provenance of the grapes used for a specific bag-in-box wine, or a specific vintage of wine (for instance, a particularly dry year or a particularly short summer) being associated with a digital twin of each bag-in-box format as it comes off the packaging line. All that data can be captured at packaging and embedded in a digital watermark that's been digitally printed on-pack and becomes accessible to a consumer via smartphone on as beautiful an interface as a CPG chooses to invest in. Beyond that, consider consumers interacting with the digitally watermarked box of wine, again via a smartphone interface, that presents them with a countdown clock for shelf-life in the fridge once the package is opened.
"Another piece is that [thanks to the digital twin] we're then connecting the processor or brand with the interaction at the consumer level," Hansen says. "It can produce powerful insights for the processors. Think about that consumer countdown clock. If they have a consumer who uses it, the interaction goes to the cloud and is associated with the digital twin, and they know when that clock starts ticking. They can then piece together just how long that box of wine has taken to get through distribution to be consumed. They could understand when that specific box was purchased, versus a SKU of it. Remember, alcohol often goes through a distributor, so producers really lose a lot of that valuable information once the box of wine goes out the door. And there could also be benefits for that distributor, too, through this process. It allows those brand owners to get other insights, too. In the case of recalls, if a consumer interacted with a recalled box, the brand can learn exactly when the recalled box was opened, and when that specific box was bottled."
Meanwhile, all of the other process-oriented data that's not for consumer consumption and won't appear in the consumer interface—say shelf life of an unopened box of wine as it travels through the supply chain and sits on a retailer's shelf—also can be associated with the digital twin that's been created for each box. Could a retailer benefit from knowing a box of wine was approaching an expiration date, revealing that maybe some discounting should happen to move that wine soon? Sure. And even further upstream, consider a winery having to navigate realities like recalls or line inefficiencies, all made more efficient by managing through a digital twin with specific data associated with each product. And all these upstream, B2B efficiency benefits ultimately pay for the consumer experience piece, interaction piece, and consumer insights piece mentioned above.
Labeler has new controls platform
Sometimes in a discussion of controls technology it's instructive to zero in on one specific piece of packaging equipment to see how advances in controls make it possible to build a better packaging machine. One good example of this found at PACK EXPO International was the NJM Bronco 130 pressure-sensitive labeler, which can be configured to apply single, dual, wraparound, and/or multi-panel labels to round, square, rectangular, and/or oval bottles in a variety of sizes.
This year, the enhanced Bronco 130 (9) features a new PLC from Rockwell, the CompactLogix 5380. Also new and also from Rockwell is the Panelview Plus 7 Performance HMI or, as an optional upgrade, the Versaview Windows-based HMI. The new servo drive controls platform, Rockwell's Kinetix 5300, offers advanced software capabilities. And an encoder-based fail-safe reject tracking of labels and containers is available to ensure that "bad" labels and bottles are rejected and verified.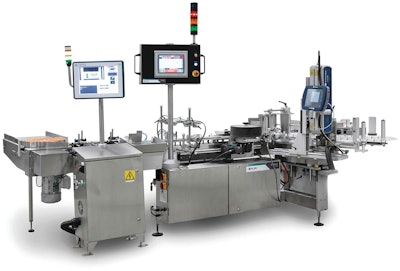 Running at speeds to 250 bottles/min, the inline, servo-driven system is suited to manufacturers and contract packers handling nutraceuticals, pharmaceuticals, food, beverages, cosmetics, personal care products, and other applications. The system can be configured for a variety of challenges, such as applying clear mylar labels on curved bottles and orienting labels on bottles with handles. The Bronco 130 is available with a variety of bottle handling devices, including a spacing wheel, a starwheel, a chain aligner, and a single or dual feedscrew drive. To apply a range of label types and sizes, each labeler is available with an assortment of label application and wipedown devices, including either one or two servo-driven label dispensers.
NJM can equip the enhanced Bronco 130 with an inline hot stamp printer or a serialization-capable thermal transfer or laser printer. An optional inspection system detects label accuracy, label placement, variable data, and more, and an optional reject system removes bottles with out-of-tolerance labels.
For a seamless user experience, customers can choose to upgrade to a PC-based HMI that supports fully integrated vision inspection. Additionally, the Bronco 130 is now available with software options for audit trails, electronic signatures, and advanced user management through LDAP for 21 CFR Part 11 compliance. Onboard production batch reporting tools for machine operation, statistics, and OEE are also supported through the PC-based HMI.
Companies in this article