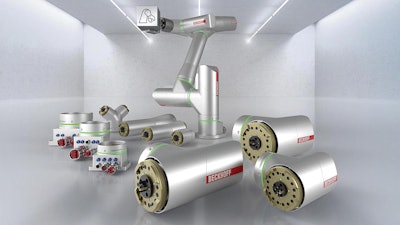 NOTE: Robotics wasn't the only area of interest at PACK EXPO. Click the links that follow to read more about innovations in: Machinery | Food Processing & Packaging | Sustainable Packaging | Pharma | Controls
Numerous new robotic technologies have debuted over the past two decades. But the new ATRO robot system (1) from Beckhoff shown at PACK EXPO International may be one of the first modular, DIY (do-it-yourself) robot technologies for the industrial market. The ATRO (Automation Technology for Robotics) system is a modular industrial robot system that allows end users, integrators, and machine builders to create an optimal robot configuration for their application with payload capacities ranging from 3 kg to 10 kg and reaches from 0.6 meters to 1.3 meters.
The system comprises standardized motor modules with integrated drive functionality, linking modules of various designs and lengths, and the TwinCAT control platform. With these components, users can create robotic systems ranging from 1-axis rotary indexing tables and 3-axis delta robots to 6- and 7-axis articulated robots.
Beckhoff notes that all ATRO modules feature an internal media feed for data, power, and fluids (vacuum, air, and water). This allows ATRO to use a variety of tools, such as mechanical, pneumatic, or electric grippers. Because these media feeds are internal, it allows for endless rotation of ATRO axes and end effector tools, as there are no external cables to hinder the robot's range of motion.
Assembly of an ATRO robot is accomplished using a method similar to a slip ring to connect each module and an adjustable tool to secure the joint in place. "Through this simple assembly process, all power, communication, and fluids are routed internally, using an innovative method that enables continuous rotation," says Matt Prellwitz, drive technology product manager at Beckhoff Automation. "The robot never needs to stop to unwind a compressed air cord, for example. As such, users save time not only during commissioning, but also during production."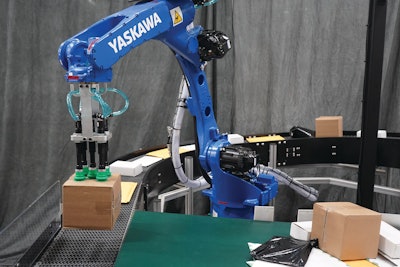 Because the ATRO system is built on an open control architecture, it can be connected to "all conceivable interfaces in cell/plant communication, such as Profinet, EtherNet/IP, OPC UA, or to the cloud," says Prellwitz. Also, the ATRO system allows for all functions such as robotics, vision, safety, and machine learning to be integrated on a single control platform.
Beckhoff says all electronics needed to control the axes are built into the ATRO motor modules, including an EtherCAT-based servo inverter, brake, and a compact gearbox. With these built-in features, the robot controller only requires a basic control unit.
Beyond its customizable design configuration, two other interesting aspects of ATRO are its assembly and the visual reinforcements it provides to the assembler and user that each module is correctly connected and ready for operation. As each module is connected, a light lining the joint connection illuminates. When the light is yellow, it has verified that EtherCAT communications between modules is effective; a green light indicates the module is ready for operation; and a blue light indicates the unit is ready for manual teach mode.
Regarding specific applications for which ATRO is best suited, Prellwitz says "ATRO can be added to any application, and the flexible design helps users easily fit the system into new and existing machine designs. Common applications include assembly, material handling, lab automation, and packaging."
E-commerce and order fulfillment
At Yaskawa Motoman's booth, the company demonstrated its new robotic automation solution (2) for fast and accurate parcel induction and singulation in dynamic order fulfillment settings. Easily integrated with a range of traditional sortation and packaging applications, the company's customized robotic solutions can facilitate fluid piece picking and placing of items onto conveyors for rapid material handling of boxes, polybags, and padded envelopes of varying sizes.
Running at the booth was a robotic parcel induction workcell equipped with a high-speed six-axis GP12 robot. Highlighting high-volume capability, the GP12 offers a 1,440-mm horizontal reach, a 2,511-mm vertical reach, and a 12-kg payload capacity. Intelligent 3D scene capturing, utilizing a Zivid Two 3D camera, combined with Fizyr AI image processing—which proposes multiple grasp poses—enables single robot pick rates of 1,000 to 1,700/hr.
Integrating an intelligent 3D scene-capturing solution is simplified by the Yaskawa Perception Option Package. This software configuration bundle enables integrators, distributors, and customers to utilize a wide variety of third-party perception products that are needed for complex application support. Along with functions for Relative Job, PMT (Position Modification for Tool Deformation), Macro Job, and 3D Shift, the Perception Option Package features MotoPlus runtime, which provides real-time access and communication with the robot controller and enables interaction with any computing device.
The GP12 robot featured at the booth was being controlled by the YRC1000 controller, which is built to a global standard and does not require a transformer for input voltages ranging from 380 VAC to 480 VAC. With a highly compact cabinet (598 mm W x 490 mm H x 427 mm D), the YRC1000 uses a lightweight teach pendant with intuitive programming.
Yet another example of increased packaging automation muscle in the fulfillment center and e-commerce space came from ABB, which debuted its new Robotic Item Picker (3) at the show. The Item Picker helps customers automate order picking and sorter induction operations, and it fulfills ABB's vision of a fully automated warehouse by combining automated storage with automated order picking, the company says.
"This is a fantastic new application that we're unveiling here at PACK EXPO," Ali Raja, global marketing and sales director, ABB, says. "It's powered by ABB's own AI software, some of the latest techniques in machine vision, and of course, our famous robot planning. All of that in combination allows us to be the fastest item picker on the market. We're achieving peak throughput of 1,500 picks per hour."
Target customers include system integrators serving e-commerce, logistics, healthcare, and CPG. It also takes aim at end-user customers in 3PL, e-commerce, and fulfillment centers, all to serve common applications such as order picking, replenishment, receipt picking, and fashion sorting.
Raja says the Robotic Item Picker provides high picking quality of 99%+, meaning no double picks and no dropped items. He says it also offers ease of use and it's easy to integrate. Plus it has easy-to-operate application control configuration and parametrization for integrators and sophisticated, yet intuitive controls for end-users. He also claims best in class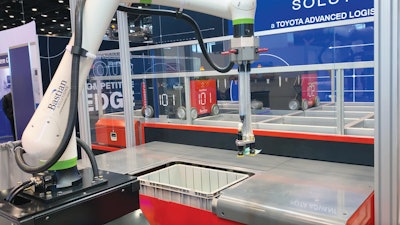 price/performance ratio.
According to a company release, ABB's internally developed AI Solution provides unprecedented accuracy in picking items from unstructured scenery. It also allows for high throughput application, again up to 1,500/hour, thanks to reduced computing time. The advanced software leverages artificial intelligence, allowing the robot to learn and adapt to a wide variety of items including cuboids, cylinders, pouches, blisters, and random shapes, as found in electronics, pharma, healthcare, cosmetics, and other consumer product industries.
Prior to integration, the robotic item picking system's scope of supply consists of a fully integrated Functional Module including robot, gripper, vision box, AI-based vision software, and application control software.
Autonomous product picking
The result of a decade of R&D, the Bastian Solutions SmartPick fuses a warehouse execution system with a six-axis robot, machine vision, and advanced artificial intelligence (AI) to create an autonomous product picking system (4).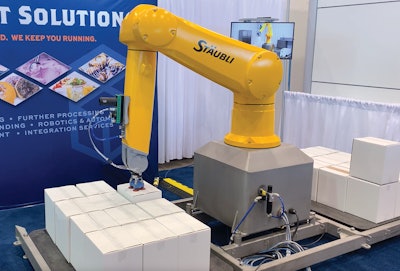 This advancement in robotic order fulfillment offers customers faster, more accurate orders while answering the need for a more reliable solution that can grow alongside operations—turning a goods-to-person (GTP) system into an efficient goods-to-robot (GTR) system.
Bastian Solutions presented its first vision-driven bin-picking robot back in 2010. It relied on a pre-trained vision platform, transporting products from one stationary bin to another. The company has improved on those capabilities considerably since then, and can now pick a complex assortment of products from the back end of a GTP system with 99% accuracy.
"The key to the SmartPick is the autonomy—the ability to route orders through our warehouse execution system down to the robot autonomously with pickable products for the robot to handle," says Steven Hogg, applications engineering manager for Bastian Solutions. "We also have an AI-based vision system that has deep machine learning to where we can learn on the fly—we don't have to pre-program any of the images in, and the vision system continuously improves as it picks." At the heart of the system is a robotic piece-picking system with custom-designed end-of-arm tools that can adapt to a wide variety of product shapes, sizes, and surfaces, he adds.
The system integrates seamlessly with Bastian's ML2 autonomous mobile robot (AMR). "It is designed to be autonomously routed throughout the warehouse facility or throughout the manufacturing facility to deliver products to various manufacturing lines or also order fulfillment," Hogg says. "It can have a static stand on top of the AMR or a conveyor to route totes between the various production lines."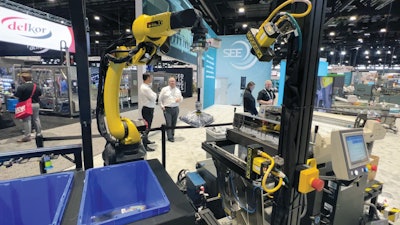 The AI and physical systems integrate with Exacta, the company's proprietary intralogistics software, to enable the cells to run with higher autonomy. "This is what is driving the orders being brought down to the autoserve port," Hogg says. "This right here is showing the bin that's being delivered to the workstation. The robot is working in the background to start and stop the cell. We go to the individual bin and are picking pieces out and are placing to the AMR ML2."
SmartPick is a turnkey GTR fulfillment system that increases picking throughput, adjusts to labor availability, reduces picking errors, allows for 24/7 automated operations, and improves customer satisfaction.
Watch a video of the system in action.
In a trend toward food processors designating less space for their palletizing operations, EnSight Solutions has developed a fenceless robotic palletizer (5) that gets the job done in a footprint of just 12 x 5 ft. The system combines Sick safety sensors with a Stäubli collaborative robot (cobot) to eliminate the need for fencing.
"With our area scanners, as the robot moves, you have a warning area where the light will turn yellow. It'll move the robot very slowly," explains Heath Clifton, director of automation and controls for EnSight Solutions. "As you walk in closer, you'll get a red area, which is a safety stop for the robot. As you move back out of the area, it'll slowly start speeding up. And then once you get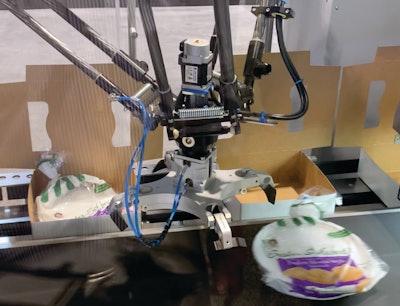 into the green area, it'll move back to its full speed."
Unlike standard robots, the payloads that cobots can handle tend to be smaller. The Staübli cobot, however, enables larger payloads. "The thing that differentiates our cobot palletizer from others is it can lift up to 75 pounds," Clifton says. "If we're doing a single pick, we can pick up to 18 boxes a minute. But with a 75-pound weight limit, we can pick up multiple boxes at a time to hit a higher rate."
Stäubli also has cobot options with hygiene standards suitable for food processing areas. "One of the great options about our palletizer is that it's a full stainless-steel design," Clifton says. "We're using a Stäubli robot, so it's a full washdown robot as well. It's a great application for the food industry. You can put it in a full washdown room if you're palletizing in there, or a secondary pack application that's wipe-down."
Watch a video of the system in action.
How about labor-saving in e-comm?
Talk about labor-saving automation in the e-commerce space, consider what was on display at PACK EXPO International at the Sealed Air booth. It comes from OSARO, namely the OSARO vision system for robotic pick-and-place. In this application (6), a Fanuc M10/12 small-payload robot arm and a Cognex vision system for barcode scanning team up to replace a traditionally manual fulfillment center activity, namely the picking and placing of variable products into polybag or paper mailers.
In this system, "we are recognizing the [variable] items, we are determining the right grasp for the item, we pick the item, and we place it directly into the Sealed Air 850 autobagging system," Tracy Perdue, VP of Sales at OSARO told PW at the booth. "The value of this system is obviously time and money. With the labor shortage the way it is today, people are looking for robotics and an alternate way of doing things. This can run three shifts and exhibits high performance—it can pick at the rate of a human, or higher." Automated EoaT change is also a feature of this system.
Monobloc cartoning, case packing
A unique system for robotic cartoning and case packing in a monobloc system (7) was demonstrated at the Cama booth. First is a carton forming module followed by a vision system that detects the position of the item to be picked by the robots. In the demonstration at Cama's PACK EXPO booth, the item being cartoned was a pie shell in an aluminum tray overwrapped in flexible film. Once the carton is loaded, it advances into a closing system that features a 2-axis robot. Cartons are then gathered in a collecting device where they're grouped and stacked prior to insertion into the corrugated case. Stacked cartons are pushed into a corrugated case that has been pulled from a magazine and erected. Case flaps are then closed and sealed by hot melt adhesive. Open-flap detection ensures that any case with an open flap will be rejected.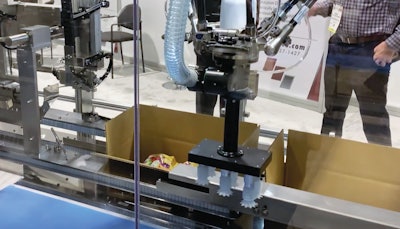 Making its debut at PACK EXPO International was the compact and highly versatile Matrix TL case packer (8) from MGS, a Coesia company. According to MGS product portfolio manager A.J. Lee, the MGS top-load case packer features a Festo gantry-style robot loading arm. "It's proven technology in the gantry style, and since it can handle a 40-pound payload at full speed it gives us a good operating range," says Lee. "In designing this machine, we focused on leveraging proven functionality that we've had in our case packers over the years, including the ability to maintain positive control of the case while offering strong product handling and transport functions. It also has a balcony-style design, so it's a very open machine, easy to get into for servicing and maintenance."
The Matrix TL, which made its official debut at PACK EXPO, is especially notable for its small footprint: 160.6 in. long by 90.3 in. wide. As for throughput, it's designed to reach 15 cases/min generally but for certain applications it can go as high as 20 cases/min.
Another strong emphasis was versatility, and in fact the Matrix TL can handle case sizes from 4 x 5 x 6 in. all the way up to 16 x 16 x 12 in. Integrated into the machine running at the show was a 3M taper, but adhesive case sealing is also an option, says Lee.
From PMI Kyoto comes a brand new KTB -100 case packer (9) that is an all-in-one, compact, fully integrated system—case erection, robotic case loading, and case sealing by either tape or glue. Running at about 15 cases/min, the system uses machine vision technology to detect product position, and a variety of end effectors can be used depending on the nature of the product to be picked and packed.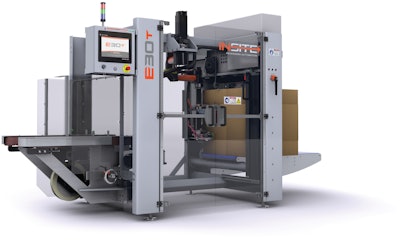 This top-load case packer is just 15 ft long. A key characteristic is its versatility, as it can handle cans, cartons, or standup pouches filled with either granular or liquid product.
New at the Douglas Machine booth was the INSITE E30T case erector (10), which relies on a SCARA robot and Rockwell controls to pick case blanks from a magazine and erect them. According to Todd Davis, manager of Douglas' INSITE Packaging Automation, this new machine is notable for the massive reduction in the number of parts it requires compared to comparable units available today. With 50-60% fewer parts comes simplification in operation, maintenance, and machine accessibility on this walk-in-style erector, says Davis. "And because we build and control our own robot, we can create a recipe and change it over to a new case size within five minutes," adds Davis.
The machine has a total of 11 adjustment points. Smart features include electronic case squaring, where photo eyes above each side belt measure each side of the case to ensure that the front panel is perpendicular to the side panel. The E30T runs at speeds to 30 cases/min and is virtually maintenance-free as the bearings on the machine are "lubed for life." The only maintenance points are vacuum cups, side belts, and a tape head.
Robosorter for Pumps, Trigger Sprayers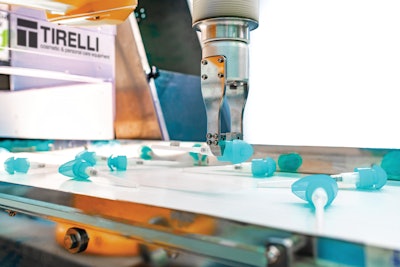 The Tirellli Robosorter (11) from Arol Group uses a Stäubli robot to mechanically pick and place pumps or trigger sprayers from an infeed conveyor. A vision system from Cognex detects where items on the belted infeed conveyor are located and sends that data to the robot. Once the part is picked, it's fed into a chute leading to a conventional pump placer.
Arol is positioning the Robosorter as an alternative to the conventional pocket sorter widely used today. These sorters have a rotating disk into whose pockets a pump or trigger sprayer falls with its dip tube pointing downward. As the disk continues to rotate, the pump or trigger sprayer falls down a chute leading to filled bottles below. "There's a lot of mechanisms and components in such a system," says Dan Waldron, sales manager at Arol North America. "If a customer needs to run 500 containers a minute, the pocket sorter is the way to go. But a number of companies are also looking for an option where speeds of 40 bottles a minute is acceptable as long as quick changeover is possible and minimal change parts are involved. That's where the Robosorter fits in. And speeds can be in the range of 80 a minute if we combine two robots."
The Robosorter, says Arol, reduces noise pollution and energy consumption as it does not use compressed air. In addition, the system can increase flexibility and reduce the time of format change from 25 minutes to 3. And because so few parts are needed for a format change, the cost of parts is said to be substantially lower than what is common in the industry.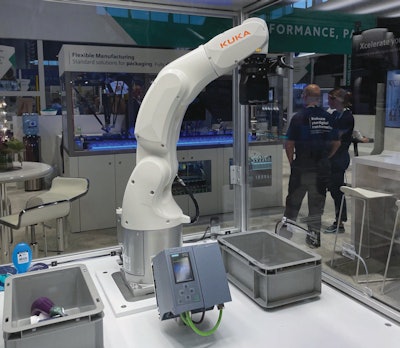 Democratizing AI
Artificial intelligence applications have been growing rapidly in a variety of industrial technologies, ranging from data analytics and quality inspections to autonomous mobile robots. Now the technology is being applied to robotic grasping applications to enable accurate picking and placing of random objects in unstructured and changing environments.
Siemens says it is working to "democratize artificial intelligence (AI)-enabled robotics by encapsulating systems for complex problems in easy-to-use software." To this end, the company is developing an as-yet-to-be-named software technology designed for use by system integrators and OEMs to create cost-effective, advanced AI-driven piece-picking systems that can "reliably pick and place objects that are unknown to the system at runtime."
Traditional automated pick-and-place systems follow fixed, pre-programmed routines in a structured environment. Applying AI enables robotics to perform generic tasks in unstructured and dynamically changing environments.
Explaining how the technology Siemens is developing differs from the use of 3D vision to enable robots to pick and place random objects, Dr. Eugen Solowjow, head of the Robotics & AI Research Group at Siemens, says, "picking and placing unknown objects is still relatively new. It has existed for, at most, two years in the market and, up until now, has not been very commonly distributed. These existing systems rely on AI—more precisely Deep Neural Network technology—to randomly pick oriented objects that are known to the system during setup and/or engineering.
Thus, the key differentiator with the developing Siemens technology is its ability to pick unknown objects.
According to Siemens, this new software will enable users to move from using robotic systems with static pick points to AI-driven piece-picking robots in less than an hour. Setup for the system is accomplished in four steps: Set the robot arm and related end-of-arm tooling to move safely to static pick-and-place points; mount the 3D camera; install the Siemens software for piece picking on the target runtime hardware of choice; follow the guided setup via the user interface for calibration.
With these steps implemented, calculated pick points are then continuously provided to the robot motion program, enabling the robot to grasp any object.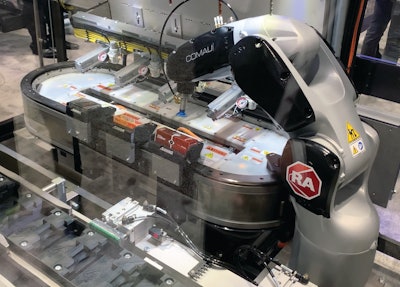 "The set up takes only 30 minutes through an easy and straightforward calibration process," said Solowjow. "The user interface is very simple and clear."
Target applications for this technology include order fulfillment operations with a high number of SKUs requiring 500-1,200 picks per hour, such as goods-to-person tote picking, conveyor induction and sortation in e-commerce, e-grocery warehouse automation, and food and beverage packaging.
Inputs to the Siemens pre-trained, AI-powered vision software in the PLC come from the 3D camera's point cloud, with the output being the grasp pose for any object at runtime. A Siemens HMI is used to interface with the PLC and software; and Siemens TIA Portal can be used to program the entire system—Siemens PLC and HMI as well as the robots, vision system, and gripper.
The Siemens AI-driven piece-picking system also provides for collision avoidance for all actions in the robot workspace, enables robots to master challenges such as handling tightly packed boxes using low-cost 3D cameras, and reduces errors through features such as automatic bin detection.
"We pretrain the AI skill for grasping using simulation," says Solowjow. "Similar to a human, the AI learns how to grasp in general—as opposed to specific objects—so that grasping of unknown or previously unseen objects is possible."
The Siemens AI picking software is robot and end-of-arm tooling agnostic. In its exhibit at PACK EXPO International (12), Siemens used a KUKA Agilus KR3 robot and a Robotiq EPick vacuum gripper to demonstrate the technology.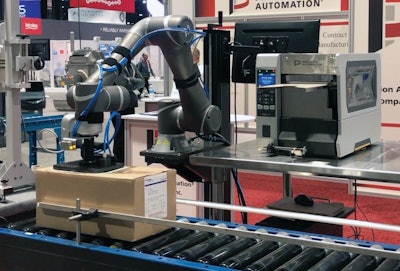 Variety-packs
Sophisticated variety-pack capabilities (13) were on display at the Aagard booth. That's where a Comau robot powered by Rockwell controls—said to be the first such combination in the packaging space—was picking three different items from the movers of a Rockwell iTrack linear servo motor system and placing them in a carrier in the order specified by an operator at the HMI. That HMI, says applications engineering manager Jonas Capistrant, was the Rockwell ASEM 6300 HMI. A new automation arrow in the Aagard quiver, it permits Aagard to offer more features, including better analytics and the ability to play training videos, while offering an improved HMI experience all around.
Collaborating on labeling system
Precision Automation chose PACK EXPO International to highlight its automation expertise, presenting a solution (14) for the robotic application of a multi-page label onto a package. The system combined a Zebra ZT620 industrial printer, a collaborative robot, and the MultiPlex Enclosed Packing List label from Chicago Tag & Label.
The MultiPlex self-adhesive label can include up to 15 sheets, allowing users to add promotional and gift messages, packing lists, return labels, and other information, into one integrated label. With the Precision Automation system, the MultiPlex label is printed and dispensed onto a metal tray, from which the cobot arm picks it up and applies it to a shipping case. According to Steve Huvane, quality, marketing, and sales support for Precision Automation, the cobot arm can place the label anywhere on the package.
Watch related video on Chicago Tag & Label's MultiPlex labeling solution.
On display at the Capmatic booth was the Galaxy Platform (15), an impressive demonstration of multiple packaging capabilities commonly called for in the life sciences industry. Each of these capabilities was being executed at one of five stations along the more or less oval-shaped track of a B&R Industrial Automation ACOPOStrak linear servo motor module. Along its track were independent movers that carried various containers to the stations they needed to reach.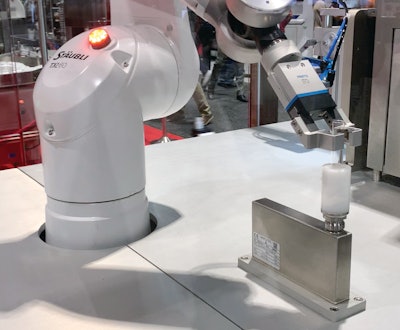 Each mover had a bar code on it, and at the beginning of the demo cycle this bar code got scanned for track-and-trace purposes. In the first demo station, a Stäubli robot picked a vial from one of the ACOPOStrak movers and placed it in a Wipotec high-precision load cell for weight verification. In the next station, a Capmatic counter counted 30 small beads into a funnel that discharged them into a vial carried on a mover. In the next station, a second Stäubli robot picked a multi-cavity plate from an Acopos mover and positioned it beneath a Capmatic peristaltic pump that simulated each cavity being filled by the pump. The multi-cavity plate was then carried to a point further ahead on the ACOPOStrak and placed on a waiting ACOPOStrak mover.
In the final station on the demo, an ACOPOStrak mover holding a capped vial paused beneath a pressure-sensitive labeling unit to simulate application of a label to the top of each cap.
Biggest cobot yet
Universal Robots chose PACK EXPO as the place to unveil the UR20 (16), the biggest cobot in the firm's offerings so far. Especially suitable for palletizing, the UR20 being demonstrated at the booth was put together by cobot integrator Robotiq and featured Robotiq's vacuum gripper.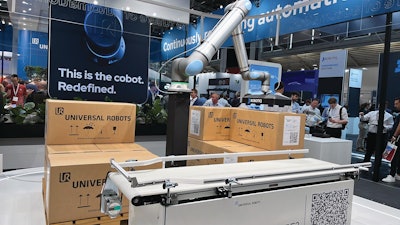 According to Universal Robots' Joe Campbell, senior manager, strategic marketing & applications development, the UR20 features redesigned joint technology that makes it easier than ever to maintain. It handles a payload up to 44 lb. and has a reach of 1,750 mm (5.75 ft).
Among the robotic palletizing integrators eager to leverage the capabilities of the UR20 is Columbia/Okura LLC. The UR20 will be part of the new Columbia/Okura miniPAL+, to be launched as an integrated system in 2023. The compact design of miniPAL features an integrated lifting column for tall loads, dual stacking locations for continuous load building, built-in fork pockets that make it easy to reposition it within a plant, and area scanners and pressure mats for additional safety.
Cobots from Universal Robots feature compatibility with Pally software from Rocketfarm. A palletizing software that not only optimizes case configuration and operating speed but also offers a digital twin simulation tool, it's certified to work seamlessly with the UR robots through the UR+ platform. Pally's digital twin simulation tool was being highlighted on the miniPAL 2.0 that was running at Columbia/Okura's PACK EXPO booth. Columbia/Okura president Brian Hutton explains what was being demonstrated.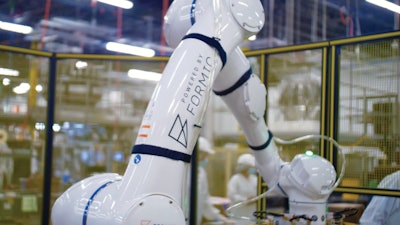 "What we were demonstrating physically with the miniPAL running in our booth we were also running virtually on a big screen display," says Hutton. "The software has the ability to rapidly incorporate new case dimensions, new pattern configurations, new pattern shapes, and new productivity requirements. So we're able to enter these new parameters and watch, virtually, to see if any of them are going to be detrimental to the operation of the actual palletizer. It's a way of quickly determining if a new pattern or speed or case will work or not. Without this software, you're looking at a lot of trial and error, a lot of building things out and physically testing them. Instead of that, the software lets you just put in a set of parameters and have the software run the algorithms to determine 'can this reach or lift or speed be done or not?'"
Another thing about Rocketfarm's Pally software is how user-friendly it is, says Michael Stuyvesant, director of sales at Columbia Okura. "The Pallyscope user interface is a touch pad," says Stuyvesant. "There's no need for any special language or training, if you will, so it's easy to change patterns or speeds or case sizes."
When asked for a recent example of how the Pally software proved useful to an end user customer, Rocketfarm pointed to Nortura Sogndal, one of Norway's largest meat producers. An early adaptor of Universal Robots' solutions, Nortura installed its earliest cobots in 2015. By 2020, the firm saw a need to upgrade end-of-line production and reached out to Rocketfarm to hear what might be done. Through Pally's digital twin simulation, Rocketfarm was able to make an upfront verification that Nortura could improve performance by 30%.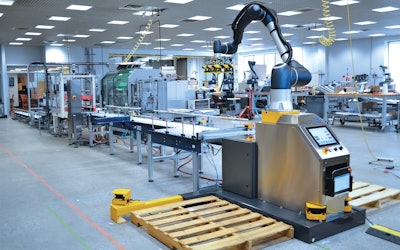 Watch a video summary of how the Nortura Sogndal project unfolded.
Robotics as a service
In a move meant to remove the barriers of automation for small and mid-size manufacturers, robot start-up Formic, founded in 2020, is building a robotics-as-a-service business model that democratizes automation to make it more affordable and accessible.
Buying a robot can be a pricy proposition requiring much more than just the initial hardware investment. After buying, say, a $40,000 robot, the additional cost of integration with other machinery can escalate the total investment to upwards of $200,000. That is cost-prohibitive for many manufacturers.
Having worked in the robot industry for years, Formic co-founder Misa Ilkhechi also recognized that manufacturers are struggling to find labor. Formic was created to solve these problems. The company takes over the design and deployment of turnkey robotic systems and charges customers an hourly rate vs. an upfront investment. That means manufacturers only pay for operational output with performance guarantees and unlimited 24/7 service.
"We are a financing meets service meets robotics company," Ilkhechi says. "Our business has to have all three working well, because at the end of the day the customer is not buying a machine or components, they are buying productivity."
Charging an hourly rate for a robot is just like hiring a person, but with the built-in guarantee that the machine will run. Each machine Formic supplies includes an edge device that sends machine data back to the Formic service team, who proactively solve problems before downtime happens. This is important for the customer and important for Formic. "In order for us to make money our machine has to work," Ilkhechi says.
The company partners with robot suppliers and machine builders to build custom turnkey systems. The plan is to have a large portfolio of robots, with the first being the SL20 Palletizer (17) launched at PACK EXPO.
Key features of the SL20 Palletizer include:
• Robotic palletizing system designed for end-of-line packaging processes
• Small footprint (10x12')
• Palletizes up to 20 cases/min
• Lifts up to 20kg/cycle
• Proven to safely work alongside people
• Deployable in less than eight weeks
• Built by Sourcelink Solutions LLC, based around the Yaskawa HC Series collaborative robot
The SL20 is available now with a six-month trial period available for first-time customers.
In addition to small and medium-sized manufacturers, the Formic robots are suitable for co-manufacturers and co-packers that are dealing with hundreds of SKUs and need flexibility.
Palletizing
More manufacturers are turning to palletizing operations with collaborative robots (cobots), and ONExia is a system integrator that has made it easier for its clients to use cobots as a drop-in replacement for end-of-line workers. With the drag-and-drop software that comes with the PalletizHD collaborative palletizing system (18), anybody can program the cobot easily to achieve the desired palletizing operations.
Tim Pelesky, marketing manager for ONExia, was at PACK EXPO to demonstrate how easy it is to set up the system. Users have complete control of the entire system through the embedded touchscreen on the PalletizHD lifter base. To create a program, a user can touch the screen to select a new pallet configuration, and then add box dimensions (weight, length, width, and height) and pallet dimensions (length and width). "We also offer a box edge gap in the event that you're worried that your boxes might not be completely uniform or your pallet configuration requires it," Pelesky says, noting the ability also to create a reference edge. "We also offer the ability to do a dual pick in the event that you want to pick two boxes at one time using the 38-pound payload."
Once the box and pallet parameters are entered, it's time to create your pallet configuration. "To get started to create your first layer, press the plus, hit Edit Layer, and your boxes are on the screen ready to go. All you've got to do is drag and drop them into place. There's no programming; nothing like that," Pelesky says. "Once you've completed your entire layer, you're able to center it left and right and up and down to make sure the robot's going to place a good and tight pallet configuration."
After the first layer is created, it's easy to copy and paste it as the next layer or customize each layer differently.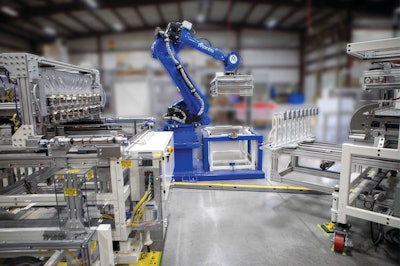 "The last step in building this pallet is we have to teach certain points because we're not using any integrated vision," Pelesky says. Just two points need to be taught—the nesting position, where the box comes from the infeed conveyor; and the first-place position on one of the pallets.
"You would then come over, hit that button where the position's taught, and then you're able to mirror it on the other side," Pelesky says. "The last step would be to press Save, go back Home, and all of your pallet configurations are there, ready to go, on the fly, and can be adjusted as production changes within the line."
Users can easily save and recall different pallet configurations based on production demands.
Magic Gripper
Vmeca, a PACK EXPO International exhibitor based in South Korea that specializes in compressed air driven vacuum pumps, suction cups, and other accessories, introduced its Magic Gripper head (19) at the show. Suitable for being attached to either an industrial robot or a cobot, it has a decentralized vacuum that lets it use as many or as few grippers as an application needs. Suitable for cartons, cases, or flexible packages, it also features a silencing technology that deadens some of the noise traditionally generated in compressed air applications.
Automating parts handling
The Mantis Robotic Trim Press Handler from Nalle Automation Systems (NAS), a subsidiary of BMG, a thermoforming, tooling,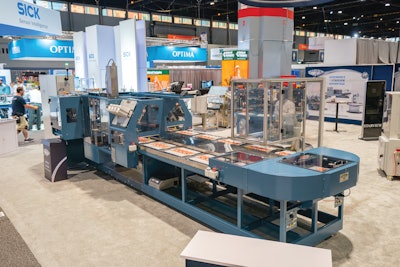 and automation solutions provider, is a robotic automated system (20) that reliably handles the flow of parts ejected from trim presses, specifically for the thermoforming industry. The robot is designed to be compact, intuitive, and a configurable system that enables full automation of the entire thermoforming process—from resin to palletized product—for medium- to high-volume production lines using either non-servo continuous flow or servo-driven long eject trim presses.
Previously, parts ejected from non-servo trim presses needed to be manually separated and counted, which was a labor-intensive, error-prone, and inconsistent process that limited the automation of downstream packaging functions. NAS strives to resolve this problem with the patent-pending Trim Press Receiver (TPR) which uses a separating mechanism to count and contain stacks of product, followed by a raking mechanism to take the product into the receiver for transfer by the robot.
"Consistent and reliable separation of product on a continuously flowing, non-servo eject trim press was the key to the development of Mantis," says Kurt Huelsman, president of NAS. "The design of the receiver coupled with NAS's robotic automation capabilities brings a safe, productive, and cost-effective solution to a historically very manual process."
The TPR presents the parts to a six-axis robot equipped with product matching end-of-arm tooling that in turn automatically transfers the product to a shuttle station, which integrates with downstream packaging functions that may include wrapping, boxing, case packing, sealing, and palletizing. Incorporating the robot allows the Mantis system to be very compact and configurable, making installation possible where the available floor space is limited or obstructed.
Product containment throughout the process reduces jams and product loss. Additional highlights include VeriTool RFID tool verification (patent pending), little to no product contamination, simple intuitive controls, product isolation, and reject through HMI.
"The key benefit to the product line is that the specific tooling matches up to the trim press die that allows for complete product containment throughout the process. The robot is used in order to have complete flexibility in layout so it can fit into any plant's design. We can move it around to make it work at your site," says Huelsman.
The Mantis Robotic Trim Press Handler is compatible with all trim presses, including BMG brands Brown and Lyle. The fully automated system can reduce labor requirements by up to 75% and the modular robotic design allows for tool changeovers in under an hour.
Integrated systems
At Starview Packaging's PACK EXPO International booth, one emphasis was on the kind of comprehensive automation that can be brought to a rotary blister packaging system by integrating additional packaging machinery functions. Think robotic product loading, laser coding, and 100% code inspection.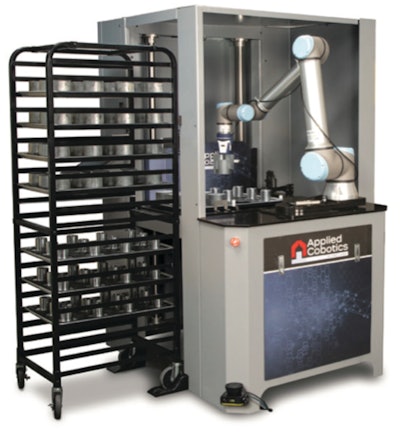 "The demand for automation is higher than ever," says Director of Sales and Marketing Rob van Gilse, "mostly because customers don't want to first look for and then rely on people to perform packaging tasks. So customers who were running semi-automatic want to go automatic, and the ones who were already pretty automated want to go further by adding robotic feeding of products, for example, or automated vision inspection."
A good example of the kind of system van Gilse is talking about is the Model BSC 18-1418 (21), a rotary blister packing machine with 18 stations with a rated speed of about 18 cycles/min. The sequence of operation is picking and placing of paperboard front card, insertion of clear blister into card, robotic product loading thanks to a Mitsubishi Electric RV-FR Series 6-axis robot, then placement of the paperboard backing card. But also integrated into the system is a Videojet Xtract Pro Laser Marking System that adds tracking data by lot number and date, and a Keyence OCR Vision System with CV-X322F SR-2000 Code Reader that checks the bar code on the back card to verify that all materials are correct. As for controls integration, that comes courtesy of Omron. According to van Gilse, the 6-axis articulated robotic arm is a high-speed durable component that can address a variety of customer needs, which makes it ideal for packaging applications. He added that the system on display at PACK EXPO is headed for a maker of medical devices.
Storage and retrieval
A popular theme at PACK EXPO International seemed to be companies that developed systems to solve problems in their own production environments and then decided to market it outside their companies after customers saw what they had done and wanted it for themselves. One such solution is an automated storage and retrieval system (ASRS) that PBC Linear developed (22) to deal with its own struggle to find the labor it needed at its bearing manufacturing facility in Roscoe, Ill.
"We were struggling to find people to work, so we brought cobots [collaborative robots] in-house," says Tim Stellmacher, vice president of sales and development for PBC Linear. "But there was still a lot of manual labor needed to bring the trays to the cobot."
PBC Linear found that a single tray of parts did not take advantage of a cobot's potential. When operators get pulled away to tend to other tasks or change shifts, a cobot could experience considerable downtime. PBC Linear developed a system to feed multiple cobots. By assisting robots with consistent loading and unloading of material parts trays within the robot-accessible work area, the ASRS addresses the problem of finding enough workers to tend machines. The ASRS eliminates the need to manually replace parts trays, allowing for enhanced robot automation and lights-out manufacturing.
The Cobot Feeder from Applied Cobotics—an arm of PBC Linear that provides automation solutions—features a vertical lead screw-driven shelf and a horizontal tray loader/unloader with accurate, repeatable motion. PBC Linear can provide trays that are thermoformed for particular parts—feeding CNCs, lathes, mills, grinders, and other machines with necessary parts. The repeatable action of the Cobot Feeder in conjunction with the parts trays results in consistent robot performance.
With the Cobot Feeder, robots can now run longer unattended projects, include a higher mix of parts, and ultimately achieve lights-out production.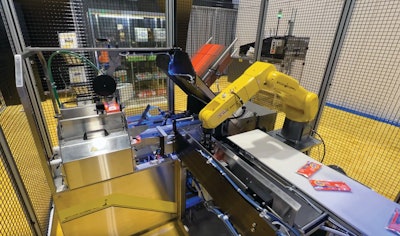 Each Cobot Feeder base package comes with a dunnage tray rack tower that is engineered to securely lock in place with the ASRS. It can hold up to 17 trays, eliminating the need for a worker to periodically remove and reload material from the cobot work zone. It also offers open-spaced shelving that accommodates various part sizes up to 18 in. tall, and it offers station-to-station mobility.
A standard fixed robot mount offers 45 deg of adjustability and a custom bolt pattern that is compatible with any cobot/robot. The robot mount can be upgraded to a more flexible swivel stand that offers four times the amount of adjustability over the standard model. This means a robot can be moved to different angles quickly and accurately.
PBC Linear has been partnering with Universal Robots (UR), Stellmacher says, and has been working on obtaining UR+ certification. The UR+ ecosystem provides access to kits, components, grippers, software, and safety accessories that integrate seamlessly with UR's cobots.
A P&G Application
At the Econocorp booth we saw a real, branded application. It was the company's E-2000 automatic horizontal carton erecting and cartoning equipment, and it was cartoning foil pouches using a Fanuc LR Mate series of lightweight robots (23).
"This was an application that we did for P&G's Tide brand washing machine cleaner," said Sam Goldberg at the show. "The packets can be randomly placed on the infeed conveyor, where we are snapping a picture with a camera [vision] telling the robot how and where to pick up the product."
The foil pouches are loaded into the cartoner's loading bucket in a reciprocating pattern, three at a time for a three-pack carton. Product is then automatically push-loaded into the erected carton, which is finally sealed with adhesive to head for case packing or other downstream operations.
Companies in this article