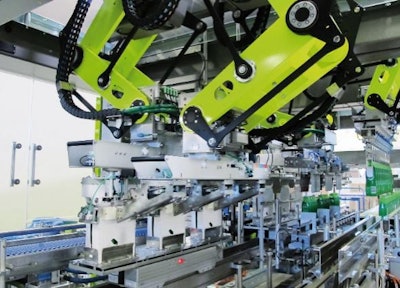 TCI, a Taiwanese manufacturer of functional drinks, was founded in 1980, and now has over 1,150 employees worldwide. In collaboration with their clients and partners, the company has created many best-selling products around the world over the past few decades. The company has made preparations for solid active pharmaceutical ingredients (powders, capsules, tablets) and high-quality face masks at its site in Pingtung, Taiwan. The products can be found in several dozen countries globally. The company is at the global leadership status of Original Design Manufacturer (ODM) for liquid collagen formula synergene promising to help customers maximize the potential of each ingredient by utilizing patented synergistic blends yielded from in vivo & in vitro experiments. The manufacturing facility includes three production halls on a total area of 33,000 square metres.
Due to its continued success, TCI is increasingly investing in the high-quality automation of its production. In the future, an automation system from Gerhard Schubert GmbH will be used to package its functional drinks. The packaging machine is planned to be located at TCI's S-grade (Safety, Standards, and Speed) Factory. The robot-based packaging machine fills cartons with bottles of different sizes. Individual tools and advanced robot technology are designed to ensure that the products are handled gently and neither scratched nor otherwise damaged.
TCI chose Schubert for its compact line concept and the high system availability, as well as for the flexibility of its modular technology, which is designed to make it easier to adapt the machine to future tasks.
"It was especially important to us that we could use the machine to pack other formats and other products in the future without any problems," says Vincent Lin, Chairman of TCI. "And the high-quality design of the machine is of enormous importance to us because we also want to communicate our high-quality standards to our customers."
The functions of the Schubert machine include erecting the cartons, inserting plastic trays (top and bottom), pre-grouping the bottles, and filling and closing the cartons. The packaging machine is designed to perform these functions on a compact footprint and with high efficiency. It packs two different bottle sizes (50 ml and 750 ml) in three different packing formats: 8, 10 or 12 small bottles per packing unit and one 750 ml bottle per carton. With a bottle size of 50 ml, the packaging machine is made for an output of 400 units per minute, and with 750 ml bottles, 100 units per minute.
The smaller 50 ml bottles are grouped upright into the plastic trays and fitted with a top tray. The complete grouping is then transferred into the carton together with the top and bottom trays. This is to protect the products from damage. The 750 ml bottles are packed horizontally into the cartons by the robots. Special plastic trays, which are positioned in the carton from below and above, are inserted to ensure product protection.
With this investment, TCI hopes to significantly increase the efficiency of its packaging process, secure further orders as an ODM, and continue increasing its sales. Delivery of the Schubert line is scheduled for the end of this year.
Looking for an answer to your automation challenge? Make plans to visit PACK EXPO Las Vegas and co-located Healthcare Packaging EXPO, Sept. 23-25 for the latest in robotics and machinery. Register here.
Companies in this article