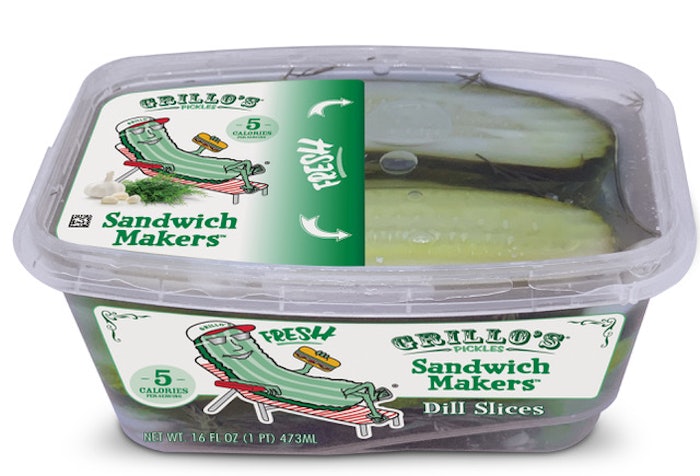 "Clean" pickle company Grillo's Pickles launched updated packaging earlier this month in conjunction with its new Sandwich Maker dill pickle slices. Claiming to be the #2 refrigerated pickle brand in the country, Grillo's says it's also the first all-natural pickle brand to release this signature cut within stackable packaging for maximum freshness and convenience. Previously, all other Grillo's products had been exclusively packaged in vertical tubs, so this new shape is an entirely new direction for the company. The container, which comes from IPL Plastics, Inc., uses in-mold labeling (IML) to display its label design.
"We use this in-mold clear label style to keep a portion of the label entirely clear, which allows consumers to seedirectly into the jar," a company spokesperson says. "We are a brand focused on quality and we want consumers to see as much of the product as possible. ... Too many brands today hide behind a label, but at Grillo's, we want to give consumers a clear view of what they're purchasing and remain mindful of covering as little of the product as possible."
Sandwich Makers are packaged in tamper evident, recyclable polypropylene containers that are horizontal in stature to keep each pickle slice laying horizontally in the pack. Thus, the pickle slices remain fully submerged in brine to preserve crunch and flavor.
The updated shape is also readily stackable on retail shelves and forward-facing in a cooler, making them easy for consumers to spot in a crowded grocery store refrigerator. The shape also allows for easier storage at home on low refrigerator shelves and doors. What's more, it fits well in consumers' coolers, making it for ideal summer beach days or sporting events, the company says.
The 16 oz. packs of thick-cut, vertically sliced Sandwich Makers, made with Grillo's original recipe of seven natural ingredients—cucumbers, salt, dill garlic, water, grape leaves, and vinegar—are available nationwide at retailers such as Hannaford, Hy-Vee, Mariano's, and Sprouts. Depending on location, customers can purchase themfor $4.99 or $5.99.
More generally, Grillo's Pickles is pacing more than $25 million in sales for 2019 and has emerged as a leader in the refrigerated pickle category. Since CEO and Founder, Travis Grillo, launched the company in the Boston Common selling two pickle spears for $1 in 2008, the brand has expanded into over 7,000 retail locations across the U.S., including Whole Foods, Target, BJ's and more.
 
Companies in this article