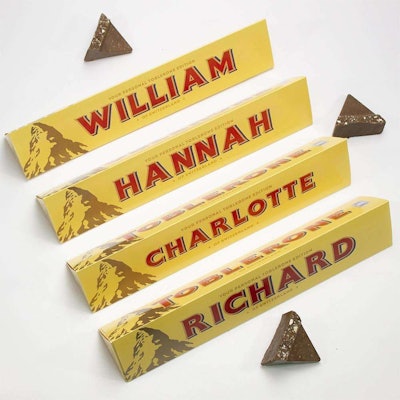 On day one of E-Pack Europe 2019 in Berlin, a spokesperson for Mars talked about the difficulties of taking candy, usually an impulse buy in the grocery store check-out line, and the challenge of shifting candy sales to an e-commerce model. Bulk purchases of smaller-sized treats tend to become the central focus of efforts, but hardly replace impulse sales.
On day two of the new Smithers-Pira conference, held in Berlin March 26-28, Roberta Fabretti, E-Commerce Marketing Lead (Europe) for Mondelez, ran though two examples of what could be done with candy—and at a huge profit!
Mondelez targets two main shopping missions in e-commerce: the full basket and the single-item sale. For single-item sales, personalized gifting is key. For instance, European consumers have responded very positively with personalized Toblerone chocolate bars and special personalized offerings from Milka Bar.
Fabretti presented research from a study by SnackChat, Understanding Online Gifting, from February 2019. Ninety percent of gift purchasers buy at least some, if not all, of their gifts online. U.K. shoppers expect to find chocolate gifts on sites like Amazon, eBay, Argos, Boots, John Lewis, Debenhams, and Not On The Hight Street.
According to SnackChat, while convenience, price, and choice are key benefits for typical online shopping, for gifts, shoppers are seeking something unique and different, with a wow factor that often comes with personalization. And they are willing to pay a premium.
Other key takeaways defining U.K. consumers from SnackChat:
77% have paid a premium for a personalized brand experience
85% of millennials are more likely to make an online purchase if it is personalized
50% of U.K. adults have sent a personalized gift at average spend of US$41
Mondelez takes an omnichannel approach using "pure players" like Amazon and special gifting sites like Your Surprise, Funky Pidgeon, and World of Sweets. Value-added distributors handle personalization/customization, co-packing, and shipping. In addition, Mondelez has direct-to-consumer e-shops like Mytoblerone.co.uk.
The Toblerone package can be customized with digital printing, including names, best wishes, etc. (see photo).
Milka Bar is another Mondelez offering that has scored big in gift giving, with a personalized outer sleeve and a special card included in the package—all digitally printed.
With a special program, Milka DTC (Direct To Consumer), Mondelez offered a unique assortment available only to online channels. Gifts included a chocolate bar with personalized wrapper, praline boxes, gift cards (with chocolate bar), and an assortment box that included both a personalized card and photo.
Personalization is achieved via digital printing technology on blank sleeves. A special challenge was the shape of some of the sleeves used for customization (e.g., heart-shaped boxes). Micro-perforations were used to aid in production of some customized sleeves.
In the case of a new Milka Greeting Card (holding a Milka Bar), Mondelez had to focus on packaging that was easy to assemble and ship for their supply chain partners.
For the Milka Bar greeting card pilot project, sales accounted for 23% of 2018 total sales, for a whopping 133% premium with the average sale consisting of three units per order!
A Valentine's Day Toblerone bar, usually priced at around $2 each in the store, were priced at US$14 with customization of your sweetheart's name, or even both names of the couple. And Fabretti reported no cannibalization of existing sales.
Needless to say, the Toblerone and Milka bar projects have energized Mondelez to explore more avenues for customization of confectionary offerings. Key takeaways from the projects include:
A huge appetite exists for uniqueness and personalization across Mondelez brands both from retailer and consumers.
Shoppers pay a sizable premium for uniqueness and even more for personalized gifts from established brands.
Mondelez International's personalized brands can support a premium of up to 200% versus standard product offerings.
Revenue generated through online single-item platforms is truly incremental with no cannibalization.
Digital media engagement around personalization is outstanding at four times the average benchmarks.
Digital printing technology and easy-to-assemble packaging material formats are a must for supply chain partners.
Mondelez needs to partner "with the best" to deliver quality, speed, and scale with limited risk.
For more information about Smithers Pira e-commerce events, click here.
Companies in this article