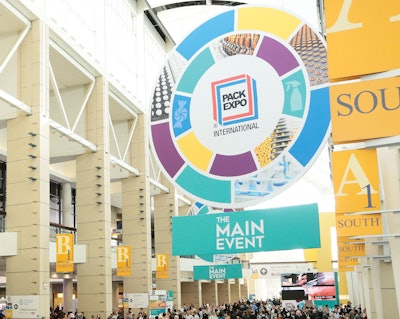 Each year the editors at PMMI Media Group roam the aisles of PACK EXPO looking for the next big thing in the packaging sector. Of course, with a show this size it's never one big thing we find but rather a multitude of things big, medium, and small, all of them innovative and meaningful in one way or another to packaging professionals of today.
This report sums up what we found in six main categories. We present them here for your review knowing full well that, inevitably, we missed a few. Probably more than a few. That's where you come in. Let us know what we missed and we'll look into it. Or at the very least, we'll know to be on the lookout for it at the next PACK EXPO.
Our report comes to you from the following:
Matt Reynolds, Editor, Packaging World
Pat Reynolds, VP Editor Emeritus, Packaging World
Anne Marie Mohan, Senior Editor, Packaging World; Editor, Contract Packaging
Stephanie Neal, Senior Editor, Automation World; Editor-in-Chief, OEM
Joyce Fassl, Editor-in-Chief, ProFood World
Maya Norris, Managing Editor, ProFood World
Natalie Craig, Managing Editor, OEM
Jim Butschli, Editor, Healthcare Packaging
Keren Sookne, Director of Editorial Content, Healthcare Packaging
PHARMACEUTICAL
SMART LABELING
The healthcare community is just beginning to harness the power of smartphone technology as a tool to improve patient health outcomes and connect rungs of what is a complex supply chain. And packaging will play a role: in this instance, in the form of electronic "smart" labels.
That was made clear during a dazzling presentation on the Healthcare Packaging EXPO 2018 Innovation Stage entitled, "Electronic Clinical Label with Flexible Display," by John Bratton, Director of Coding Automation for CCL Label.
CCL's new label platform uses smartphone technology (1) to improve medication adherence by engaging patients, clinicians, and health organizations. Bratton referred to studies indicating that only 45% to 78% of clinical trial patients are compliant with treatments for chronic conditions. That could result in the need for study extensions, which comes at the cost of needing additional patients, needing additional time, or potentially the loss of the entire study.
Bratton said CCL Healthcare's digital platform addresses the complexities of clinical trials and can be used as a stand-alone application via smart label by tapping NFC, scanning a 2D barcode, or pairing to CCL's Electronic Clinical Label. The technology allows for checking clinical study progress in real time, offering the ability to improve studies from start to finish, with live notifications that provide indicators of non-compliance, diversion, authenticity, and track and trace.
In a follow-up interview, Bratton explained, "The platform has been designed to cover multiple applications across clinical trial and commercial offerings alike. This system was originally launched for the clinical trials market, to highlight the vast benefits the platform can provide to that specific market. During the course of 2019, we will be showcasing how those benefits will apply to numerous other suitors across multiple markets and application types."
He said CCL is working with "a very large clinical company that services a worldwide client base and involves multiple languages as well as emerging markets."
CCL provides clinical trial clients fingerprinted labels, including electronics for benefits such as temperature monitoring, which are integrated into their standard label format. "Once on pack," he explained, "the labels are activated by accessing our unique database and mobile App to provide a communication path between component and patient."
LABEL PRINTER/VISION SYSTEM
Weiler Labeling Systems and Antares Vision collaborated on a high-speed printer and inspection system (2) for narrow webs for OTC, pharma, and more. Weiler Labeling Systems (WLS), a ProMach product brand, displayed its new LP-100R on-demand label printer. Printer applications include printing variable data on pre-printed labels and on-demand printing the entire label from "bright stock," as needed.
Antares Vision's new Total Layout Control (TLC) vision inspection system for narrow webs made its global debut on WLS' LP-100R. Designed specifically for the LP-100R, the narrow web TLC—which comprises a line-scan camera, computer, HMI, and software—is capable of whole-label inspection, including image matching, code reading, and color verification.
The CE-marked and UL-certified LP-100R is designed for manufacturers and contract packagers of over-the-counter (OTC) and regulated pharmaceuticals, nutraceuticals, diagnostics, medical devices, biotech products, and more. Delivering digital flexibility, the stand-alone high-speed LP-100R eliminates the need to inventory distinct labels for each product while its high resolution and print wear resistance on a wide variety of substrates helps to maximize label quality and permanence.
The LP-100R is an extension of the company's LP-100 prototype, which was shown at PACK EXPO last year with favorable feedback. After extensive market research to determine the desired capabilities, the LP-100R was born.
Featuring a UV-curing, drop-on-demand (DOD) printer, the LP-100R can print linear barcodes, serialized 2D data matrix barcodes, and human readable codes as well as high-impact visual graphics in full color or black-and-white at speeds up to 4,700 in./min.
When combined with an appropriate vision inspection system and WLS' optional "reconciler," the LP-100R will automatically remove any out-of-tolerance labels from the label roll. WLS can equip the LP-100R with no vision system or virtually any standard or customer-specified vision system for inspecting variable data. For whole-label printing applications, a specialized new whole-label vision inspection system was developed.
The LP-100R can handle a label roll size up to 18 in. (457 mm) in diameter with a 3-in. (76-mm) diameter core. Featuring balcony-style construction and an integrated electrical enclosure, the compact label printer is designed to meet the requirements of pharmaceutical and medical device manufacturers.
Print changes are quickly made via recipe downloads on the color touchscreen HMI. Label styles can be changed in less than five minutes with no tools required and no change parts. Low level, end-of-web, and broken web detection can be programmed to flash a light and/or send an alarm to operators. The HMI is password protected with multiple levels of access to help secure the operation. Equipped with Ethernet ports, the LP-100R can be connected to plant-wide networks to share data for reporting purposes and enable remote diagnostics.
Like the stand-alone LP-100R, the new LP-100L features the same printing, vision, and reconciliation capabilities. Unlike the LP-100R, which rewinds the printed labels onto a roll for off-line printing, the LP-100L feeds printed labels directly to virtually any labeling machine.
WLS provides inks for their LP-100 printers and supports customers in identifying the appropriate substrate for their needs. Achieving print quality and print wear resistance on most substrates without the need for a protective top coat, the LP-100R is capable of producing the highest-graded codes.
SUPPLEMENT PACK COUNTER
Designed for the packaging of convenient nutrient packs, PallayPack's High Speed Supplement Pack Counter (3) is unique in that it combines a tablet counter and a sachet packaging machine, resulting in a flexible daily dose packaging system.
This growing field adds convenience for consumers, as they can purchase one pack of five supplements instead of five separate bottles. Vitamin companies have developed formulas that include a series of supplements—such as a men's energy formula, sports formula, or a complete morning and evening formula—and these are packaged as a daily supply of key ingredients in convenient packets. The packets ensure the consumption of all supplements so that consumers adhere to the intended regimen.
While the system is suited for pharmaceutical or nutritional products, its ability to feed multiple products and combine them in a single package means it can be used for any small parts, medical device kits, toys, etc. The system can quickly count many different products in varying quantities.
Because there are no change parts for the counter, changeover is fast. Unlike legacy counting systems for this type of application, the counter does not jam, even on shaped tablets, uneven soft gels, hard capsules, and dusty pills. The counters can handle a wide tolerance in product size because the system does not rely on mechanically sorting the product.
The High Speed Supplement Pack Counter can feed supplements according to recipes saved in the memory of the controller at a rate of 50 cycles/min. The system can be configured with counters using a variety of lanes depending on speed required (two, four, or six are most common), and then by the number of different products (typically one through eight) resulting in a flexible system.
Each tablet feeder bowl also incorporates a precise electronic count eye, the same as used on PallayPack's multi-lane counters. Control systems allow speed adjustment as well as count adjustment, and all data is saved in memory.
DESICCANT POUCH INSERTER
Although new equipment dazzles many a show visitor, it's a good bet that plenty of companies seek to add machinery that performs well without breaking the bank. Enter the Econo Pouch Feeder (4) from Omega Design Corp. It's part of Omega's new IMPACT Series of pre-configured machines designed to provide an alternative buying path for companies of all sizes looking to obtain industrial equipment at a low entry point without sacrificing quality.
The desiccant feeder was showcased at PACK EXPO 2018 in Chicago, along with an unscrambling unit shown in this video: pwgo.to/3943.
The portable, non-pneumatic feeder system feeds desiccants and oxygen scavengers into various package types at rates up to 150/min. Requiring no air, the all-electric feeder is capable of single or multiple drops per container, and it can dispense into bottles, trays, diagnostic kits, and more.
The feeder's patent-applied-for dispensing head uses a stepper motor to quickly and accurately cut desiccant pouches from a strip. An operator loads a desiccant reel onto its spindle and then feeds the desiccant strip into the dispensing head. The automatic feeder cuts the desiccants from their strip, dispenses the desired quantity, and verifies the exiting of the desiccants from the dispensing head. Featuring an anodized aluminum frame, slim line dispensing head, and integrated color touchscreen HMI, the feeder accepts desiccant pouches from all major manufacturers.
The Econo system aims to fill a market need via its versatility and cost-effectiveness. "As line configurations become increasingly customized by job, this flexible unit represents the sort of plug-and-play solution that can assist as needed, and at minimal overall investment," says Glenn Siegele, Omega's president.
MACHINES DEVELOPED FOR HEMP CBD OIL
Light-gauge single layers, double-compartment pouches with wet and dry contents, and Hemp CBD (cannabidiol) oil represent leading-edge packaging applications that will drive machinery technologies.
Those predictions, based on customer inquiries, come from R. Charles Murray, CEO/Chairman of PPI Technologies Group. He believes the growth of CBD oil "will quadruple in 24 months."
To address this market, PPi's Penta5 USA Wellness Division developed the VialPaQ™ delivery system that permits variable milligram doses of Hemp CBD oil for medical applications. It is designed to treat patients with cancer and other nervous system diseases using CBD oil and CBD oil with supplements.
Says Murray, "This Vialpaq distribution system is transportable, can be used anywhere, and works with food, beverages, and medical cosmetics without disturbing shelf life, taste, or feel of product in these segments."
At PACK EXPO International, PPi also showcased the company's PGS Machine Group's FBM 80H Hygenic machine for pouch production. Key features include the following:
• Product falls away from the machine onto the floor, as the machine has no table
• All cables reside in open trays positioned above the machine
• Machine is closed-in behind doors and divided into seven easy-access sections
• Uses a patented Duosmart™ feature that corrects the tension and stretch of the film as it unwinds, reducing defective side-seal pouches and losses
The Hygenic machine aims to reduce cleaning time by 10%, yielding 200 more operating hours in a 52-week timespan. The machine's new film-handling system enables the use of light-gauge film to produce stand-up pouches with reclosable zippers. Using less film provides sustainability and cost benefits.
This equipment is targeted to dairy, meat, and seafood segments, while the CBD machine is for online pharmacies as well as food, beverage, and cosmetics.
INHALER
Many inhalers contain multiple injection-molded components, which can make them costly to assemble and manufacture. Combine that with the fact that inhalers can be challenging for patients to use, which can limit their treatment effectiveness, and you have a problem in search of a solution.
That's where Perlen Packaging's PERLAMED™ BLISTair becomes an alternative (5). Shown at Healthcare Packaging EXPO, this package is unique in that it is thermoformed. It serves as the medical device itself.
When it's subsequently filled with a pharmaceutical it effectively becomes a combination product that serves as a drug delivery device. The finished product is designed to be intuitive for consumers to use by simply pulling a "lash" of the device to open up the powder chamber and inhale the medication within it.
According to Perlen, the product could be used for treating asthma, in emergency situations, for medical cannabis, and even as an alternative to vaccines.
Matteo Trisoglio, Perlen's Manager, Business Development, explains that Perlen uses blister machinery that forms, fills, and seals BLIStair. The thermoformed device includes two polyvinyl chloride film layers along with an aluminum "peel" layer. He says the base film is Perlamed Ultra Protect 360, a multilayer structure with 360g/m2 of polyvinylidene chloride (PVDC) coating. "Once those are placed together we punch it out of the web," he says, indicating the process is conducted in one step.
The device uses a simple design and is said to permit low manufacturing costs. In recent months it has won several awards, according to Perlen, which cites the following:
• German packaging Award 2018
• Swiss packaging Award 2018
• Central Swiss Innovation award
• AluTrophy Award 2018
• Corporate Award 2018
• CPHI Award best drug delivery device 2017
• Worldstar Packaging Award 2018
Looking ahead, Perlen plans to offer varying product designs and adaptations, such as different powder chamber sizes, or a double powder chamber for unstable APIs (Active Pharmaceutical Ingredient), nasal application for powder, etc. Trisoglio says such adaptations are easy and inexpensive.
Perlen has received inquiries worldwide for BLISTair and will deliver product globally. Although Trisoglio says specific user company names cannot be revealed, he does note, "we have several NDAs in place. There are a lot of companies requesting it."
NON-DESTRUCTIVE TESTING
Paxxus, formerly Rollprint Packaging Products Inc., displayed a novel, non-destructive testing technology at PACK EXPO (6).
For companies employing visual inspection of seal integrity, Paxxus' new AuraSeal system solves the longstanding challenge of assuring seal integrity with a non-destructive, efficient test.
AuraSeal shines—or fluoresces—on sealed areas, allowing easy visual detection of voids. The system consists of a clear-film top web incorporating the AuraSeal technology paired with an opaque, white-film bottom web. The sealed package, when exposed to long-wave ultraviolet light, will brightly fluoresce in the sealed areas. Channels are clearly visible to the naked eye due to voids in the fluorescence of seal areas.
The system means manufacturers and packagers have the option to incorporate 100% seal inspection with minimal equipment costs, while increasing inspection speed and effectiveness. A low-power "black light" and a visual inspection station are the only additional equipment required.
Designed for organizations serving the medical device, healthcare, and life sciences markets, AuraSeal offers a quick, non-destructive method of seal integrity inspection unlike dye-leak or bubble-leak testing. Defects within the seal can be identified instantaneously and the conforming packages can be immediately returned to inventory after inspection.
The system is compatible with both peelable and weld seal configurations and is available to be incorporated into two-dimensional and thermoformable packaging formats.
More NON-DESTRUCTIVE TESTING
Also featuring non-destructive testing technology was Sepha. For companies needing the utmost in testing flexibility, Sepha debuted Multi-Q, a non-destructive leak test system for rigid and flexible packaging including vials, pouches, sachets, ampoules, bottles, bags, trays, medical devices, and modified atmosphere packaging (MAP). See the Multi-Q in a video here: pwgo.to/3944.
The standalone system, distributed by Thomas Packaging, offers users considerable flexibility in a small, lab-scale footprint. Users are able to easily switch between the following test methods depending on the package and specs: flexible membrane, vacuum decay, pressure decay, ramp to event, ramp to proof pressure, and occlusion.
To learn more about what was shown at PACK EXPO International read the in-depth articles:
https://www.packworld.com/article/pack-expo-international-2018-innovations-report
https://www.packworld.com/article/report-innovative-new-materials-pack-expo
https://www.packworld.com/article/report-innovative-new-controls-pack-expo
https://www.packworld.com/article/report-innovative-new-robotics-pack-expo
https://www.packworld.com/article/report-innovative-new-e-commerce-pack-expo
Companies in this article