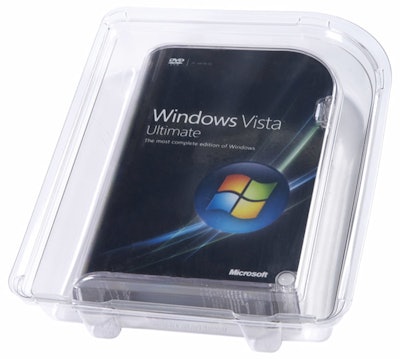 The use of recycled PET sourced from industrial scrap even adds a measure of sustainability to the new pack from the Redmond, WA, software giant.
Spartech Packaging Technology makes both the base and lid. The base is notable for its large undercut, into which the lid is tightly snapped once the product has been loaded. An in-store thief trying to open the package and remove the contents would require considerable time and dexterity to separate the lid from the base, which is what makes the package theft-deterrent.
Thermoforming the undercut requires special tooling. Five moving parts in the tooling make it possible to coax the softened RPET sheet into the part of the mold that produces the desired shape while also making it possible for the finished part to be released once thermoforming is complete.
Also important to Microsoft was that the package be easy to load and close using assembly and packaging systems already in place. Mission accomplished, says Microsoft senior packaging project manager Patti Sullivan.
"Learning and understanding our needs was a top priority for the Spartech team," says Sullivan. "As with any design and packaging project, there were rounds of testing and fine-tuning, but from start to finish, they consistently delivered and met required criteria."

Companies in this article