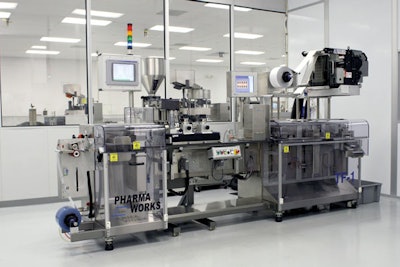 Flexibility is paramount for contract packagers. Last spring, Contract Packaging Resources, Inc. (CPR, www.cprwebsite.com) enhanced its flexibility with the addition of a TF1 blister-packaging machine from Micron Pharmaworks, Inc. (www.pharmaworks.com). The machine eliminates the need for CPR to outsource its blister-packaging services, which it had done previously.
CPR's 25,000-sq-ft Greensboro, NC, headquarters facility is equipped with five packaging lines, or suites, as they're described by company president G. Scott Wade. The company usually works a 10-hour, four-day a week schedule. "We operate three bottling lines that can run glass, PET, or HDPE [high-density polyethylene]," says Wade. Each of these lines is capable of producing 25,000 bottles/day/shift. A vertical form/fill/seal line produces up to 50,000 pouches/day, while the new Micron PharmaWorks line can produce as many as 90,000-plus thermoformed or cold-formed blisters/day.
CPR also lists cartoning, stretch-carding, walleting, labeling, physician samples, clinical trial and stability packaging, medical kits, and distribution among the services it provides for pharmaceutical, OTC, and dietary supplement customers.
Behind the acquisition of the TF1, says Ed McGinnis, the company's director of quality assurance, was that more and more customers were asking about blister packaging. Acquiring the TF1 gives CPR more control over this formerly outsourced service, without incurring those costs and turnaround time.
Global machine search
CPR's search for the right blister-thermoforming machine was thorough. As McGinnis recalls, "We investigated a variety of machines produced in countries as disparate as Argentina, Germany, and Italy. Ultimately, we came to the conclusion that for cost, service, and technical support, it was best to buy from a company here in the United States. We researched equipment manufacturers for at least a year, in part because we had no in-house experience with this type of machine before. That was one of the biggest advantages of dealing with Micron PharmaWorks and Ben Brower, their vice president and sales director. They are a domestic manufacturer and were very easy to work with in terms of technical issues, logistics, and reduced delivery times."
From Pack Expo Las Vegas to CPR
Wade says that CPR saw the TF1 in operation at Pack Expo Las Vegas in 2007. "We had purchased the machine and waited for it to come off the show floor," he says. "We took delivery of it in March 2008. We now run the machine on a one-shift, 10 hours-a-day operation, four-days-a-week." Production speeds are usually 60 blisters/min on a 2x5 blister card, but greater speeds are achieved depending on blister size, blister configuration, and if the blisters are produced one-, two-, three-, or four-up across the film web. Micron PharmaWorks served as not only the TF1 supplier, but also the systems integrator for the line, including its vision system, pinhole detector, and printing equipment.
The TF1 machine is used to produce blisters for a variety of product types such as two-piece capsules, tablets, and soft gels for the pharmaceutical, OTC, and dietary supplement markets. To watch videos of the machine, go to www.cprwebsite.com/services and www.cprwebsite.com/content/video.
The plug-assist machine accommodates multiple cavities and allows CPR to run products as large as 91x130 mm (3.58x5.12 in). Ten-mil polyvinyl chloride (PVC) is the most commonly used film for the blister base web. CPR relies on three primary suppliers for the base web material: Klöckner Pentaplast of America (www.kpfilms.com), Alcan Packaging (www.alcan.com), and Ineos Flims, Pharma Business (www.ineosfilms.com). Rollstock unwinds to a forming station, is heated, and is formed in cavities on the TF1. Adds Wade, "With the TF1, we have a great deal of flexibility. We can feed products manually, with a brush-box feeder, or use a dedicated feeder which can, if necessary, place different products in separate cavities within the same blister."
Mounted just downstream from product feeding, is a Micron PharmaWorks' Scanware LYNX color vision system. It looks down and takes photos of each blister cavity as the film indexes past. The vision system automatically detects the absence or presence of the product. The system compares the photos to a built-in template that includes information about the number of cavities, the product, its shape and color(s), etc. If the image doesn't compare with the range of established characteristics for that product or package, it is rejected.
The product-filled web continues beneath a plate or hood that prevents the possibility of anything falling into the web after it passes the vision system. At this point, the lidding film unwinds downward and is heat-sealed to the base web. Lidding film comes from Constantia Hueck Foils (www.constantia-hueck.com), Alcoa (www.alcoa.com), and Alcan Packaging.
Explains McGinnis, "The lidding could be PVC on one side and foil on the other, or it could be foil on foil. If it's foil on foil, the vision system is critical because once you get to the sealing station, you can no longer see what products are in that blister."
As the lidding unwinds, it is printed with a TruFlex UV® printer from Griffin-Rutgers (www.griffin-rutgers.com). "It's a state-of-the-art system that's better than other print methods and is capable of printing a range of sizes," says Wade. "We typically print information such as the name of the company [our customer], a bar code, a lot code, and an expiration date. Sometimes we add an address and phone number."
The printed and sealed film then indexes past a station where a perforation mark can be added between the blister cavities if the customer wants it. At the following die-cut station, each blister is stamped from the web. Rejects are conveyed straight ahead to a reject bin. Good product is conveyed to downstream packout stations for placement into either an IFC (individual folding carton) or display box, depending again on the customer. Finished product can be stored and distributed by CPR (3PL Service) or shipped back to customers.
Machine benefits
Wade and McGinnis note some of the TF1's key benefits:
• Meets big-box trend. Says McGinnis, "We're going more to direct-to-market customers, such as Walmart, Sam's Club, and Costco, rather than through traditional distribution." In-house blister production means CPR can move product faster to the market, giving customers a competitive advantage.
• Meets CFR 21 requirements
• Tooling cost is much lower, presenting a savings to customers
• Rapid changeover
• Produces high-quality blisters
• Efficient in small-to-medium-size runs (25,000 to 500,000 blisters)
• Flexibility as a contract packager
• Small-machine footprint: 3,581 x 896-mm (11 ft, 9 in x 2 ft, 11")
• Allows CPR to produce products and gain business it otherwise would not have been able to develop as efficiently.
Measuring efficiency
"We are absolutely happy with the machine," says McGinnis. He points out that CPR tracks both the efficiency and the utilization of the equipment and uptime versus downtime. "We also track the amount of rejects that we have so that we know what our yield is," he says. "That's done basically in two different places. It's done by the HMI that controls the process upfront, and it's also controlled by the color vision system. So we have independent recordings of our yield."
Wade says efficiency ranges between 70% and 90%. How does the company measure efficiency? Each 10-hour day contains 600 possible minutes. Take off one hour for lunch and breaks, and the total possible run time is 540 min. The number of blisters produced in that time is the yield. Yield divided by run time provides an efficiency percentage.
For CPR, downtime is not a big factor. Says McGinnis, "We have pretty good-sized batch runs of 50,000 to 100,000 for blisters."
Looking back, Wade says CPR's blister-purchasing decision took into account the knowledge conveyed by potential machine suppliers. "Micron PharmaWorks not only makes new machinery, but it also reconditions and rebuilds old equipment and makes it like new again, if not better than it was originally.
"As with any new piece of equipment, after we bought the blister machine, we had minor things come up, and they were dealt with quickly. We can't say enough about the knowledge and the services that Micron PharmaWorks gives us on this machine."

Companies in this article